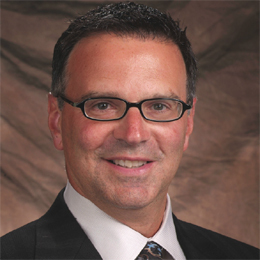 For the Good of the Team
A self-proclaimed "sports fanatic," Dr. Peter DeLuca grew up in Jersey City following and competing in all kinds of sports, including baseball and hockey. When his own playing days ended at the collegiate level, he thought his involvement with athletics was over—until he discovered sports medicine.
After graduating from medical school at Georgetown, DeLuca eventually focused on orthopedics during his residency at Thomas Jefferson University Hospital, beginning a career that has been devoted to treating athletes of all ages. Now a board-certified orthopedic surgeon at the Rothman Institute, the Cherry Hill resident also gets to be around the games he loves on a regular basis as the head team physician for the Philadelphia Eagles and the head orthopedic surgeon for the Philadelphia Flyers.
DeLuca has received numerous accolades throughout his career, including the Dick Vermeil Lifetime Achievement Award from the Otho Davis Scholarship Foundation in 2014. That same year, he also served as the NHL consultant for the Winter Olympics, treating hockey players from numerous countries during the Games in Sochi, Russia.
We spoke to DeLuca about some of his lasting memories as a team physician, the perks of the job and the future of sports medicine.
Pursuing a career in sports medicine…
"It's probably because I'm a sports fanatic and grew up loving sports. Some of it also just happened by chance. I love sports, but I didn't know much about sports medicine, particularly when I pursued a career in medicine. … I actually graduated medical school and went into general surgery, and that's when I started to learn a little bit more about sports medicine. I realized I could do something I really loved, which was sports, so I switched in the middle of my residency and got into orthopedics. It's such a rewarding field. Not only am I a kid in a candy store being able to attend all of these sporting events, but I'm also able to help the athletes. There's nothing more rewarding than seeing an athlete who is injured and can't perform the way they want to, and then actually being able to change that and see them back on the field or ice playing at the same level as before."
His favorite sports memories…
"I would say in football the best moment was when we won the NFC Championship Game against the Atlanta Falcons. I remember Andy [Reid] always saying there's nothing better than winning the NFC in your home stadium, and he was right. The enthusiasm, the fans going crazy and being in the locker room afterwards, it was probably one of the best experiences. The other one was when the Phantoms won the Calder Cup, because I covered the Phantoms when they were in Philadelphia. The most disappointing were when we lost the Super Bowl and when the Flyers lost the Stanley Cup to the Chicago Blackhawks in 2010."
The current Eagles season…
"Everybody is talking about Carson Wentz, but I think Doug [Pederson] is doing an unbelievable job calling plays. His game management, his clock management and his preparation for the game have been great. He's spending a lot of extra time with Carson going over the playbook and preparing him every week."
The four Eagles head coaches he's worked with…
"Doug and Andy are very similar. They are very disciplined and organized, they demand respect and they have a little more discipline with the players than some of the other coaches. They communicate [well], at least from my perspective. Andy and Doug sit down with the medical staff regularly. I would meet with [Andy], and I still do [with Doug], the day after a game, Wednesday and Friday. Not only do we talk about injuries, but life in general. They're just great guys to talk to. They take an interest in the injuries and what we can do to get them back. If there's too much risk, they don't want to play them. Chip [Kelly] was a little different, just like he was with the media. He would be very quick. He never wanted to meet with us before he met with the media, because he truly wanted to tell the media, 'I have no clue about the injury.' Even when we met with him, he didn't really take an interest in what the injury was or what the time frame was. He just wanted to know if [the player] was going to be available for practice or the game that week. I only spent one year with Ray [Rhodes], so I really can't comment on him. But he really only talked to the athletic trainer, he didn't talk to the medical staff."
His favorite players to work with…
"They're all very respectful, they listen to you and they've very nice. Part of that comes from the coaching staff. They tell them at the beginning of the season, 'If you have a doctor's appointment, be there on time. They're doing you a service, they don't have to be here.' And the players respond to that. From a personality perspective, I haven't had one favorite over another. As a fan, I liked working with T.O. [Terrell Owens]. He listened to you and he was just an unbelievable athlete."
Working three Pro Bowls in Hawaii…
"The NFL really took care of you when you were there. My family was able to come with me and they paid for that. They gave us a car to get around and they really treated us like royalty. And it was fun being around all those stars. Both of my kids love sports; my son is actually in the scouting department for the Cleveland Browns, and one of the reasons is because he grew up with all of these athletes. At the Pro Bowl, you hang out with them at the pool and you're on the beach with them. You saw a different side of them, because they were with their families. I really believe that's one of the reasons my son went into that field. … His dream was always to become a GM and he's living it right now."
The Sochi Winter Olympics…
"I enjoyed it. Because of everything that was going on [in Russia] at the time, I wouldn't say we were in fear, but we were a little reluctant to do things. Security was unbelievable … and it put you on edge a little bit. But being able to go to the different venues was a once-in-a-lifetime experience. Being able to go to every game for all the different countries and seeing how the fans follow their teams was probably the most impressive thing."
Possible advances in sports medicine…
"Probably the biggest thing that we're going to see change is in cartilage regrowth. What really shortens a lot of players' careers is they start to develop arthritic changes in their joints, mainly their knees and hips. Arthritis is loss of cartilage at the end of the bone. Right now, we don't have a great way to regrow cartilage, but it's coming. It's not too far off; I would say in the next five to 10 years, we'll be able to regrow cartilage that we're born with and it will allow our joints to last longer. … The field of sports medicine is growing and it's really exciting to be a part of." Concussion protocol in the NFL…
"I've been in the league for 20 years and I've seen how that's evolved. I remember one play where [former Eagles cornerback] Troy Vincent was down by the goal line and he got hit. When we went onto the field, he was asleep and snoring. He woke up and everyone was laughing. Back then when you got a concussion, people almost considered it a joke because you didn't know where you were or how you got there. Now we obviously know a lot more and we know it's a lot more severe than what we thought.
These protocols and guidelines that have been developed have really made life easier for us as team physicians. … There is an independent neuro-consultant there on the sidelines that you evaluate the player with, and everybody knows now if there's any doubt, you're going to sit him out."
Making his home in South Jersey…
"Jersey City was just an extension of New York City, and you can still get that here by going over the bridge into Philadelphia. When I first came down and trained at Jefferson in 1986, I would say there was definitely more farmland than where I grew up, where there was nothing like that. I had no idea what hayrides were and I never went apple picking or pumpkin picking. To me, pumpkin picking was going to a store and picking one out. But I think Cherry Hill and Haddonfield and all of these areas have changed and become a little more close to what I was used to in Jersey City."
On his sport allegiances…
"I grew up loving the Giants, Rangers, Yankees and Knicks. I'm still a Yankees fan, but the other ones have changed. I think it was 2000 that the Giants went to the Super Bowl and we played them in a playoff game up there. Right before the kickoff, the head athletic trainer at the time, Rick Burkholder, knew I grew up a Giants fan and said to me, 'If you cheer once, you're out of here.' Then the opening kickoff, the Giants ran it back for a touchdown and I thought, 'Oh boy, this could get ugly.'"
Published (and copyrighted) in South Jersey Magazine, Volume 13, Issue 8 (November, 2016).
For more info on South Jersey Magazine, click here.
To subscribe to South Jersey Magazine, click here.
To advertise in South Jersey Magazine, click here.