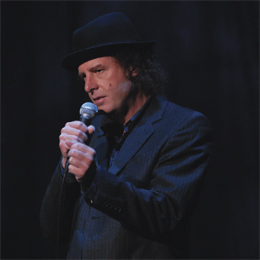 The Wright Stuff
From Philadelphia to Atlantic City—and several stops in between—there are plenty of opportunities in this area to discover quality standup comedy. But chances are you won't find anyone quite like Steven Wright.
For nearly four decades, the Massachusetts native has stood out in the comedy realm with his distinctive style and deadpan delivery of one-liners. Wright has toured steadily across the country since getting his big break and cracking up Johnny Carson himself on The Tonight Show in the early 1980s.
His career has also expanded to film and television and includes an Academy Award for the short film The Appointments of Dennis Jennings. Another highlight on his resume is a memorable part in Quentin Tarantino's directorial debut, Reservoir Dogs, as the voice of the K-Billy radio DJ.
More recently, Wright has been an Emmy-nominated producer for the FX series Louie and also appeared on Louie CK's web series, Horace and Pete.
South Jersey Magazine caught up with Wright to chat about his current standup tour, which lands at the Borgata in Atlantic City on Nov. 4. He also talked about his beloved Boston Red Sox, his thoughts about late-night talk shows and why he would love to work with Tarantino again in the future.
SOUTH JERSEY MAGAZINE: I heard you say once that you wanted to be a standup comedian since you were a teenager. Now that you've been doing it for close to 40 years, do you ever sit back and think about how you've been able to live your dream for so long?
STEVEN WRIGHT: I wanted to do it since I was about 16 from watching Johnny Carson and watching all the comedians he had on his show. I started in '79, so it's been 37 years. I never thought about how long it would go or what would happen. I just wanted to be one of those guys that went on The Tonight Show; that was my whole goal, my fantasy. It's pretty amazing that it's gone on this long.
SJM: Does standup still have the same thrill for you?
SW: Yeah, because I love two things: I love thinking of the material and trying it out and being in front of the audience is a very intense thing to do. It may not look like I'm excited, but it's a very exciting thing to be in front of an audience. It never gets old.
SJM: Do you still find the same kinds of things funny as when you first started out, or do you think your humor has changed significantly throughout your career?
SW: It's basically the same abstract, surreal point of view on things. In my first year, a lot of it was like that, but some of it was more traditional comedy. But 70 percent was abstract one-liners, and it's stayed like that the whole time. It's not really a decision; it's just what I find amusing.
SJM: That style makes you unique. Do you feel like there aren't many standups quite like you and has that played a role in your longevity?
SW: Yeah, I got lucky—the way I think is just the way I think. It wasn't a planned thing; it's just what I think is funny and I hope other people think it's funny. … Being different has definitely contributed to the longevity, just like you said. I feel lucky because nothing was a decision; it's just how I think and how I talk.
SJM: Your appearances on Johnny Carson really helped establish your career and you still make the rounds on those types of shows. What do you think about the current late-night landscape?
SW: The last one I went on was Seth Meyers, and I like him. I like going on his show. I like Jimmy Fallon and Jimmy Kimmel and Conan [O'Brien]—I like all of them. But all of those guys will admit that Johnny is the top guy. One of the reasons I wanted to do this [job] was because of watching Johnny. He had Richard Pryor and David Brenner and Robert Klein and [George] Carlin on. When I was 16, I looked up to Johnny Carson and all of those comedians; then I actually went on there and it was a giant thing. It was different than going on all of these other shows. I looked up to them as a kid, but now all of these guys are younger than me. It doesn't have that same aura to me.
SJM: You've played Atlantic City many times in your career. As an East Coast guy from Massachusetts, do you have an easy time relating to Jersey crowds?
SW: The audience is always really good in New Jersey. But I talk about such basic things that they know what I'm talking about whether I'm in Miami or Seattle or anywhere. But that theater [in the Borgata] is beautiful. I love playing that place.
SJM: Will you get to enjoy the Borgata at all? Do you ever make it out to the casino floor?
SW: I'm not a gambler; I've never been interested in it. But I play a lot of casinos and I like to walk through and just watch for a little while. It's such a completely different atmosphere than anywhere else. … [Roulette] is one of the ones I like to watch. I've been playing Las Vegas for so many years and I used to go to roulette and put one bet on black or red. I'd be there for three days and I'd just put one bet down. I think I lost 90 percent of the time. To me, it's unnecessary stress to gamble. A lot of people think it's exciting, but to me, you're probably going to lose, so I choose to eliminate all that stress and not play at all.
SJM: You're still living in Massachusetts and you're known as a huge Red Sox fan. Did you get to follow their season and the farewell tour for Big Papi, David Ortiz?
SW: Oh yeah, I followed it. … I'm sad that Big Papi is going to be gone; he's been here since 2003 and he's just a huge part of that organization. What a last year—he was just unbelievable.
SJM: I noticed your tour didn't have any dates scheduled during the baseball postseason. Was that by design?
SW: No, that was just a coincidence. I have been on stage before during the playoffs and I'll look to the wings and my road manager will give me a thumbs up or thumbs down whether the Red Sox are winning or losing.
SJM: Have you enjoyed collaborating with Louie C.K. in recent years on Louie and Horace and Pete? How did your friendship come about?
SW: It's been incredible. I've only known him about five years. He's from Massachusetts too, but I still live there and he lives in New York. I started renting an apartment in New York four years ago … for about a month, and that's when we started hanging out. He asked me to work on his show Louie and it was amazing. He's a genius: his writing, his directing, his acting, his editing. He would bounce scripts off me and I'd go to the shooting and give my opinion on the editing. I did that for the last two seasons of Louie and got nominated for an Emmy for working on the show, because of him. Then I did Horace and Pete, his web series, and that was a lot of fun. I got to be an actor in that with Steve Buscemi and Jessica Lange. His style just blows me away. He creates everything and he has all of these people on these shows. I'm a solo artist as a standup, and he allows me to be part of the band.
SJM: It's hard to believe Reservoir Dogs turns 25 next year. What are your lasting memories from that experience?
SW: Does it really? Oh my God, I didn't realize that. You know, I have been so lucky. I made a short film called The Appointments of Dennis Jennings and the director was Dean Parisot. His wife, Sally Menke, she edited Dennis Jennings and she went on to edit Reservoir Dogs. That was Quentin Tarantino's first movie and nobody knew him. He had the whole movie done and they knew they were going to have someone talking on the radio, but they didn't have the person yet. So she suggested me and he liked it and put me in the movie. That's how it happened and I'm very happy to be in such a [classic] movie. He's another genius, Tarantino.
SJM: Do you ever pressure Tarantino to put you in another of his movies?
SW: That would be unbelievable; I would love that. I love his movies. That last one, The Hateful Eight, was amazing. But 25 years for Reservoir Dogs, I still can't believe that.
SJM: In closing, what's your expectation for this show at the Borgata? Do you think it will be a mix of your older fans and a younger audience experiencing your standup for the first time?
SW: I still have my main audience that's been with me for years and years, and now sometimes they come with their children who are 18 or 20. That's great; I love all different ages in the audience. These young people can see all that I've done, Reservoir Dogs and The Tonight Show and all of those things. You can reach more people than ever because of the internet—it's great. Some people will come up to me and say, 'I love what you do,' and they're only 20. I'm used to it now, but at first I didn't know how they even knew me. But it's because of YouTube and all that. So I love doing the show; I have fun doing it. I feel lucky to be making a living with my imagination and I'm happy that I still get to do this.
Published (and copyrighted) in South Jersey Magazine, Volume 13, Issue 8 (November, 2016).
For more info on South Jersey Magazine, click here.
To subscribe to South Jersey Magazine, click here.
To advertise in South Jersey Magazine, click here.