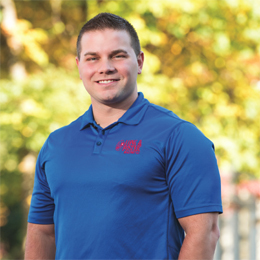 2016 Men of the Year
One of the things that makes South Jersey such a great place is the many people found across our local communities. You don't have to travel far to find do-gooders from all walks of life who are eager to use their time and efforts to make the world a better place for others. From well-heeled philanthropists who have been blessed with so much that they return the favor to those less fortunate to volunteers and nonprofit founders who regularly roll up their sleeves to brighten someone else's day. Our Men of the Year selections fit right into this category; 15 people who give so much but, perhaps, receive the best gift of all in return: the satisfaction of putting a smile on the next person's face.
Man of the Year: Devin DiNofa (pictured)
As a real estate agent, DiNofa is accustomed to helping his clients. In his spare time, the 29-year-old Maple Shade resident is used to helping many others. Come holiday time you may find him distributing food at his annual Thanksgiving turkey drive, or collecting coats and toys to brighten up Christmas for those in need. Or you may find him collecting backpacks and school supplies for hundreds of students. Along with a friend, he recently helped donate 10,000 bottles of water to Flint, Mich., to help with their contamination crisis. He raised money to partner with Make-A-Wish to pay for a child to go to Disney World. On Veterans Day he often works with pizza shops to provide local veterans with meals. DiNofa even once brought 50 kids from the inner city in Philadelphia to a free basketball camp in West Deptford. "From a young age, my mother and father taught me to always be the person to help others. ... I try and do something special to make people do positive things and think positively about this world we live in," he says.
But, DiNofa's volunteer efforts don't end there. He often hosts networking events designed to raise money for several area nonprofit organizations. The most recent benefitted Bringing Hope Home, a foundation that helps support families who are struggling financially in their battle against cancer. He also extends his reach across the bridge, working with the Nehemiah Davis Foundation in West Philadelphia to feed hundreds of homeless folks during the holidays.
DiNofa also sits on the fundraising board for the YMCA of Burlington and Camden Counties and has regularly partnered with others such as the Cathedral Kitchen, Maple Shade Food Bank and St. Christopher's Hospital. "I heard this line from a motivational speaker that really put everything I do in perspective. [The person said] 'Most people wait their whole lives for that one special miracle they hope will happen for them. Go be someone else's miracle and see how your life will change.' Every day I strive to affect people in a positive way and by doing so I believe the man upstairs will always take care of me and my dreams."
Jeff Quattrone
As the founder of the Library Seed Bank, Quattrone has found a unique way for South Jerseyans to be more sustain- able. The project works with public libraries in Pitman and Woodbury (with more coming to the area in 2017) to establish "seed libraries"—a collection of small packages of seeds that the public can check out similarly as a book, plant and then return harvested seeds for others to keep the cycle going. As co-chair of the Slow Food USA's Ark of Taste Northeast Regional committee, Quattrone concentrates efforts to preserve local food biodiversity by identifying foods that are being threatened. He was also instrumental in helping to start a pro- gram in which Campbell Soup would grow tomatoes for their products right in the city of Camden. Quattrone was the first to bring #pumpkinrescue—a food waste awareness event—to the country and is also currently working on other projects with the goal of providing com- munity access to local food.
Kal Rudman
A former pioneer of the music world from his time as a disc jockey to creating some of the music industry's most widely respected publications; Rudman has found great joy in sharing his success. Along with his wife, he helped to create the Kal and Lucille Rudman Foundation focusing on education and public safety. The Cherry Hill resident is behind countless programs at area hospitals, including offering scholarships to high-achieving students interested in pursuing a medical career and providing grants to further boost critical research. His civic contributions are vast as well, whether it be paying to repair churches that have been vandalized or purchasing police dogs for the Cherry Hill force. Each year Rudman pays tuition for local police officers to attend Camden County College, and he's also helped firefighters expand their education by sending them to a degree program at Holy Family University. Currently, he's donating funds for the construction of a memorial in honor of a slain Cherry Hill police officer. The list of Rudman's contributions to the community is much longer and continues to grow, which makes his efforts even more remarkable.
Marc Backal
This local doctor helped spearhead an effort at the 2015-2016 Maccabi Pan American Games in Santiago, Chile to create the Maccabi Vision Project. The project helped screen more than 900 children in an impoverished community and provided eye glasses for 600 of them. In turn, the project encouraged the Chilean government to build a school for the kids. Locally, Backal worked to support and create a soccer program at the Boys and Girls Club in Camden. He and his wife are also involved in several other charitable organizations, including Jewish Adoption and Foster Care Options, which helps children of all back- grounds who come from abusive environments. In addition, Backal has helped families in need from his pediatric practice on a regular basis.
Michael Vincent Madden
Madden says he was taught the importance of commitment to the local community at a young age when he visited Habitat for Humanity projects with his grandfather. During college he traveled to El Salvador and Guatemala to deliver school supplies and clothes to orphanages as well as build homes for those in need. He was one of the original architects of the South Jersey Young Professionals Association's Halo Ball, which has raised more than $350,000 for South Jersey nonprofits since its inception in 2010. Madden also sits on the board of The Joseph Fund of Camden, a philanthropic effort concentrated on meeting the city's needs. "As a professional, it has always been my belief that we have to interact with our community and give back to those less fortunate," says Madden.
John C. Connell
Professionally, Connell is a partner with the law firm of Archer & Greiner. Connell also finds time to serve as vice chair of the Community Foundation of South Jersey, a group that organizes opportunities for people in the area to give back as well as transform their communities and the issues that are important to them. The foundation helps donors to create funds—both large and small—engage in philanthropy that is innovative, visionary and effective and achieve positive results in South Jersey and beyond. In addition, he is a past president of the Haddonfield Foundation, was named a Citizen of the Year in Haddonfield in 2013, has received the United Way Stephen C. Ries Community Advocate Award and received the highest award the Red Cross bestows upon volunteers.
Scott D'Antonio
This Marlton resident has turned his home improvement business into a way to make a difference and give back to the South Jersey community. Earlier this year he worked with The Today Show to do a home makeover for a Pine Hill woman and her 7-year-old son who has Down syndrome. And once a month he offers his services to local families of special needs children as a means to "make life a little easier, safer and brighter." His "Handyman Helper for the Day" program allows such families to choose a full-day service such as painting, carpentry and more to be performed at their home free of charge. D'Antonio is an animal lover who has worked with several shelters like South Jersey Rescue and he's currently helping with fundraisers centered on subjects like epilepsy and breast cancer research.
Rev. Dennis L. Blackwell
For the past 27 years, Rev. Blackwell has been the lead pastor at Asbury United Methodist Church, working with everyone from at-risk youth to the incarcerated to the Philadelphia Eagles. He serves on the Greater New Jersey Annual Conference Committee on Episcopacy, board of directors of United Methodist Homes of New Jersey, Black Methodist for Church Renewal and Judicial Council of the United Methodist Church. Per- haps most notable, however, is his work with the DuBois Garvey Foundation, which he founded in order to improve the lives of young people through education, recreation, art and culture enrichment, mentoring, and teaching life skills and values. The foundation designs, implements and strengthens programs that help fulfill the dreams of young people in the Greater Camden area, working with caring adult role models to mentor with the community's young people and to steer them toward dream fulfillment.
Paul Drayton
While helping his son select a college, Drayton became inspired to return to higher edu- cation to solve the affordability crisis that denies many families access to education, or burdens them with a large amount of student debt that affects their quality of life. Since becoming Rowan College at Burlington County's (RCBC) president in March 2015, Drayton has used his position to implement real solutions to the affordability crisis in higher education—most notably the college's partnership with Rowan University. RCBC is the first college in the region to offer this program, which can save students $75,000 compared with going directly to a four-year institution. His other priorities for making college more affordable include expanding College Head Start in high school programs, developing more premier partnerships with businesses that offer tuition incentives for employees to attend RCBC and continuing to enhance the campus experience as the college transitions to Mount Laurel.
Dave Silver
When describing his work Operation Yellow Ribbon of South Jersey, President and Founder Silver says, it is both selfless and selfish. He started the Marlton-based, all-volunteer 501c3 nonprofit with a goal of sending monthly care packages to boost the morale of U.S. military personnel deployed to the Middle East. "[It] was the perfect way for me to channel my frustration with war and turn any anger into positive energy showing support of our U.S. service members," Silver says. In 2015, OYRSJ sent a group record of over 50,000 pounds of goodies and hygiene products and is on track to exceed that amount for 2016. He attributes the group's success to their passionate volunteers as well as tremendous support through the local community including schools, churches, synagogues and businesses all throughout South Jersey. Silver also somehow finds time to volunteer on the local school board, assisting with a holiday meals program and volunteering for a local education foundation.
Francis Falkenstein
A Haddon Township attorney, Falkenstein focuses a lot of his energy on helping people in recovery with legal obstacles, including providing his services pro bono. It's something he's passionate about because he, too, is a person in long-term recovery. He works with Recovery Advocates of America, a nonprofit in Hamilton that offers resources to families who have loved ones with drug and alcohol issues. And he's affiliated with another family support group, Deeper Dimensions Family Group in Woodbury Heights. He's also done pro bono work for the New Jersey Reentry Corporation, the nonprofit that works to help former inmates return to the workforce. "I am very open about being in recovery as I hope it can inspire and help others who are struggling or who have recently begun their journey of sobriety," he says.
Ryan Kastner
The importance of giving back and being a part of the community is something that was instilled in Kastner by his parents at an early age. It's some- thing he carried with him through college, sitting on the board of his fraternity and volunteering in various ways. "When I started with Innovative Benefit Planning a few years ago, I realized the impact a small business can have on the community as I witnessed the philanthropic nature of our owners," he says. "They encouraged me to get out there and get involved with any causes that spoke to me." He has since joined the Burlington County Cabinet of the United Way, become a board member of the Non- profit Development Center of Southern New Jersey, a Rotarian in Moorestown and vice president of his neighborhood association.
Louis B. Colameco III
As the founder of Wellshire Farms, Colameco has partnered with Whole Foods' Whole Planet Foundation, donating food for those in need. But his charitable efforts go far beyond his professional work and take a special place in his personal life. After his wife Barbara was diagnosed with cancer, the two joined forces with Dr. Rene Rubin of Hahnemann University Hospital. Sadly, Barbara lost her fight with breast cancer in 2010, but Colameco and Dr. Rubin have upheld her commitment and to date have raised over $125,000 with 100 percent of the proceeds going directly to patients. In her name, Colameco also founded the Barbara A. Colameco Scholarship at Gloucester County 4H, The Annual B.A.C. Walk to Wellness and The Wellshire/Colameco Family Scholarship fund. In addition to all of this, Colameco continues to be an active member of the community as a member of the board of trustees for Goodwill Industries of Southern N.J. and Pa., as well as donating time and resources to myriad local organizations including the Boys and Girls Club, local schools and police forces and autism pro- grams among many others.
Hon. David A. Spector
Spector has always wanted to be involved in the legal, political and governmental arenas. "My passion for helping others and finding solutions to people's problems makes me feel that I'm effectuating change and trying to make a difference," he says. In addition to serving as a councilman for Bellmawr since 2015, Spector is a member of the Alzheimer's Association of Delaware Valley Chapter Legislative Affairs Advocacy Committee, Rutgers—Camden Alumni Association Board, Jewish Community Relations Council board, Bellmawr Men's Auxiliary & VFW, Bellmawr Lions Club, the Volunteer Center of South Jersey board of directors and volunteers with the Ronald McDonald House of Southern New Jersey and Cathedral Kitchen.
Edward Hale Sr.
After serving on the Voorhees police force for 12 years, Hale never imagined he'd have anything to do with the town after retiring. That is, until a developer announced plans to build nearly 400 condos on an environmentally sensitive piece of land at the headwaters of the Cooper River. After forming a neighborhood group, he joined the Voorhees Environmental Commission in 2006 and was elected chairman the following year. Working with the commission and the administrator to acquire state and county funding, the township eventually purchased the majority of the 25-acre property for open space at a fraction of the original multi-million dollar price tag. About 2.5 of those acres were turned into a park, the first recreational facility in Voorhees' Ashland neighborhood. The commission also worked with the nonprofit Sustainable New Jersey to get Voorhees a silver certification within three years, one of only 40 municipalities in the state to achieve this.
Published (and copyrighted) in South Jersey Magazine, Volume 13, Issue 8 (November, 2016).
For more info on South Jersey Magazine, click here.
To subscribe to South Jersey Magazine, click here.
To advertise in South Jersey Magazine, click here.