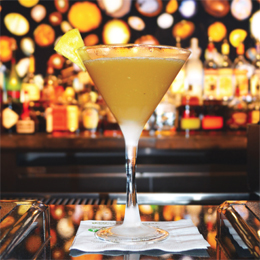 Jackpot
There may be fewer casinos these days, but that doesn't mean that Atlantic City should be considered any less of a destination. Thanks in part to an impressive array of fine dining, nightlife, spa experiences and more, A.C. is still going strong. That's why we spent time eating, drinking and pampering ourselves across town. Looking for a quality steak? We'll tell you where you should be making a reservation. Interested in starting the night off with a craft cocktail? We know just the bartender. Feeling the need to unwind with a massage? Allow us to recommend a few services that will help you decompress. Let us guide you through your next visit and you'll feel like you're on a winning streak, no matter what is happening at the tables.
EAT
Beef Wellington at Gordon Ramsay Pub and Grill, Caesars.
It's easy to see why this is one of the famed chef's signature dishes. Tender filet mignon is coated with finely chopped wild mushrooms and cloaked in flaky, buttery puff pastry and finished with port wine for a truly satisfying entrée straight out of Hell's Kitchen.
Penne Vodka at Martorano's, Harrah's.
Chef Steve Martorano likes to cook his way, meaning the recipes he grew up with in South Philly. He uses Grey Goose vodka and San Marzano tomatoes to make the sauce for this pasta dish that gets a nice boost from the addition of pancetta.
The Gotham Rib Steak at Old Homestead Steak House, Borgata.
This steak is big. Like 34 ounces bg. So while a healthy appetite is required, it's not hard to devour this charred-on-the-outside, juicy-on-the-inside hunk of meat that gets a nice transfer of flavor from the bone as it cooks.
Gnocchi con Ricotta at Il Verdi, Tropicana.
Delicate gnocchi are stuffed with soft ricotta and served alongside heirloom tomatoes that have been kissed by an open flame. It's light and slightly rich all at the same time, hitting on all cylinders with every forkful.
Stuffed Donuts at The Chocolate Box, Golden Nugget.
Take a doughnut, slice it in half, fill it with chocolate mousse, or perhaps cream and berries. Top it with crumbled chocolate ganache and crushed Butterfingers or maybe whipped cream and Oreo crumbs. Do we really need to say any more?
Fish Filet Thai Style at Eastwind, Resorts.
Tilapia and coconut flakes are a great way to start this dish, which gets a nice balance of sweet and heat thanks to both pineapple and chili pepper. There are many ways to dress up tilapia and this one sings.
Pretzel Crusted Crab Cakes at Guy Fieri's Chophouse, Bally's.
The Food Network star is known for creative takes on familiar food and that's exactly what you'll find up and down the menu here. We're partial to these hefty crab cakes that forgo the panko for salty, crunchy pretzel pieces and are enhanced with a Key Lime honey mustard.
Lemon Cheesecake at Nero's Italian Steakhouse, Caesars.
A pistachio shortbread crust is the foundation for this citrusy cheesecake that is plated with a lemon jam and vanilla bean anglaise for a truly decadent dessert.
Shrimp Risotto at Wolfgang Puck American Grille, Borgata.
Puck is the inspiration for countless cooks and they could all learn a lesson from this well-prepared rice dish. Meaty shrimp and earthy porcini mushrooms make this plate both rustic and refined.
Sirloin Burger at The Sunroom at The Water Club, Borgata.
In the day and age when ingredients like eggs and foie gras are finding their way onto burgers, it's nice to sometimes just have a good old-fashioned patty. That's not to say this particular burger is run of the mill; quite the contrary thanks to crispy onion and a red pepper mayonnaise that give it slight depth without pushing things over the edge.
Harry's Clam Bake at Harry's Oyster Bar, Bally's.
Seafood lovers will want to dive into this amalgamation of clams, mussels, shrimp, lobster and scallops. You'll also find red bliss potatoes, corn on the cob and a bit of spice courtesy of chorizo.
Colorado Organic Lamb Chops at Vic and Anthony's Steakhouse, Golden Nugget.
Lamb is a wonderful protein and at Vic and Anthony's they treat it with the respect it deserves by preparing it with precision. Slightly pink and amazingly tender, it's one of our favorites to be sure.
18-Ingredient Mole Short Ribs at Dos Caminos, Harrah's.
Mole is like a symphony for your taste buds. At Dos Caminos they braise the short ribs in their own version of the complex Mexican sauce, allowing the mole to deepen the richness of the tender meat that falls apart on the fork.
Capesante con Mais Dolce at Capriccio, Resorts.
Scallops are seared wonderfully and served atop a bed of sweet corn succotash with pancetta, tendrils and accompanying dollops of pea puree.
Lobster and Pineapple Fried Rice at Golden Dynasty.
This upscale Asian eatery has opened our eyes with this menu offering where rich lobster harmonizes with the acidic pineapple for a unified bite. It may not seem like much, but there's sophistication in its simplicity.
Spice Ahi at The Chart House, Golden Nugget.
This well-seasoned fish is seared ever-so slightly, leaving the middle fairly pink, as it should be with high-quality tuna. Wasabi cream and ginger soy further the Asian approach, but the fish tantalizes on its own.
The King Salmon at Buddakan, The Playground at Caesars.
Considered to be one of the most coveted fish, the king salmon at this Stephen Starr restaurant doesn't disappoint. The large cut of fish is served with pickled water chestnuts and mung beans—a legume rich in antioxidants and protein often overlooked in other kitchens.
Cubano Dumplings at Sammy D's, Harrah's.
Just thinking about this take on the famous Cuban sandwich makes us hungry. Soft dumplings are filled with ham, mojo-marinated roast pork, Swiss cheese and pickles. It's Latin fare with plenty of Latin flair.
Mami Totty's Arroz con Leche at Cuba Libre, Tropicana.
Chef/partner Guillermo Pernot brings family tradition into the Cuba Libre kitchen with this dessert that recreates his mother-in-law's recipe for a Cuban-inspired rice pudding.
New York, New York at Gallagher's Steakhouse, Resorts.
Like surf and turf? Then you'll want to feast on this version that includes a New York strip that is aged in-house and served with a broiled Maine lobster. There's a reason why a dish like this has stood the test of time.
Cinnamon Toast Crunch Cupcake at Boardwalk Cupcakes, Bally's.
Call it an adult cupcake; this alcohol-infused treat boasts red velvet cake spiked with Fireball whisky and finished with a Rum Chata icing.
Ricotta Pound Cake at Fornelletto, Borgata.
We were never big pound cake fans. Then we tried this version at the Borgata's underground Italian hideaway. Rich without being too filling, it's divine. The buttered popcorn gelato and salted caramel sauce only make things more exciting.
DRINK
The Esquire at The Steakhouse, Harrah's.
This regal cocktail starts with a base of Gentleman Jack whiskey and is blended with Grand Marnier and garnished with lemon, orange and a few dashes of bitters.
Pineapple Twist at 10 North Lounge, Tropicana.
This is a thoughtful mix of Remy Martin, agave, sour mix and fresh pineapple. The tartness helps cut through the potency of the cognac for an extremely drinkable libation.
The Astronaut at The Continental, The Playground at Caesars.
The perfect screwdriver for any space traveler, this drink blasts off by combining peach vodka with Tang. Yes, we said Tang. The orange powder is also used to rim the glass, giving this drink a truly nostalgic feel.
Pink Cadillac Margarita at The Deck, Golden Nugget.
This space overlooking the marina is the ideal place to throw back this concoction of Patron Silver, Patron Citronge Orange, agave nectar and Chambord Black Raspberry Liqueur.
Caramel Apple Manhattan at Cielo Wine Bar, Resorts.
More than just a wine bar, this is the spot for a tasty twist on one of the most iconic cocktails of all time. Crown Royal and sweet vermouth are met with butterscotch schnapps, a hit of apple juice and bitters.
Atlantic City Sunset at Bally's Beach Bar, Bally's.
You don't have to wait until the end of a day spent on the sand to enjoy this mix of Malibu Coconut Rum, Southern Comfort, amaretto, Sierra Mist, sour mix and grenadine.
PAMPER
Immersion Four-Hand Massage at Immersion Spa at The Water Club, Borgata.
Two masseuses will give your sore muscles a run for their money over the course of this 80-minute, $290 session. You may even fall asleep. Don't worry though, that's a compliment.
The Ultimate Indulgence at Elizabeth Arden Red Door Spa, Harrah's.
This spa experience may be pricy at $559, but you can't really put a dollar amount on pure bliss, can you? Start off with a hot stone massage, followed by a facial, olive oil mani-pedi, a bite for lunch, a shampoo and a blow dry. They'll finish off your stay by applying your makeup so you're one outfit change away from hitting the town.
Fiji Ritual at Qua Baths and Spa, Caesars.
This hydrating treatment uses tropical ingredients like mango and pineapple to help detoxify and exfoliate your skin before you are "painted" with a body butter and wrapped in a warm blanket to allow deep penetration. End the day with a scalp massage that utilizes warm leaves containing exotic oils, designed to give your hair a renewed shine.
Tension Relieving Sage and Seaweed Therapy at Blue Mercury Spa, Tropicana.
You'll begin this service by getting a full-body sea salt scrub to prepare your skin for the body mask of natural mineral clays used to help remove toxins from the body. Once that is complete, you'll bathe and end with a body massage to relax any lingering tension.
Collagen Lifting Facial at The Pool and Spa, Bally's.
There are lots of anti-aging treatments available, but this is like taking a trip to the Fountain of Youth. A mineral microdermabrasion consisting of volcanic rock sets the table for a collagen lifting mask that helps rejuvenate the skin and fill in wrinkles to have you not only looking younger, but feeling it too.
Quick Fix Mini Facial at the Spa at Resorts, Resorts.
When pressed for time, but still wanting to look beautiful, this is our go-to skin treatment. The experts here know how to make your skin glow and keep you radiating while we're on the go.
Milk and Honey Ritual at Golden Nugget Spa, Golden Nugget.
After you are first coated in a milk blend, you'll have rough patches of your skin scrubbed with whipped honey. From there, you'll be fully insulated in a warm honey drizzle before being rubbed down with sweet cream to finish off an unforgettable 80 minutes.
Published (and copyrighted) in South Jersey Magazine, Volume 13, Issue 8 (November, 2016).
For more info on South Jersey Magazine, click here.
To subscribe to South Jersey Magazine, click here.
To advertise in South Jersey Magazine, click here.