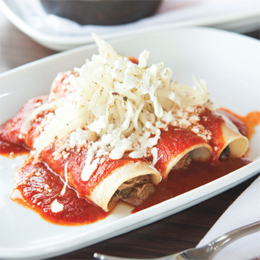 Side Dish: October 2016
QUICK BITE: Oxtail Enchiladas
Slow-cooked, fall-off-the-bone tender oxtail is piled onto house-made corn tortillas, rolled up and covered in melted cheese and a smoky Guajillo pepper sauce. Every bite is cohesive, warm and bursting with flavor, especially when paired with rice, beans and raw onion.
Plaza Azteca, Sicklerville
DATES TO WATCH: National Chocolate Cupcake Day
Sometimes we're a bit surprised by just how specific some food holi- days get, like this month's National Chocolate Cupcake Day. That is, until we think about all the takes on the classic cupcake in our neck of the woods. Raise a cup—cake, that is—and celebrate with any of these tasty treasures.
Chocolate Fudge Cupcake
Carlo's Bakery, Marlton
Death by Chocolate
Sweet Freedom Bakery, Collingswood
German Chocolate Cupcake
Sunflour Bakeshop, Mount Laurel
THE TOP FIVE: Spicy Tuna Rolls
A go-to option of any sushi shop, many local chefs are taking what is usually a single-ingredient roll and flipping it in on its head, adding fresh veggies, fried elements and a bit of a crunch to complement this diverse sushi staple. Next time you're craving your favorite classic, try adding a bit of a twist with these choices.
1.) Sunshine Roll
Spicy tuna meets its match in crunchy, fried shrimp tempura. The two are combined in one roll and finished with creamy avocado and crab meat on the inside, then topped off with diced spicy lobster.
Ocean Asian Cuisine, Sewell, OceanAsianCuisine.com
2.) American Dream Roll
Yokohama takes a different approach to sushi by pairing their spicy tuna with fresh sweet apple and fresh scallions. The roll then gets deep fried and served with their house-made special sauce. The fat from the tuna and the deep frying pairs just right with that fresh, crisp apple addition.
Yokohama, Maple Shade, YokohamaCuisine.com
3.) Lion King Roll
If you ask us, this is more of a kitchen sink roll, as it piles all of your favorite sushi ingredients in one bite. The roll is stuffed with shrimp and salmon tempura as well as spicy tuna and avocado, then rolled up and finished with a whole slice of eel and tobiko, or flying fish roe. Then it gets doused with eel sauce and spicy mayo to really enhance every flavor.
Samurai Japanese Hibachi, Glassboro, NJSamuraiSteakhouse.com
4.) Steven Sashimi Roll
Leave the rice behind with this roll, which skips the carbs and loads each roll with spicy tuna, asparagus and yellowtail, wrapped in soy bean paper. It all gets topped with salmon, eel, avocado and a bit of crunch.
Megu Sushi and Hibachi, Cherry Hill and Moorestown, MeguSushi.com
5.) Diga Roll
Tuna lovers will flip for the Diga Roll, stuffed with spicy tuna and crunch then rolled up and topped with pepper tuna that has just an extra hit of spice. It's just the right amount of tuna, and the addition of the restaurant's special sauce helps things from being too overpowering.
Osaka Sushi, Collingswood, Osaka720.com
FAST FOOD
Last we heard of Mount Royal Bagel Company was a planned renovation and new name, but the Marlton bagel company recently announced via Facebook that they will instead close permanently.
Another neighboring closure comes by way of the Champps sports bar, which shuttered its doors unexpectedly at the end of August.
High Street in Mount Holly's newest eatery comes by way of The Local Eatery and Pub, a craft beer and elevated pub grub spot that re- places the closed High Street Grill.
The CEO of A.C. Moore has gotten into the restaurant biz, purchasing the vacant plot of land on Haddon Avenue in Collingswood. Pepe Piperno's family members Dominic—who formerly served as the sous chef of Zeppoli— and Lindsay Piperno will run the restaurant, while an additional two floors above will be used for apartments.
Collingswood borough also recently installed new gas lines down Haddon Avenue, which will allow the bakery Dulce and soon-to-be grocery store McFarlan's Market to cook and install gas ranges.
The Mansion on Main Street in Voorhees was rocked by a fire in the early morning of Sept. 18. The fire is under investigation and the building was back up and running that morn- ing for brunch as no damage was done to the interior.
Kuzina by Sofia in Cherry Hill has closed.
The newest BYOB in Haddonfield is Two Fish, a seafood restaurant that opened on Haddon Avenue in mid-September.
Published (and copyrighted) in South Jersey Magazine, Volume 13, Issue 7 (October, 2016).
For more info on South Jersey Magazine, click here.
To subscribe to South Jersey Magazine, click here.
To advertise in South Jersey Magazine, click here.