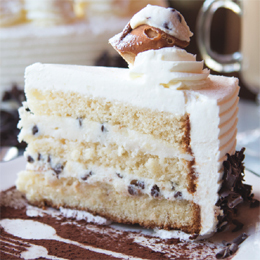 An Evening on the Town
Robin's Nest
2 Washington St.
Mount Holly
(609) 261-6149
There's something so charming about Mount Holly's High Street in autumn. Of course, the Halloween festivities and fall fun sure do help, but even strolling down the street on a non-festival day is an experience in itself. An integral part of the Mount Holly vibe sits at the corner of High and Washington streets: Robin's Nest Restaurant, a local favorite around these parts for almost 30 years.
Owner and chef Robin Winzinger seemed to pick the perfect spot to open her eclectic eatery. The former inn sits directly on a branch of the Rancocas Creek, so on a beautiful fall—or spring, or summer—day you could grab a bite outside and take in a particularly stunning setting. Directly behind the space sits rows of tiny, privately owned businesses selling everything from antiques and crafting supplies to boutique clothiers and more. Offering brunch, lunch, dinner and an assortment of house- made desserts means you could easily spend a full day walking the area and not grow bored or hungry.
Grabbing a seat inside—or near the vintage style bar—isn't a bad idea either, especially when dinner rolls around. On a particularly chilly evening in the Victorian-style dining room, we decided to warm up with a starter of tacos. Available with a variety of proteins depending on the season, each plate comes with two hearty tacos, piled high with a mango crema, house-made salsa, lime coleslaw and a drizzle of honey curry sauce. The combination of tangy, zesty and rich flavors, with just a hint of heat from the salsa, was an exciting and interesting way to kick off the evening.
Neighboring tables raved about the chef's pesto hummus creation, so of course that was on my radar. The chickpea hummus was pureed with lemon juice, tahini, fresh garlic and parsley and plenty of olive oil, then spooned into a bowl and topped with basil pesto and toasted pine nuts, all surrounded by sliced pita bread and fresh cu- cumber. The crunch of the pine nuts went perfectly with the creamy hummus, while the pesto itself brought out the bright, citrusy lemon flavors mixed in. It was a light dish that still packed plenty of vibrant flavors.
Tuscany chicken seemed to be the only slight hiccup of the evening. A chicken breast was pan seared, then topped with a slice of fried eggplant, sautéed spinach and melted provolone cheese, and finished off with a house-made roasted garlic red sauce. By the time it arrived on the table the fried eggplant had lost its entire crunch and earthy flavor, which would have really added a much-needed bit of flair to break the dish up. I was hoping for just a bit more, especially when considering how creative and fun the rest of the menu is.
All was quickly forgiven, however, with the BBQ brisket plate. The brisket was slow roasted in a barbecue sauce and marinade, then served over a heaping pile of mashed potatoes and vegetables. Mind you, this isn't like the traditional smoked brisket you'll find at a barbecue joint, but this take deserves its own attention, as the beef was perfectly tender and the accompanying barbecue was sweet and tangy. Meanwhile, the mashed potatoes were a star unto themselves, loaded with butter, garlic and cracked black pepper. Each ingredient on its own was satisfying, but together they combined to create some- thing really special.
When visiting Robin's Nest you simply can't miss the dessert case that welcomes you at the front door. And you shouldn't leave without at least trying one of their handcrafted desserts, made daily in-house by pastry chef Kristin Guerina. Our top pick? The cannoli cake, featuring two layers of chocolate chip cannoli cream stuffed between three layers of fluffy white cake, finished with an airy whipped cream frosting, chocolate shavings and a chopped cannoli on top. Even with the multiple layers of cake and filling it managed to be a light slice of cake, so much so that we didn't feel too overwhelmed after devouring an entire slice.
If you're looking for an excuse to get lost for a day, take in the changing leaves and embrace all that is lovely about the fall season, we suggest stopping by Mount Holly. And if you're looking to leave that day with a lasting impression, enjoying a few plates at Robin's Nest is truly the way to go. Just remember to save room for dessert.
Published (and copyrighted) in South Jersey Magazine, Volume 13, Issue 7 (October, 2016).
For more info on South Jersey Magazine, click here.
To subscribe to South Jersey Magazine, click here.
To advertise in South Jersey Magazine, click here.