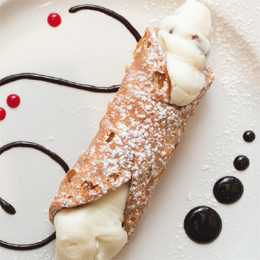 Family Style
Chianti Ristorante
127 Bridgeton Pike
Mullica Hill
(856) 478-4400
Our rating: 3.5 out of 5 forks
We were excited when we learned that a new Italian eatery would take over the former Toscana space in Mullica Hill. The family-owned Chianti opened several months ago, run by the same family that owns the wildly popular Tarantella Ristorante in Medford. Bringing decades of local experience from a restaurant that was already known and loved surely meant good things for Gloucester County.
The interior space hasn't changed much from past haunts: dimly lit, sectioned off dining spaces are built around an open kitchen space, where chefs and servers buzzed back and forth. It's a bustling dining room, but the walls and dividers still allow for plenty of intimacy.
Chianti's menu takes an all-encompassing look at Italian-American cuisine, spanning the culinary style with familiar dishes that fans of the cuisine have come to know well. That includes a sprawling pizza list, plenty of pasta and the traditional selections of chicken or veal and seafood.
Mussels in white sauce were the perfect example to start with. The well- known mussels were sautéed in a garlic and white wine sauce until they popped open, served sprinkled with parsley and plenty of sauce alongside house-made bread and garlic knots for dipping. It was a plate that you can find at many Italian restaurants in the area prepared almost identically, but the well-cooked and massively meaty mussels certainly helped to enhance the dish, and made it a bit more memorable.
A plate of Italian rice balls were an exciting transition from the shellfish. Baseball-sized risotto balls were packed full of seasoned ground beef, deep fried in Italian bread crumbs and served with a generous helping of marinara sauce. The risotto itself was wonderfully seasoned, creating a creamy, slightly cheesy bite every time, while the crispy exterior added just the right crunch. But it was the marinara sauce that really sticks in my memory: a beautiful, bright red sauce that had just the right amount of sweetness that only a freshly prepared marinara can achieve, packed with herbs and a little hit of pepper.
Pasta Franco jumped out as particularly enticing from the selection of pasta entrées, featuring your choice of pasta tossed with roasted red peppers, sweet Italian sausage, diced onion and chopped mushrooms, all coated in a house-made olive oil and cream sauce. The sauce itself was the dish's real, unifying component, bringing together all the ingredients nicely in each bite. Every forkful had a nice hint of sweetness from the pepper and earthiness from the mush- room, finished off with a bite of salt from the sausage. It's a warm and inviting plate that seems to perfectly fit the start of the fall season.
The seafood selection leaned heavily toward shellfish selections, like the scallops marinara, which don't stray too far from their name. A half dozen plump diver scallops were stewed in that addicting marinara sauce that made an appearance with the risotto balls, and were tossed with sliced grape tomatoes then spooned over a bed of linguine. I could certainly appreciate the size of the plate, as there was no shortage of scallops for each bite, but the scallops would have benefited from a light sear to help seal in their flavor and make them a bit more tender.
Chianti looks as though it aims to be a family-friendly spot in the heart of Mullica Hill. With the selection of dishes that never stray too far from the familiar and a keen eye on ingredients and preparation it looks like they could be just that: a go-to family favorite with something for everyone.
Published (and copyrighted) in South Jersey Magazine, Volume 13, Issue 7 (October, 2016).
For more info on South Jersey Magazine, click here.
To subscribe to South Jersey Magazine, click here.
To advertise in South Jersey Magazine, click here.