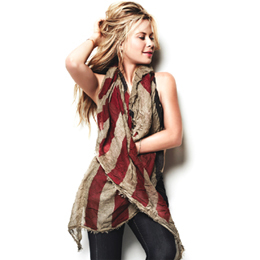 Off the Ice
Tara Lipinski captured the world's attention at an early age when she became the youngest Olympic gold medalist in women's singles figure skating at just 15 in 1998. Her electric energy carried her through a professional career and more competitive gold medals and eventually led her behind the scenes as a commentator for the 2014 Sochi Winter Olympics.
Recently, Lipinski returned from a month-long stint in Rio de Janeiro, where she served as a culture correspondent for the Summer Olympics alongside fellow professional skater and best friend Johnny Weir, a Delaware native. It's not the first time the pair stole the show at a big, inter- national event: Lipinski and Weir have become regulars at the Kentucky Derby, the Super Bowl and of course the Winter Olympics, dressing to the nines and shaking things up side-by-side for younger crowds looking to connect on a different level.
Between jet-setting around the world, hosting a new podcast with her partner-in- crime, aptly called Tara and Johnny, and planning a wedding that matches her stylish flair to sports producer Todd Knapp— where Weir will serve as "bridesman"—Lipinski still finds time to come back home and enjoy her favorite South Jersey things. We caught up with Lipinski during a brief lull in her schedule, to hear about her bond with Weir, her trip to Rio and her life away from professional skating.
The job of a lifetime…
I don't know how it happened. Being in the right place at the right time, a little bit of luck and the good fortune of Johnny and I being friends with a good, relatable chemistry helps. It's a perfect storm that started with a little spark in Sochi and it's kept going. NBC is so open-minded in moving us into other live events. And it works. We can do that at the Derby, at the Super Bowl and of course with figure skating.
Rio de Janeiro…
It was really incredible. It was our first Summer Olympics, obviously as Winter Olympians we've been to many, but it was really cool to be at an event that we know so well but was so different. It was so great to see the different athletes and the sports and it felt a little bit bigger. Johnny and I had a good time. We were really able to sort of enjoy the experience and delve into everything that happened at the Olympics, the behind-the-scenes, cultural moments. It was definitely a different job and it's nice that NBC keeps giving us these opportunities.
Experiencing Carnival…
[Johnny and I] were lucky enough to be part of Carnival in February [in Rio]. Carnival is huge. It's like Mardi Gras times 1,000. The energy and the entire place is crazy. It all shuts down and has these giant block parties. The energy is so high and the mood is so great.
Tara and Johnny…
We threw [the idea for] a podcast around for a little bit and then we just decided to try it. I think we didn't know what it would be like or if we'd be good at it. Both Johnny and I weren't big podcast listeners, and we didn't know how big the podcast world is. Ours is unique, and the focus is not strictly sports or skating, it's sort of what goes on behind the scenes, our lives together and our friendship. It's just me on the phone with Johnny gabbing about life. It's a whole different world and I'm hooked. There's something so fun about it. I am talking to these people and it's so intimate and relaxed, which is what we wanted when we started.
Finding the "one"…
It's been so great. For me, meeting Todd, gosh only a little over a year ago, it's been so wonderful. It's true that when you know, you know. He's a sports producer so we understand that our lifestyles are always on the move. I'm glad that I sort of waited until that moment where I just knew. I'm 34 now and I know this is what it's supposed to be. We have such a good time.
Her Bridesman…
It's crazy that [Johnny and I] grew up in the same area and skated at the same rink and crossed paths when we were younger and now here we are. I've become so spoiled to be with him. I really don't know how I'd do it without him. Obviously you want your work to be fun but it's been taken to a whole new level since I get to work with my best friend. That comfort level, knowing after work we can have fun together, it's wonderful. Johnny and I had an in-sync connection right away. I don't know how that works, but we are lucky to know we have each other's backs.
Getting back to South Jersey…
I come home every Christmas. My aunt and uncle still live five doors down from where I grew up. We're a small, close family so it's my aunt, uncle and my cousin Eric who lives in Cherry Hill with his wife and my two little nieces. I always love that they live so close to where I grew up, driving past my house and down the same streets.
Local hangs…
I lived at Sal's Pizza [in Washington Township] as a kid with my parents and cousins. I love Sal's. It's at the top of my list. But it's crazy to go to the malls that I used to go to as a little girl, and passing by the Deptford Skating Rink, which I haven't been to in a while, when I'm back.
Fresh perspective…
Skating has been dealt some blows and the popularity that skating had in the '90s, we're not there now. It also depends on the American skaters and whether they're winning or not. With Johnny, we both hope that we can bring a fresh take to the sport. The one thing that Johnny and I try our hardest to do is give the viewing audience an authentic look at the sport. We try to be as honest as we can and I think that interests this audience now. The scoring system, the judging, can be confusing if you aren't involved in it, so we try to give an honest look at that.
Published (and copyrighted) in South Jersey Magazine, Volume 13, Issue 7 (October, 2016).
For more info on South Jersey Magazine, click here.
To subscribe to South Jersey Magazine, click here.
To advertise in South Jersey Magazine, click here.