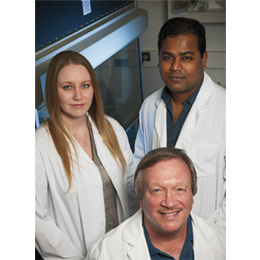 A New Hope
Today, Alzheimer's disease is considered an epidemic, as an estimated 5.4 million Americans have the disease and it ranks as the sixth leading cause of death in the U.S., according to the Alzheimer's Association. While research teams across the country have assembled to learn more about the incriminating disease, there remains no cure.
However, there is a glimmer of hope.
Recently, one research team made a historic finding—and it happened right here in South Jersey at the Rowan University School of Osteopathic Medicine led by Dr. Robert Nagele, a professor of geriatrics and director of translational research at the New Jersey Institute for Successful Aging, who has worked in the medical field of Alzheimer's since 1999.
In 2015, Nagele and his team developed a blood test utilizing the body's immune response system to detect an early stage of Alzheimer's, otherwise known as mild cognitive impairment (MCI)—the stage in which a patient first recognizes they have a cognitive and/or memory problem, but it cannot be definitively determined if it's Alzheimer's.
This tremendous breakthrough has now opened the floodgates to advancements in patient care and further findings, which could possibly lead to diagnosing Alzheimer's even before symptoms arise—otherwise known as preclinical. As Nagele explains, the disease starts "cooking" in the brain about 10-12 years before a patient shows any symptoms and his team's goal is to detect it "a full 10 years before you walk into the doctor's office."
But, this blood test isn't exclusive to Alzheimer's. It is leading breakthroughs with diagnosing early-stage and mild-moderate Parkinson's, a preliminary diagnosis of multiple sclerosis and possibly detecting early-stage breast cancer. "This diagnostic strategy is a multi-disease diagnosis strategy," says Nagele. "This strategy could detect many, if not all diseases, and that would change the way diagnostics are done." So how exactly does this blood test work and more importantly, how was it discovered? As Nagele says, "It's actually very simple, as most things in science really are, if you look at it closely."
SOUTH JERSEY MAGAZINE: What finding inspired you to launch this study?
Dr. Robert Nagele: I happened to notice that every time I looked at a region of the brain that was showing Alzheimer's pathology, the neurons—the guys that do all the work, memories, ability to think, etc.— were always coated with immunoglobulin (or antibodies). ... There's a wall between the blood and the brain called the blood- brain barrier [and] in healthy individuals, [it] is intact. ... The only way [these coated neurons occur] is if the blood-brain barrier was broken down to allow all these immunoglobulins to leak into your brain. That, in my opinion, is the real trigger for Alzheimer's disease. ... I [also] noticed only certain types of neurons had immunoglobulins stuck to their surface, which happened to be the same ones that die when you have Alzheimer's. So I launched the search to identify what the antibodies were recognizing that made them bind to these neurons.
SJM: What did you find?
RN: I really haven't tested it fully—I'm in the process of doing it now ... The immune system actually [produces] autoantibodies that would recognize and bind to the debris that you generate every day. ... And then [it] can be easily removed.
SJM: How does that apply to Alzheimer's?
RN: In Alzheimer's disease, [it] is well known to have a lot of brain destruction. Neurons are dying every day and when they die, they explode [and] release their entire contents as debris and some spills into the blood. Because you have Alzheimer's, you have a high-level of brain debris in the blood and your immune system will then produce [disease-specific] autoantibodies to clear that brain debris. So your levels will be higher than a person who doesn't have Alzheimer's.
SJM: When the day comes, how will doctors use this blood test on patients?
RN: The way I envisioned it down the road is once all the biomarkers are done for all the diseases, we'll just pop them all on one microarray and every year you will get tested for all of them—including Alzheimer's, Parkinson's and MS. If any of them creep up or [are] in their early stages, we'll catch them early.
This research—which had been supported, in part, by the Osteopathic Heritage Foundation and The Michael J. Fox Foundation with the help of the Alzheimer's Disease Neuroimaging Initiative (ADNI)—is now paving the way for the next test: diagnosing the earliest stage of Alzheimer's, in hopes it will spur the development of a possible cure. "We're hoping pharmaceutical companies will develop a therapy so [a patient] will never progress to the point where [they] need to walk into the doctor with a memory complaint," says Nagele.
For now, the team is rejoicing in their groundbreaking discovery. "It's been a long hard road. This idea came to me in 2009," says Nagele. "Every day gives us more faith in the reality of what we have and more faith in what it can become. ... I've been excited about it from day one and it's very gratifying now to be where we are. After fighting that battle, you feel like you've won something."
Published (and copyrighted) in South Jersey Magazine, Volume 13, Issue 7 (October, 2016).
For more info on South Jersey Magazine, click here.
To subscribe to South Jersey Magazine, click here.
To advertise in South Jersey Magazine, click here.