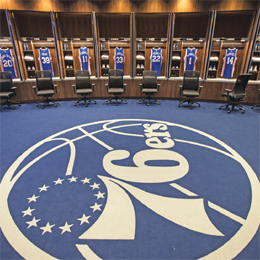 Building Something Special
When the Philadelphia 76ers landed the No. 1 overall pick in June's draft, the fans bubbled with excitement with the realization that the team would be able to draft what they hope will be the franchise's next superstar in Ben Simmons. After a dismal stretch in recent years, it appeared the sun was once again shining on this proud organization.
On a Friday morning in late September, the sun was indeed shining, this time illuminating the breathtaking new training complex and practice facility the team opened in downtown Camden. As local and state politicians flanked Mayor Dana Redd and team officials including owner Joshua Harris and head coach Brett Brown filled out the stage, a new era in Sixers basketball had begun.
"It's incredibly exciting," says Harris. "It's unusual that you work for five years on something, you envision it and then you walk in and the day is better than you expected. When I saw the facility I realized that we had done something truly special for the city, our players and our coaching staff."
The gleaming 125,000-square-foot building has been in the making for more than three years. The team became one of the first businesses—yes, professional basketball is very much a business—to target Camden and its newfound tax incentives thanks to the Grow NJ act as its new home. Several other businesses like Subaru and Holtec have also joined the team in an effort to reinvigorate the city by opting to move their headquarters there as well. Harris says the team's move will add 250-plus jobs to Camden, though some will be existing positions. Of importance, is the bond the team is looking to make with their new neighbors.
"For us, Camden is a place that is on the move. It's getting better, but a place we can also help," Harris says of the decision to bring the team across the river.
For years the team practiced at the Philadelphia College of Osteopathic Medicine in West Philly, sharing space with the school. In this day and age, that is unheard of. Around the NBA teams have built practice facilities that feature top-of-the-line amenities that have become part of the sales pitch to potential free agent targets. As the 76ers aim to become competitive again, they need all the leverage they can get. One quick walk through the new facility and it's hard to imagine there are many others like it.
A sleek locker room puts the players in a circle—a design element that brings the team together in a sense. Hydrotherapy rooms include hot and cold baths and an underwater treadmill. There's dedicated training space, a weight room and two full-size NBA courts. Upstairs lies a "kitchen" where Chef JaeHee Cho, who once cooked at Stephen Starr's Parc, creates a menu catered to helping the players eat well as they develop their skills. Off to the side is a player's lounge complete with 80-inch flat screens, a pool table and ping-pong table. "This is the second training complex I've been privileged to introduce so I have strong opinions on how to best do this," says Brown, who formerly worked as an assistant for the San Antonio Spurs, regarded as one of the NBA's model franchises both on and off the court. Part of those opinions included Brown and others from the organization taking a look at other facilities, and not just in the NBA, and not just in America.
"We've gone all over the world, from Major League Baseball to the National Football League to the Australian Institute of Sport to Manchester United to pick and choose the things we feel reflect our values from sports science on down," Brown says. "And we always felt if we were last, well, you know, we better be best." It's an ideal shared by CEO Scott O'Neill. "When you have a vision that turns into what I think is the most spectacular practice facility in the world, it's pretty good," he says. "We took the best from everywhere in the world and that's what you are seeing here." The team is full of young players, many of whom have only their days at PCOM to use as a comparison, as if there is any. They may not realize the scope of the new facility, but its impressive nature is not entirely lost on them either according to general manager Bryan Colangelo. "The players' reaction so far is over- whelming; they just feel really good about where they are. There was so much thought and expertise that went into this. ... We feel like we've taken a huge step forward as an organization with this and I think the player's excitement reflects that," says Colangelo. One would have to agree given that, during a recent tour, nearly the entire team was present despite there being no man- dated reason to be. The hope is that they will not only come to practice, but to linger and build camaraderie by sharing meals, playing games, lifting weights, etc.
"Nothing against PCOM, but the reality was it was a place where people came, they worked and then left. There was no reason for them to stay," Harris says. "Now we've developed a place where they are not going to want to leave. There's everything they need from good food, to great medical care and training to all kinds of exercise equipment and places for them to hang out. In terms of building a culture, it's important from that point of view."
Facts & figures
The Philadelphia 76ers' training complex is 125,000 square feet in total
Acoustical tile is arranged on the walls of the basketball courts to prevent echoing and sound vibration
The basketball courts are comprised of two full-size NBA courts and six additional shooting baskets for a total of 10 hoops
Both the main and player entrance reception desks feature wood from the basketball court on which Wilt Chamberlain famously shot his NBA record 100-point game
The basketball courts are made of 16,384 pieces of maple wood athletic flooring
The interior layout required 1,500 sheets of drywall and 22,500 screws
1,384 square yards of concrete were poured to complete the first floor
Published (and copyrighted) in South Jersey Magazine, Volume 13, Issue 7 (October, 2016).
For more info on South Jersey Magazine, click here.
To subscribe to South Jersey Magazine, click here.
To advertise in South Jersey Magazine, click here.