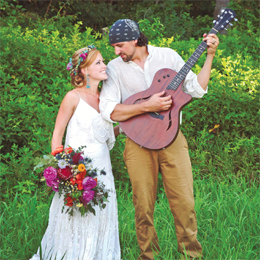 On Theme
The date was Aug. 13 and for Callie and Cody Henderson the stage was set—literally. As Calli danced around her family farm in a white, floor-length lacy gown—the flower crown on her hair matching the flowers hanging from the beams of their white canopy and tapestries scattered around the room— her new husband gripped an acoustic guitar, serenading his wife with a song about their eternal love. It was a day of peace and music, so perfectly matching the Woodstock theme they had based their entire wedding around.
The Hendersons' Wedstock is one in a trend of themed weddings sweeping across South Jersey. Couples are choosing to inter- twine their personalities, hobbies and interests into the biggest day of their lives, through details both small and massive.
According to Sensational Host Caterers sales director Cory Gosik, themed weddings are not the norm, but when they show up, they're hard to miss. "Every wedding has their own feel to it, whether it's rustic, modern, contemporary, but we don't see a lot of really distinct themes," says Gosik. "But when they do, the couple will come to us and say we're really into this theme, we want to really get into it."
"A custom wedding is for a couple that's really into something," says Toni Moshen of Sweet T's Bakeshop in Haddonfield, who has designed themed cakes for everything from LEGOs to The Avengers. "I mean, really, really into something."
Themes range from a couple's favorite movie or television show—with Harry Potter remaining a front runner—to a favorite game, family memory or even a trending piece of culture. "We find that themes gain traction during the two-year period after a particular movie comes out," says Gosik. "A couple will see that movie, then get engaged and work on planning from that moment forward. So we're starting to see people do away with The Great Gatsby themed weddings this year, but it was very big for the last few years. The gold, glitter and glamour from the movie were huge."
Finding peace
For the Hendersons—of Lower Alloways Creek Township—peace, love and music have long been foundations in their relationship. But it wasn't until an impromptu trip to Woodstock, N.Y., that they found a real, solid theme for their big day.
The pair had by chance stumbled on the 45th anniversary celebration of Woodstock 1969. The love and warmth of that trip flowed into exactly what they envisioned for their wedding, and thus, Wedstock was underway. "[Creating] a peaceful, casual and comfortable setting was important," says Cody Henderson. "Wedstock was going to be fun: Wear tie dye if you want to, a band tee or a hippie dress."
The wedding was held, like Woodstock, on a farm; the family's Weedy Dell Farm right in the Hendersons' neck of the woods.The Hendersons designed their invitations to look like Woodstock ticket stubs and packed their space with benches, tapestries and oriental rugs. Food trucks came in to serve guests so they could grab a bite between dancing and posing for photos inside a rented VW van photo booth.
On the day of the wedding, Callie rode up to her ceremony in an electric blue, 1960s Ford Galaxie before walking down the aisle to a string version of "Kashmir" by Led Zeppelin.
Making dreams reality
How does a couple take their vision and turn it into a tangible reality? That was the big question for Jillian Johnson and Matthew Dudek. The Cherry Hill couple was married on Sept. 24 and wanted to tie their love of football—and their Philadelphia Eagles and New York Giants rivalry—into their big day. But football themed linens just weren't on the list of options at the local caterer.
"As much as I wanted to incorporate the football aspect I didn't want it to become a Super Bowl party. I wanted a nice ceremony outside that reflected the fall, with little things that brought out the football," says Johnson.
One consideration is time. Themed weddings are largely a do-it-yourself adventure, so that means more crafting, trips to the stores, and time spent on projects than the usual bride. "I wanted to make a seating chart that was a football field and make little jerseys for everyone. But it's a matter of time," says Johnson. "When it comes to a theme like this, you do everything yourself. There are no football wedding sites ... so managing the time is important." Blasting off Many couples use their wedding theme as an opportunity to escape. For Heather and Robert Lowther, they went back a long time ago, to a galaxy far, far away with a full-blown Star Wars spectacle. Their May 14 wedding at Lakeside Manor in Gibbsboro came complete with lightsabers, costumes and an Obi-Wan Kenobi officiant.
"Heather has been a Star Wars fan for years, so she came to us and said they wanted to do something fun. It didn't surprise any of us," says Sharon Brace, Heather's mother who was instru- mental in planning the wedding. "She wanted to dress as Princess Leia and Robert wanted to be Boba Fett. From there it evolved. I would always be putting thought into how we could make it work."
Brace and the Lowthers approached the family about wearing Star Wars costumes to the event and said that everyone was "immediately on board." Brace dressed as Padme Amidala, Princess Leia's mother, while Heather's father dressed as Darth Vader. The brides- maids donned silver gowns and lightsaber handles filled with flowers and the groomsmen donned white tuxes and stormtrooper masks. The happy couple entered the wedding under a lightsaber arch, the groom gripping a Nerf gun and wearing a Boba Fett mask. If you ask the mother of the bride, it was the little details that made it a fun and perfectly fitting day.
"It was everything we hoped it would be as we planned it," says Brace. "I worried it might come off tacky, and it was the most fun we've all had together. So many people let loose and just played."
Adding up
While some are able to create their dream day while coming in under budget, many of those wishing to have a themed wedding should prepare to pay a little extra to really create that custom experience.
"The photo booth was our splurge but it was our best purchase," says Callie of the VW Bug they rented. The couple initially started with a $10,000 budget, but had to work around that to meet the demands of a 220-person wedding.
"When trying to stick to a wedding budget of $10,000, even with a free family-owned venue, we quickly realized this was going to be unrealistic for the wedding we wanted and were told we deserved," says Cody. "The stress of sticking to a number was going to really take away from the excitement of planning our special day, and after that, we agreed to still look for the best deals and vendors, but not eliminate the things we had dreamed of our Wedstock."
Moshen says that one way people embrace their theme on a budget is through the wedding cake, adding a custom cake topper or full-blown cake. "With a themed cake there is definitely a budget you have to consider, because it really becomes a work of art," she says. Moshen says a recent trend is creating custom cake toppers of the couple in their favorite football jersey or work gear, a more affordable way to incorporate your interest.
"There are a lot more details that go into this, and most of the time you want to budget a bit higher," says Gosik. "When you get into specialty items like themed china, furniture rentals, non- banquet items, the price will naturally go up. People embrace Etsy, Amazon, and really go all out with the DIY aspect of themed weddings because you aren't going to find your Harry Potter wands at a traditional florist."
Photo Credit: Erica Nicole Photography (EricaNicolePhotography.com)
Published (and copyrighted) in South Jersey Magazine, Volume 13, Issue 7 (October, 2016).
For more info on South Jersey Magazine, click here.
To subscribe to South Jersey Magazine, click here.
To advertise in South Jersey Magazine, click here.