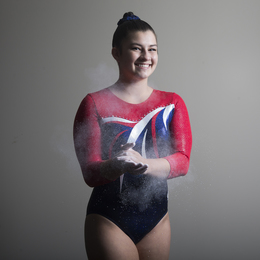 Playmakers
HARRISON HAND
Cherry Hill West Football
A senior wide receiver/cornerback, Hand is one of the fastest players in the area and is a key player for the Lions on both sides of the ball. He is being recruited for defense by a number of major programs, including Rutgers, Temple, Pittsburgh and Virginia Tech.
SOUTH JERSEY MAGAZINE: How are you enjoying the recruiting process?
HARRISON HAND: I'm enjoying it a lot, especially the visits I take and the games I get to see. Virginia Tech is my first official visit, and I've also been to the University of Massachusetts, Temple and Rutgers so far. It's a great feeling to know all my hard work is paying off. I knew I was going to be successful in football because I've worked so hard.
SJM: Syracuse is another school recruiting you. Do you know Rodney Williams, who also went to Cherry Hill West and now plays at Syracuse?
HH: Yes, a little bit. I actually transferred to Cherry Hill West from Cherry Hill East in the middle of the football season when I was a freshman and he was a senior. But he hasn't talked to me about [Syracuse] at all. That would be very cool [if we ended up as college teammates].
SJM: You've been on both sides of the Cherry Hill East-Cherry Hill West rivalry, which is pretty unique. What's it like to play in those games?
HH: It's great to play in that game. Even if you're just in the stands, the tension between everybody is very high. Especially with me, since I started my freshman year at East and transferred over. They pretty much hate me. So when I ball out against them, it makes my whole team feel good.
SJM: What kind of things do you like to do away from the football field?
HH: I like to watch Netflix or just go out with my boys. I like to play Madden. I can play with any team on Madden—yesterday I just played with the Texans and won 41-9.
SJM: Can you single out anybody, whether a coach or teacher, who has had a big influence on you?
HH: I would say my principal, Kwame Morton, and my assistant principal, Allison Staffin. They help me out a lot and keep me on track in school.
SJM: Where do you see yourself in 10 years?
HH: I see myself in the NFL. That's my goal. It's going to take dedication, hard work and prayer.
ALEXIS PETTISANI
Eastern Field Hockey
A Boston University recruit, Pettisani led the Vikings' defense last year and made the all-state first team. She also contributed 20 goals and 17 assists as Eastern claimed its 17th straight state championship.
SOUTH JERSEY MAGAZINE: Does it feel weird to finally be a senior after joining the varsity program as a freshman?
ALEXIS PETTISANI: Yes, it's weird being the oldest now. But I like helping all the younger kids. When I was a freshman I felt really welcomed at Eastern and I want to create the same environment for the younger kids.
SJM: What's it like to be part of a program that gets national recognition?
AP: It's truly changed my life, coming to Eastern, and not just for field hockey but for school. Field hockey has taught me so many things that translate to my life and I'm really grateful for that. It's a great feeling being part of something bigger than yourself and holding each other accountable for things. I think working hard is so much fun, and when you see the results it's an amazing feeling.
SJM: What made you pick Boston University for college?
AP: The program is up and coming. They've done very well in their conference and won the Patriot League for a number of years. I really liked the coaching staff there and I'm excited to go there. I know the girls on the team want to push for the NCAAs, and that's where I want to go too.
SJM: Do you know what you want to study?
AP: I'm thinking about something in medicine. My dad is a dentist, so maybe something like that.
SJM: Do you have a favorite Shore spot?
AP: We usually go to Ocean City, but my dad is a fisherman so his boat is docked in Cape May or Avalon so we go there too. We don't have a Shore house though.
SJM: What are your goals for your final season at Eastern?
AP: I just want to have a successful season. Obviously, I want to go undefeated, win the state championship and the Tournament of Cham- pions. If we go undefeated this year, then I will have never lost in all four years at Eastern. The graduating class last year never lost a game, so I think that's really cool. And I think it's just important to cherish the moments I have as an Eastern field hockey player. I talked to the girls who graduated last year, and they said even though it's tough when you're going through it, they miss it.
CASEY HUBBARD
Washington Township Gymnastics
A senior, Hubbard claimed the South Jersey championship in the beam last year and placed second in the all-around. She was also the Olympic Conference champion on beam and floor and has high hopes for her final season.
SOUTH JERSEY MAGAZINE: How did you first get into gymnastics?
CASEY HUBBARD: I was 3 years old and I went to a birthday party at a gymnastics place. I said, 'Mom, I want to do that,' so she signed me up.
SJM: Did you have a natural talent for the sport?
CH: Not really. I was never the best on the team or anything. But you learn to work hard at what you love.
SJM: Gymnastics is a sport that takes so much dedication and hard work. Does that ever wear on you?
CH: There are times when it gets tough. If you ask any gymnast, they'll say they have a love-hate relationship with the sport. One second you hate it, but you can't live without it.
SJM: What's your favorite event?
CH: My favorite event is beam. Most people are scared of it, but to me it's kind of peaceful. It's always been one of my stronger events, too. Most girls like floor or some of the more noticeable events, but I feel like beam is very understated.
SJM: Are you hoping to continue gymnastics in college?
CH: I think after high school I'm done, which is sad. I want to go into engineering so I want to really focus on that and either get a master's degree or a doctorate.
SJM: Did you watch a lot of the Olympics this summer?
CH: Yes. I loved Laurie Hernandez. I competed against her in Level 4, so It was really neat to see her actually make it to the Olympics. That's a gymnast's ultimate goal in most cases, and she did it. Knowing that I competed against her and she was part of my childhood, it was really neat to watch her. She was always amazing, even at the age of 7.
JASMINE PEARCY
Moorestown Girls Volleyball
A key contributor since her sophomore year, this senior middle blocker recorded a team-high 138 kills and 69 blocks last season and is a valuable leader for the Quakers.
SOUTH JERSEY MAGAZINE: How did you get involved in volleyball?
JASMINE PEARCY: I played softball since I was in fourth grade and I stopped in eighth grade because I had gotten too tall and I was looking for a new sport. A bunch of friends told me about volleyball and a bunch of parents recommended it, so I started playing my freshman year. After freshman year I decided to play club volleyball, and that's when I really started to get into it. I started doing summer camps and everything and I loved all the people. I liked being around so many tall people too. It's a fun sport and I really enjoy it.
SJM: How tall are you?
JP: I'm 5-11, 6-foot in shoes.
SJM: Was it hard at first to embrace your height?
JP: Yeah, definitely. I hated my height for a long time, up until I got involved in volleyball. When I started seeing girls in volleyball who were taller than me, I actually got a little envious. Volleyball really made me embrace my height.
SJM: Do you want to play in college?
JP: Yes. I want to major in engineering, so I plan on picking a school based on engineering first and if they have a good volleyball program, then that's great. I want to do D-III volleyball though. D-I is a little too intense; trying to balance engineering and D-I volleyball would be close to impossible. But I want to keep volleyball in my life. If I end up going to a good engineering school with a D-I program, I would try to find a club team to join just so I could keep playing.
SJM: Why engineering?
JP: Well my dad is an engineer, and I really love math and science. I don't really like English because you're thinking too much outside the box. I like math and science because there's one answer and there's an explanation for a lot of things.
SJM: Did you follow volleyball in the Olympics this summer?
JP: Yes, I watched a little bit of it. It was great. The one thing I really loved is how intense they were. After every single point they got together and they were just screaming. You don't normally find that in high school or even club. We definitely cheer, but you can just tell in the Olympics they're so passionate.
JACK DUGAN
Haddonfield Boys Lacrosse
A key varsity player since his freshman year, Dugan had 16 goals and 13 assists in 2015 to earn all-conference first- team recognition for the second straight season. He helped lead the Bulldawgs to the Colonial Conference Liberty Division title.
SOUTH JERSEY MAGAZINE: You've been playing varsity since you were a freshman. Does it feel different now that you're one of the older guys?
JACK DUGAN: I look at it the same every year. I just go out there and try to make an impact. As a freshman and sophomore I seemed like the little guy out there, and I'm still pretty small. I try to lead the team more now that I'm older, but I still try to score and help the team out the same way.
SJM: As one of the smaller guys, do you feel like you have to work harder to prove yourself?
JD: High school soccer is such a physical game and you have to sell your body out. I guess after games I was a lot more tired, especially before I grew a few inches. But I was fearless. Now that I've grown and I'm a little stronger, I try to keep the same mindset.
SJM: What was it like growing up as the youngest child with two older brothers [Connor and Wyatt]?
JD: As the youngest, I guess I'm treated the best by my parents. But my brothers gave me somebody to look up to and they can always relate to me because they've been in the same situations I'm in. On the soccer field, I push myself to hopefully get better than them. I can always go to them for help.
SJM: Do you want to play in college?
JD: Yes, I would love to. I have a few schools in mind but I haven't talked to any yet.Academic-wise, I'dl ike to go to Wisconsin because my brother Connor went there and I heard great things about it. I would like to go to Ole Miss where my brother Wyatt is, that's another great school, but they don't have a soccer program. The College of Charleston, James Madison and San Diego State are other schools I like.
SJM: What else do you do for fun aside from soccer?
JD: Well, I play soccer all four seasons. I don't do anything else competitively, but I like to play basketball and throw the football around, and in the winter I also ski. Our family likes to travel a lot, so we usually go to Colorado or out West to go skiing. This year we went to Telluride and it was insane— they got like 4 feet of snow.
JACK SHEA
Cherokee Boys Cross Country
One of New Jersey's top runners, Shea placed in the top five at states, sectionals, the Olympic Conference and Burlington County meets in 2015. He should be a state title and Meet of Champions contender this fall as a senior.
SOUTH JERSEY MAGAZINE: What are your goals for this final high school season?
JACK SHEA: I have a lot of team goals; that's the main focus for us at Cherokee. We want to win more team titles, all the way up to Group IV, the Meet of Champions and the Nike Cross Regionals, so we can make it to nationals. Our biggest competition is really ourselves. We have to try to improve from last year, focus on ourselves and not worry about the other good teams, because there's so much competition.
SJM: Does it help to have another guy in your class who is right there at the front of the pack with you?
JS: Absolutely. I've been running with Nick Falk for seven years now. I know his every stride, he knows my every stride. We know exactly how we feel without even saying a word to each other. We usually run very different races, but when I do see him on the course we know how to execute. And we're not afraid of pain. Nick always pushes me to my limits. We always run together and talk about running.
SJM: How did you get started in distance running?
JS: My dad ran in high school and college and he kind of opened the door for me. He didn't push me into it or anything, but I just absolutely fell in love with distance running. It's indescribable. Going into races and the feeling afterwards, it's beautiful. I don't know where I'd be without it.
SJM: What are your hobbies outside of running?
JS: I just like hanging out with the boys, the cross country team and the track team. When I'm not running, I'm always thinking about running. I guess my biggest hobby is that I'm a Christ enthusiast, so I love getting involved with my church and learning more about my faith.
SJM: Do you like going to school at Cherokee?
JS: Yeah, I love it there. My house is right next door so I grew up there. They give you everything you need to be successful and it's your choice to do it.
CHRISTINA CORBI
Shawnee Girls Soccer
A senior forward, Corbi had 18 goals and five assists on her way to all-South Jersey second-team and all-conference first-team recognition in 2015. She has committed to the University of Maryland Baltimore County (UMBC).
SOUTH JERSEY MAGAZINE: So one of your older brothers went to UMBC. Did that influence your decision?
CHRISTINA CORBI: Yeah, I knew the school pretty well. It's not a big D-I program but it's in the middle and I just saw myself there. It's two hours away so it's not too far from family and my parents can come to every game. I'm excited.
SJM: What was it like growing up with two older brothers?
CC: It was competitive all the time. My dad coached them in baseball and football and I would be on the field every single time. I was a tomboy back then and I always wanted to do what my brothers were doing. If they went outside to have a catch, I would be right behind them. It definitely made me better—they pushed me and showed me how to have thick skin on and off the field.
SJM: Who is someone in South Jersey who you admire as a player?
CC: [Eastern's] Amirah Ali is a great player, of course. Every- body knows that. Last year we stopped her when we beat them, and we have to do the same thing this year. We're friendly though. My best friend Dana Goldstein, our center back, is going to Rutgers with her, so it's a friendly rivalry.
SJM: What do you like about living in South Jersey?
CC: Where I am in Medford there's not a whole lot to do, but I like that you can drive 15 minutes to Marlton and there's a lot you can do. Or we can drive 45 minutes to LBI and we have the beach there. I'll miss everything about it when I go to college. I love it here.
SJM: Are there any coaches or teachers who have had a big impact on you?
CC: I have two. Mr. [Drew] Wagner of course, my high school coach. My freshman and sophomore year I was on the bench a lot, but junior year I proved myself and got the starting position. He was there every step of the way for me. School-wise, Mrs. [Rachel] Belville helped me with a lot of things. She was my brother's class advisor, so she knows our family. She's always been there if I ever needed help in school and she helped with the college process.
Published (and copyrighted) in South Jersey Magazine, Volume 13, Issue 7 (October, 2016).
For more info on South Jersey Magazine, click here.
To subscribe to South Jersey Magazine, click here.
To advertise in South Jersey Magazine, click here.