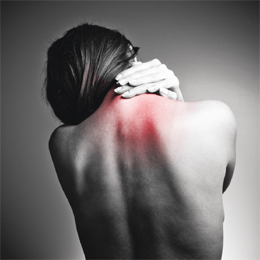 Easing the Pain
Everyone has been familiar with pain at some point in their life. While acute pain is the body's temporary response to something like an injury, those who suffer from chronic pain experience ongoing pain for days, weeks, months, or in some cases, years. Common chronic pain complaints include headache, lower back pain, cancer pain and arthritis pain. It's been estimated by the Institute of Medicine of the National Academies that approximately 100 million Americans suffer from chronic pain.
Because pain can be so difficult to live with, it's not surprising that an estimated 50 percent of chronic pain sufferers also struggle with depression. Doctors estimate that number could be even higher. As pain begins to impact one's lifestyle, it's easy to imagine how patients would become depressed.
"When pain impacts the aspects of a person's life, it can limit one's participation in many activities of daily living," says Ken Turley, director of rehabilitation services for Marlton Rehabilitation Hospital. "Pain is our body's way of telling us that something is not right. While it is normal for the body to send pain signals following an injury or illness, chronic, lingering pain is not normal."
It's not uncommon for chronic pain to spiral out of control in a vicious cycle scenario. In time, chronic pain can get to a point where it feels completely unmanageable. That's often the point where patients say they feel "out of hope" or "helpless." Chronic pain can also be incredibly frustrating as it's estimated that approximately half of chronic pain patients are not getting the help they really need. Many are just masking their symptoms with pain medications, which can be a dangerous road to addiction.
"Abuse of opioids has become a serious problem in today's society," says Dr. Scott Pello of RA Pain Services. "There are many measures we at RA Pain Services are implementing to counteract possible abuse. First and foremost, we look at each patient individually and develop a specific treatment plan tailored to best manage their symptomatology, considering the risks of chronic opioid therapy. The use of urine drug screening to ensure patients are taking medications as prescribed and not illicit substances, genetic testing to determine if a medications are being metabolized appropriately, and psychological screenings to determine risk for abuse have become valuable tools when developing the patient's treatment plan, which may then include injection therapy, physical therapy, chiropractic therapy and the use of durable medical equipment.
"Although opioids do have a place in patient care, there are many non-opioid and non- addictive medication that should be considered prior to initiation of opiate therapy."
What chronic pain patients need is a treatment plan that is truly tailored to their needs. Turley says a pain management program should emphasize functional improvements and education in self-management.
"Patients should have access to the latest technology to enhance strengthening, range of motion, pain relief, and functional mobility enabling them to return to their highest functional level," Turley says. "Additionally, patients find comfort in our therapeutic 94-degree pool in which the buoyancy and warm water allow for pain-free exercise and the freedom to move painful joints."
Though there are many causes behind chronic pain, musculoskeletal neck and back pain are among two of the most significant. Research reveals that 75 percent of Americans will suffer from back or neck pain at some point in their life. While many of those issues resolve themselves, for those that don't, the chronic pain can become debilitating.
Dr. Michael J. O'Keefe, of O'Keefe Chiropractic Center, who deals with many spine and spine-related pain syndromes, says he sees patients with everything from pinched nerve conditions to disc degeneration, hernias and more. O'Keefe says that patients who live with this kind of pain have options beyond just pain medications. Spinal decompression therapy is a new, cutting-edge technology. With this non-surgical treatment, a computer-controlled traction device is programmed to deliver gentle stretching at the patient's lower back or around their hips. The negative pressure actually allows a disc to be pulled back into its proper position.
O'Keefe says that in addition to spinal decompression therapy, his practice also utilizes laser therapy and spinal manipulation, the latter of which has been adapted and evolved in order to meet patients' needs.
"One technique we're using right now in addition to traditional manipulation is light pressure techniques," says O'Keefe. "Patients who are in a great deal of pain because of a degenerative or arthritic condition may not be tolerant of traditional manipulation. They are already in pain to begin with, and any movement at all may provoke their symptoms. We can use very light pressure that affords the patient the benefit of manipulative therapy with minimal movements. This 'activator method' is very gentle but effective at the same time."
Laser light therapy is also an option that can help improve tissue repair and reduce pain and inflammation wherever the beam is applied. The treatment only takes about 10 minutes and is typically applied two to three times per week. O'Keefe says this kind of therapy has been used for many years on sports injuries, arthritic joints, neuropathic pain syndromes, and back and neck pain.
While there are many more options for patients suffering with chronic pain conditions today, the fact is that patients do need to continue their care at home.
"It's incredibly important during treatment and after treatment to follow a reasonable regimen of exercise," O'Keefe says. "As little as 10 to 15 minutes of stretching each morning can go a long way in improving mobility and flexibility, managing pain, and in the long run, reducing the likelihood of a recurrence."
Published (and copyrighted) in South Jersey Magazine, Volume 13, Issue 6 (September, 2016).
For more info on South Jersey Magazine, click here.
To subscribe to South Jersey Magazine, click here.
To advertise in South Jersey Magazine, click here.