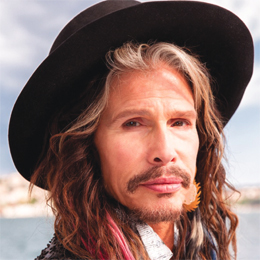 Good Ole Country Boy
Steven Tyler has nothing left to prove.
He's been an icon in rock music for decades as the frontman of Aerosmith, a band that has sold more than 150 million records. Some of his other notable accolades include four Grammys, 12 multi-platinum albums and induction into the Rock and Roll Hall of Fame. He started his nonprofit, Janie's Fund, aimed at helping girls who are the victims of trauma and abuse. He's even been a judge on American Idol.
So, why then, is Tyler so determined to start a new chapter in his life as a country artist? Turns out, he does have something left to prove—to himself that is.
In July Tyler released his first solo album, We're All Somebody From Somewhere, a 15-track ode to his professed love of country music. The album debuted at No. 1 on the Billboard Top Country Albums chart and took the top spot on the iTunes country charts as well. Released on Big Machine Records— home to Taylor Swift—and produced by heavy hitters like T Bone Burnett and Dann Huff, Tyler was inspired to explore the genre he has longingly admired after moving to Nashville and soaking up the "ridiculous" vibe that Music City has to offer. That included spending time writing songs with Nashville hitmaker and Mount Laurel native Chris DiStefano.
"There's still a big soul beating here whereas in a lot of other places it's kind of dead because [the music] business took over. Here, it's still alive and the passion fuels that and I'm stuck right in the middle of it," Tyler says.
Currently, Tyler and his backing band Loving Mary are on a North American tour with a stop at Philadelphia's Tower Theater on Sept. 7. The aptly named Out on a Limb tour features the new material as well as stripped-down, countrified versions of some of Aerosmith's biggest hits. For someone so entrenched in the spotlight, Tyler is embracing the certain amount of vulnerability that comes with bringing something new and fresh to his core audience.
"I love jumping—I've always jumped into things with both feet whether it was an Aerosmith album or this thing. ... And I love that place. It's scary. It was risky. It was, 'Let's just do it,'" Tyler says. "And I started writing with people and within two months I got five of some of the greatest songs, I think, I've ever written or I've ever been part of in writing. Whatever it is that runs through Nashville, it's like—it's in the water. It's something in the water."
After so many years in Aerosmith, years that have included documented issues with substance abuse and in- fighting, Tyler was eager to pursue this passion project, especially after seeing other band members take similar departures. And the chance to collaborate with new songwriters and musicians seems to have reinvigorated him.
"You know what, it's so flipped out to turn around and see a whole bunch of other faces. I mean, I love Aerosmith. But this is a real hoot. I've never done a solo anything and I kind of got jealous that the other guys in the band did," Tyler says.
Despite the obvious stylistic change in the new music, the essence of song- writing and creating melodies is something that Tyler counts as a strong suit thanks to his upbringing in a musical household. He credits his father, a pianist who went to Julliard, with putting the musical bug in his ear at a young age.
"I grew up under the piano, literally," Tyler recalls. "... When they brought me home from the hospital I was put— apartments back then were an 8 by 10 living room. That was it. ... My father would play piano ... and then go off and have his teaching ... so I grew up listening to the notes of music. So melody has always been my forte."
The scaled down shows of this tour are giving Tyler the chance to connect with fans in a way that he hasn't been able to since the early days of Aerosmith. Rather than simply hit the stage and run through a set list, Tyler will be engaging the audience in a storyteller fashion, offering insight into his song- writing and the genesis for some of his biggest hits. That level of intimacy is no accident and something that Tyler feels is essential to the spirit of this tour.
"The last time we did small venues was like at the end of that first run of Aerosmith, about '81, '82, '83. ... The band started breaking up and [there was] a lot of drug use and drinking too much. But, interestingly enough, Aerosmith even in its heyday ... we've done a lot of small venues. I always love them. The words come up, 'business' and 'money,' which I hate to hear because I never really cared about it. I always went with my heart.
"But it's not viable to get your crew and load in and do a 2,000-seater. It's just not cost effective. I prefer them. I like playing a small venue where I look out and everybody's close as opposed to 20,000 when they've got a big barricade. ... I can't see or feel the people. So, it's a very living room thing to play small venues. And it's a little bit more personal. It feeds that side of me that grew again after I did Idol. You can do the large venues, 40-, 80,000 a whack and you get kind of jaded. And then you do something like Idol and it's 40 million people watching you and you're actually answering something quietly and thoughtfully and giving your opinion about something.
"So this whole thing, Out on a Limb Tour, I get to talk to people and be up close and personal."
As Tyler reintroduces himself to his fans in this new light, he seems to be looking forward to the puzzlement that his newfound musical journey has taken him on. But make no mistake, he's confident they will wind up fully along for the ride with him.
"I didn't know what was going to happen when Aerosmith first made it. But I did notice the looks on people's faces when they kind of liked it. And I'm just looking forward to that again," Tyler says.
"[It's] Steven Tyler out on a limb but I'm really nothing without that band and I'm nothing without Aerosmith and I'm nothing without my sobriety and I'm nothing without a lot of things. So this whole damn thing is a 'we' thing."
Of course, it's Tyler's name on the marquee, so while it may be a group effort, he stands front and center to hear the feedback, both good and bad. At least that much of the process feels familiar to him.
"I love it when somebody—and, more often than not, when you feel risk it's because people aren't thinking, they're just doing it. And they're willing to take a risk. And so, that's kind of like—it's kind of like what I do. And interestingly enough, I piss a lot of people off. But when it comes to music and jumping in and doing stuff like that and new stuff, it better speak for itself."
Published (and copyrighted) in South Jersey Magazine, Volume 13, Issue 6 (September, 2016).
For more info on South Jersey Magazine, click here.
To subscribe to South Jersey Magazine, click here.
To advertise in South Jersey Magazine, click here.