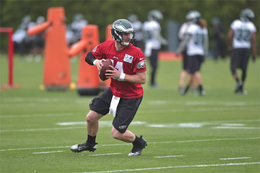 Waiting His Turn
"I just want to get better every day," Wentz says. "My biggest thing is that you're never a finished product, physically, mentally, any of that. So there's a lot to learn. You can never watch enough tape, you can never study enough, and I just want to come out every day and learn a little bit more and get a little bit better."
Before the draft, scouts raved about Wentz's size—he's 6-foot-5 and 237 pounds—and they love his arm strength, but many questioned his inexperience. Wentz started only 22 games at a Division I Football Championship Subdivision school. He led North Dakota State to the FCS national championship both years, but didn't face powerhouse competition.
The positives far outweighed the negatives for Eagles coach Doug Pederson and personnel boss Howie Roseman.
"He was just an incredibly impressive guy," Roseman says. "[He has a] presence when he walks in the room, when he talks to you not only about football but about life, and then when you watch him interact with people, [you can see] the impressions people have."
Pederson's eyes light up when he talks about Wentz. The first-year head coach spent most of his 10 seasons as a backup so he wasn't blessed with similar skills. He considers Wentz a rare talent, a player who can lead the team back to contention and win a Super Bowl.
"You just love everything about this kid," Pederson says. "His energy, his work ethic, it's just little things now, detailed things in his footwork, his drop, the progressions and where his eyes are.
Those are the things in the National Football League from a quarterback standpoint that really become very important on a game day."
Wentz wasn't the typical jock in school. He was a superb student, the class valedictorian at Century High School and carried a 4.0 GPA in college.
"He has all the intangibles," Roseman says.
He's humble, too.
While some rookies show up with a diva attitude and actively seek the spotlight, Wentz realizes he hasn't earned anything in the NFL.
"That's just my personality," he says. "I don't feel like I'm bigger or better than anyone else. I'm just out here trying to make this team better. That's always been how I've carried myself. I don't expect myself to get more credit than I deserve."
Wentz has been eager to learn as much as possible from Bradford and Daniel. At first, Bradford was so upset the Eagles drafted a quarterback in the first round that he skipped some offseason practices and asked for a trade. But he's handling the situation professionally and is serving as a mentor to Wentz.
"Sam's been great," Wentz says. "He was once the top draft pick. He's been through it all. There's lots of things we've talked about. It's a really good [opportunity] for me to not only grow mentally in the playbook, but also off the field and everything."
Wentz won't be confused with Tim Tebow, but he's also a devout Christian who isn't shy about expressing his faith. He often posts about faith on social media. He drove a pickup truck with a cross decal on the back in college. He has "AO1" tattooed on his right wrist. It stands for "Audience of One," a reminder to live his life for God.
"My faith has been No. 1 in my life, so it doesn't matter what happens. Like last year I broke my wrist, it's frustrating but I know there's always a bigger plan," Wentz says. "I enjoy playing this game but at the end of the day I point it back to the Lord and hopefully I can make a positive impact on a lot of people."
His impact remains to be seen as we wait for Wentz to finally step on the field in a meaningful moment. Only then will we say he lived up to the expectations or fully admit that they were an unfair burden from the start. But if he's as good as advertised, Eagles fans have been waiting for someone like him. They'll just have to wait a little longer.
Published (and copyrighted) in South Jersey Magazine, Volume 13, Issue 6 (September, 2016).
For more info on South Jersey Magazine, click here.
To subscribe to South Jersey Magazine, click here.
To advertise in South Jersey Magazine, click here.