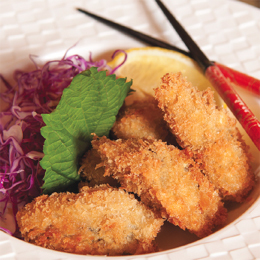 Side Dish: August 2015
QUICK BITE: Kakifry Oysters
Fuji
Haddonfield
Whole, Japanese oysters are coated with with tempura batter, deep fried and served with katsu sauce and spicy mustard for your dipping pleasure. The tender oysters benefit from the crispy exterior, while each sauce creates a sweet and spicy combo that is absolutely addicting.
DATES TO WATCH: National Bacon Lovers' Day—Aug. 20
Let's be honest, for the tried and true devotee, every day is bacon lovers' day. But when we have an official excuse to eat bacon for breakfast, lunch and dinner, we won't protest. Check out these three meals to get your fill from morning to night.
Bacon Maple Pancakes
At The Bistro
Haddonfield
CHUlicious Chinese Bacon Burger
CHUlicious
Mount Laurel
Candied Bacon
CinderBar Clarksboro
THE TOP FIVE: Veggie Burgers
Summer grilling is great, but all that meat can get a bit overwhelming. Luckily, there are burgers all over the area that go beyond beef to keep things fresh all year long. And for vegetarians, the possibilities are truly expansive. Check out these meat-free burger bites when you're looking to embrace your inner herbivore.
? Farm Fresh Veggie Burger
This local burger joint handmakes their veggie burgers with black beans, mushrooms and spices. From there it's up to you to add hot and cold toppings and your choice of almost 20 spreads to customize and create a burger that's just for you.
Burgers Chips & Shakes, Sewell, BurgersChipsAndShakes.com
? Portabello Burger
A whole, meaty portabello top serves as your burger base, piled high with caramelized onions and a kale, hemp and sundried tomato pesto on a gluten-free bun. It's served with an orange, tahini and kale salad finish off this vegan crowd pleaser.
Heart Beet Kitchen, Westmont, HeartBeetNJ.com
? Veggie Burger Platter
Each veggie burger is loaded with beans and freshly diced veggies before being cooked up on the griddle and loaded onto a bun of your choice. The plate is finished with a green salad featuring tomatoes and ripe avocado and your choice of rice, veggies, quinoa or sweet potato wedges.
Healthy Garden Café, Moorestown and Voorhees, HealthyGardenCafe.com
? Vegan Veggie Burger
JB's has a fully loaded vegan menu, including this classic burger made without soy, animal products or GMOs. It's topped with lettuce, tomato, a tapioca cheddar and their housemade spicy sauce. There are even vegan side options to complete your plate.
JB Master Grill, Medford, JBMasterGrill.com
? Clint's "Almost Famous" Veggie Burger
This burger gets taken to the next level with melted, smoked mozzarella, sliced avocado and tomato, chopped lettuce and a slathering of mayonnaise, all piled onto a fluffy brioche bun.
Zinburger, Cherry Hill, ZinburgerEast.com
FAST FOOD
Mount Laurel's Trattoria Figaro has closed indefinitely, after owner Candy Penn passed away unexpectedly at the end of May.
Work in Harmony Café in Collingswood has closed.
Sandwich chain Jimmy John's has opened their first Burlington County location in Mount Laurel.
The P.J.W. Restaurant Group has announced that they will open their newest P.J. Whelihan's location at Atlantic City's Boardwalk Hall. The spot will serve as a concession stand for events and will serve P.J.'s classics like wings, burgers, fries and beer.
Yard House in the Moorestown Mall has added more than 24 new beers to their tap list after reviewing feedback and notes from staff and diners.
Two new spots have set up shop in Westmont: A retro style candy shop called Rocket Fizz Soda Pop and Candy Shop has locations all across the country, with this being the first South Jersey location. The second new store comes by way of Preservations Provisions, a pickling company that offers a variety of pickles and sauces with plans to sell fresh plates soon.
Published (and copyrighted) in South Jersey Magazine, Volume 13, Issue 5 (August, 2016).
For more info on South Jersey Magazine, click here.
To subscribe to South Jersey Magazine, click here.
To advertise in South Jersey Magazine, click here.