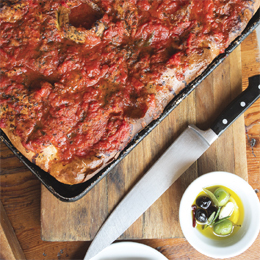 Chef's Table: Joe Baldino
JOE BALDINO has become known up and down the East Coast as an elite Sicilian chef, earning himself four consecutive Best Chef nominations by the James Beard Awards and racking up accolades from nationally known chefs and foodies alike. His 32-seat restaurant packs a crowd almost every night—just ask our numerous readers who voted Zeppoli the best Italian restaurant in South Jersey—celebrated for from- scratch pastas, fresh ingredients and indulgent entrées.
Here, Baldino shares his recipe for Zeppoli's tomato pie, an Italian tradition that is served with every bread course in the dining room. Baldino's main piece of advice? Keep it simple.
ZEPPOLI TOMATO PIE
Ingredients
2 pounds bread flour
1 ounce fresh yeast or 2 packets dried active yeast
1 pinch sugar
30 grams salt
2 cups water
1/4 cup fine extra virgin olive oil Preference of tomato sauce
Procedure
Pre-heat oven to 400 degrees. Mix flour, yeast, sugar, water and olive oil in [a] mixer attached with [a] bread hook. Mix on medium speed for six minutes then add salt. Mix for [an] additional three minutes.
After dough has mixed for nine minutes, place in bowl and let rise in warm area for 45 minutes covered. After dough has risen by double, place on a well oiled sheet tray. Let rise again for additional 45 minutes.
After it has risen a second time, use fingers to punch holes down into the dough creating wells into the dough. Drizzle with olive oil and bake for 15 minutes. Take pie out of the oven and top with favorite tomato sauce, [then bake for an] additional 20 minutes, until golden brown. Drizzle with olive oil and serve.
Baking your focaccia:
This is a sticky dough and it's much easier to handle than something like a semolina bread. It's pretty straightforward and really works well in a home oven. I would definitely use a cookie sheet with a good amount of extra virgin olive on the bottom. I've also seen a lot of people in my travels through Italy use a cast iron pan, which is also really good. It'll rise right in the pan and you won't have to worry about it falling within itself, and it will cook really evenly.
Avoiding a chewy dough:
You really want to mix it for about nine minutes in the mixer to work up that gluten, and then you really have to let it rest and rise until it doubles. Then you can spread it in the pan and let it rise again. Doing those steps and really letting it rest until it doubles in size are the keys. [And] focaccia bread is supposed to have those great dimples in it. So before you put the tomatoes on it make sure it has those by pushing your fingers into it.
Tips for the perfect tomato sauce:
Keep it simple. When I'm at home I'm an advocate for fresh ingredients. Try and stay away from dried powders, dried herbs. You want some nice fresh onions, fresh garlic and some beautiful, high quality canned tomatoes like a San Marzano tomato. Then maybe a little fresh basil and oregano and you should be good.
Published (and copyrighted) in South Jersey Magazine, Volume 13, Issue 5 (August, 2016).
For more info on South Jersey Magazine, click here.
To subscribe to South Jersey Magazine, click here.
To advertise in South Jersey Magazine, click here.