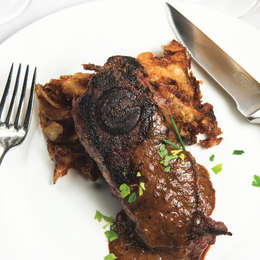 Blast From the Past
Chubby's 1 1/2 Hearth
239 Monmouth St.
Gloucester City
(856) 456-2482
Our rating: 3.5 out of 5 forks
When Chubby's 11⁄2 Hearth closed its Haddon Township location back in 1995— after 61 years in business—it came as a shock to many local and loyal diners. So much so, in fact, that people still talk about what used to be more than 20 years later. And when local restaurateur Tom Monahan decided to bring back the Chubby's brand, this time to Gloucester City, residents took notice.
Opened—or should we say, re-opened— in May, Chubby's is a modern tribute to the old eatery. It's given a new twist with the help of new specials, a craft beer selection and refined, high-end ingredients.
The bar area is a real throwback, a tribute to Chubby's old school roots in a new and renovated setting. It's easy to feel like Don Draper seated at one of their bar chairs, and the fine attention to details—from the vintage style lighting and neon "BAR" sign glowing front and center, to the vintage, 1930s-era wood unit brought in as the restaurant's signature piece—truly make this one of the more impressive bar settings in the area.
The dining room has a simpler feel, but still remains regal thanks to large oil portraits hanging around the space. It's a fitting setting for a menu that pays tribute to classic steakhouse dishes but without bowing out to tradition. A starter of bacon Nueske, for example, goes beyond the classic slab on a plate with the help of a maple-pepper glaze, it is chopped and sits on a plate of slow-braised greens. The sweetness from the glaze helped balance out the thick-cut, salty bacon, while the greens really helped to create a cohesive bite.
Another starter—a grilled baguette— took sliced bread and lightly grilled each piece before topping it with fig jam, sliced prosciutto and crumbled gorgonzola cheese. It sounded like a simple and appealing combination of sweet, salty and rich flavors, but the fig jam was overused and was really the only taste in each bite, leaving the prosciutto lost in translation.
A traditional wedge salad, however, had plenty of redeeming qualities. There's something so perfect about a steakhouse wedge, and Chubby's kept it classic with a hearty chunk of iceberg lettuce, drizzled with creamy blue cheese dressing and finished with applewood smoked bacon, gorgonzola and diced tomatoes. The dressing was rich and had plenty of bold flavor; which was especially important when paired with the mild iceberg.
When looking at a steakhouse, most would consider the best judge of character would be, well, the steak, and in that area Chubby's really stood out. In fact, their ribeye was easily the best dish of the night. The ribeye was cut thinner than most I've had, which at first glance was slightly concerning. But the steak was seasoned to perfection, creating a beautiful, crackling exterior while still managing to keep the inside perfectly medium rare. It was finished with an addictive roasted onion gravy and a giant onion fritter, battered and fried. The actual preparation of the steak was so well done, and the respect given to this great cut was not unnoticed.
A unique entrée—which is also avail- able as a starter side—was the ricotta cavatelli, made in-house featuring chorizo, chopped broccoli rabe, chili and melted parmesan. The pasta itself was well prepared and perfectly al dente, and the broccoli rabe added a nice bit of freshness and bitterness, but the chorizo was a bit unusual in the mix. Chorizo is known for its strong, spicy flavors, and it had the tendency to over- power the plate and its other ingredients.
The Chubby's experience is just that: an experience. I can't begin to count the number of people I've met recently who have had some sort of story to tie back to the original location, and the excitement for its return is still in the air. And with a menu that remains familiar in a fresh, new spot, this could be just what Gloucester City and South Jersey diners need.
Published (and copyrighted) in South Jersey Magazine, Volume 13, Issue 5 (August, 2016).
For more info on South Jersey Magazine, click here.
To subscribe to South Jersey Magazine, click here.
To advertise in South Jersey Magazine, click here.