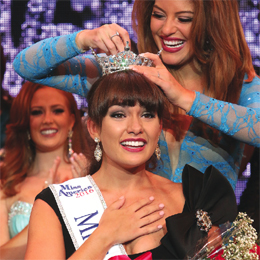 Going Her Own Way
While most college graduates are enjoying their post-grad summers and searching the job boards, Mantua's Brenna Weick is keeping busy in a more unique fashion. Weick—who graduated from High Point University in North Carolina in May—was crowned Miss New Jersey in late June, a title that was a long time coming for the pageant lifer.
It wasn't the first time on the Miss New Jersey stage for the 22-year-old Weick. This winning year was one of change, as she stepped out with a brand new talent and personal platform, discussing cyber security and cyber bullying for the first time. We talked with Weick about these big changes, preparing for Miss America and her love of competition.
Becoming Miss New Jersey…
It's been really amazing and I've been able to really understand what everyone says when they say you'll be really busy. I start- ed competing in the Miss America organization when I was 14. I won the Miss New Jersey Outstanding Teen title in 2009, and I've been competing in Miss New Jersey regional for four years, and traveling back and forth between school in North Carolina to represent my title and compete. So I'm used to keeping busy. [And] it's been a good kind of busy—I've wanted this for so long and it's worth it. I get to meet tons of people from South Jersey and the entire state and spread the message of the Miss America Organization.
Finding free time…
I really like baking. I'm a Pinterest nerd and I'll be on there looking for recipes. I also love reading and watching Harry Potter. I learned how to read with Harry Potter. My mom read me the first book when I was in kindergarten, then I read her the second book and then I went from there. And since the series is so long it's always exciting to start again.
The graduate…
This is really perfect timing for me be- cause I graduated in May, and I won Miss New Jersey, so now this is my job for the year. I'm able to work full-time for the Miss New Jersey Education Foundation and compete for Miss America, and once I give up my title in June I'll go full- time into work. I'm looking to go into journalism and broadcasting.
The "heat" of competition…
I love Miss New Jersey week. I always joke around that it's the most wonderful time of the year, like Christmas. I made some of my best friends [through] pageantry. We see each other throughout the year, but this is pageant season. Every weekend there is another pageant, so most of the title holders try to go out to pageants and cheer on their friends and other contestants.
You don't have to worry about if anyone is going to play head games, or mess with your gowns. People have a stigma of pageantry; that we're in it to win it. But we always talk about how in the Miss New Jersey Education Foundation we are friends; we support each other.
Gearing up for Miss America…
In some ways prep time is different from the rest of the year. You have to make sure you're going to the gym every day, practicing your talent, preparing for mock interviews. This year is especially unique because it's an election year, so we have to make sure we're very educated on politics, more so than usual, in case extra questions come up.
Answering tough questions…
It can be difficult to talk about the election, and it's an intense time for our country. But that makes it more necessary to have role models. Miss America has a really good opportunity to talk about the things going on right now. It's difficult and it might seem scary, but it's important.
A new talent…
I'm singing "Someone Like You" from the musical Jekyll and Hyde at Miss America, which is what I sang at Miss New Jersey. I've been a choir kid my entire life, but singing is not as comfortable for me as dance was. I've taken dance lessons my whole childhood and it was my talent for years at Miss New Jersey competitions. But I had hurt myself so I thought I'd try something new, go out of my comfort zone and sing at Miss New Jersey this year. I was in choir and have taken musical theater, but singing is a challenge for me and break- ing out of my comfort zone has helped me understand myself better.
Raising the platform…
My platform focuses on cyber safety as well as cyber bullying. I had always used the Miss America titles that I had to talk to children about giving back to their community, [and] I had always used social media as an example on how to spread love and kindness, [but] I realized that kids weren't necessarily using social media for that reason. Bullying exists in social media, and there isn't a curriculum on cyber safety and cyber bullying, and [children] need a lesson on what's right and what's wrong. It's hard for parents because they didn't grow up with social media so they might not know how to use it either. I like talking about using social media effectively for all ages. I used a lot of hands-on activities, like cyber safety bingo. I give each kid a heart made out of tissue paper and they crinkle it up and I ask them to make it look like how it was before. They un-crinkle it but they realize that it will never be the same, the impact of what they've done will be there forever, just like the impact of cyber bullying.
A different direction…
A lot of people talk to athletes about not making huge changes; just improve on what you know. That's what I had always been doing, but I kind of realized that if you want some-thing that you've never had before then you have to do something you've never done before. You have to improve yourself and change yourself. I might not have been comfortable singing, but I pushed myself out of my comfort zone. I'm not necessarily the person who loves change ... but pushing myself to change has given me a new, fresh feeling going into Miss New Jersey.
Published (and copyrighted) in South Jersey Magazine, Volume 13, Issue 5 (August, 2016).
For more info on South Jersey Magazine, click here.
To subscribe to South Jersey Magazine, click here.
To advertise in South Jersey Magazine, click here.