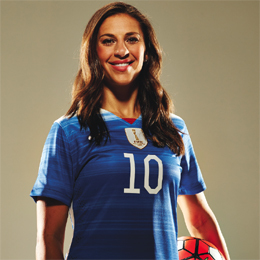 Chasing Gold
The Summer Olympics will kick off on Aug. 5, and South Jersey will be well represented in Rio thanks to a few elite performers who are not strangers to succeeding in international competition. Here are the athletes with local ties to keep your eyes on when the Games of the XXXI Olympiad begin.
NAME: Carli Lloyd
HOMETOWN: Delran
SPORT: Soccer
Despite spraining her MCL earlier this year, the hero of last year's World Cup has said she'll be ready to hit the pitch in Rio. All eyes will surely be on Lloyd after her captivating three-goal performance in last summer's World Cup final against Japan where she catapulted from hometown hero to national icon, not to mention being named FIFA's Player of the Year. Thanks to her unforgettable performance that led the U.S. team to its first World Cup victory in 16 years, Lloyd has become the face of women's soccer in America and is poised to make a strong showing in what will be her third Olympic Games. From the kids she mentors through her local soccer camp to countless others, you can bet that South Jersey will be fixed on the television whenever Lloyd is on screen.
NAME: Jordan Burroughs
HOMETOWN: Sicklerville
SPORT: Wrestling
Over the course of his illustrious wrestling career, Burroughs—a two-time Olympian—has continued to pile on the victories and accolades, not the least of which would be his gold medal win during the 2012 Summer Games in London. In 2013, just a month removed from a broken ankle, Burroughs captured his second gold medal at the World Championships and will be looking for his fourth world title this fall. Only two American wrestlers have ever reached that feat. A former star for Winslow Township High School, he collected three district titles, two regional championships and a state title before heading to the University of Nebraska where he continued his winning ways and left school with the Hodge Trophy, regarded as collegiate wrestling's equivalent to the Heisman Trophy.
NAME: Matt Emmons
HOMETOWN: Cherry Hill
SPORT: Shooting
Emmons currently holds the No. 1 world ranking for sport shooters and this year's Olympics will be his fourth-consecutive Summer Games. A heavily decorated athlete, Emmons took home a bronze medal in 2012 and will look to continue his recent string of impressive victories that include winning the men's three-position rifle competition at the World Cup in Munich. It was Emmons' 44th World Cup medal. He's also won gold at the 2004 Olympics and silver in 2008 as well as capturing gold and two bronze World Championship medals.
NAME: English Gardner
HOMETOWN: Voorhees
SPORT: Track and Field
A one-time South Jersey Magazine star athlete while attending Eastern High School, we've had Gardner on our radar for years now. After a successful career at the University of Oregon where she won five NCAA Indoor and Outdoor Championships and set the USA Junior 100-meter record in 2011—all while overcoming a torn ACL and other knee injuries—Gardner has continued to push for a spot on the U.S. women's track and field team headed to Rio. Her dominance has also reached international levels where she's medaled at the World Championship Competitions. Now, Gardner will make her Olympic debut thanks to an impressive 100-meter dash victory at the U.S. Olympic Trials in July that was the seventh-fastest time ever run in the world.
More South Jersey Olympians
NAMES: Nia Ali and Marielle Hall
HOMETOWN: Pleasantville and Haddonfield
SPORT: Track and Field
Joining Gardner on the women's team Ali still holds a 100 hurdles record from her time as a standout star at Pleasantville High School while Hall is set to run the 10,000-meter race.
NAMES: Rachel Dawson and Michelle Vittese
HOMETOWN: Berlin and Cherry Hill
SPORT: Field Hockey Dawson will be competing in her third Olympic Games, while Vittese will be making her second appearance.
NAMES: Steve Kasprzyk and Lauren Schmetterling
HOMETOWN: Cinnaminson and Moorestown
SPORT: Rowing
A member of the U.S. men's eight rowing team, Kasprzyk is part of the group that stamped their ticket to Rio after taking first place in a qualifying race in Switzerland. Schmetterling is a member of the U.S. women's eight rowing team.
NAME: Joe Maloy
HOMETOWN: Wildwood Crest
SPORT: Track and Field
Maloy will show off his athletic prowess in the triathlon.
NAME: Frank Molinaro
HOMETOWN: Barnegat
SPORT: Wrestling
The former high school wrestling champ joins Bur- roughs on Team USA.
NAME: Kelsi Worrell
HOMETOWN: Westampton
SPORT: Swimming
Look for this local swimmer to compete in the 100- meter butterfly in Rio.
Published (and copyrighted) in South Jersey Magazine, Volume 13, Issue 5 (August, 2016).
For more info on South Jersey Magazine, click here.
To subscribe to South Jersey Magazine, click here.
To advertise in South Jersey Magazine, click here.