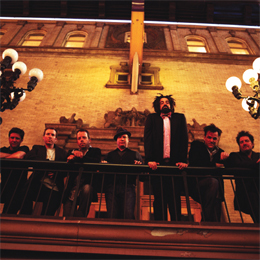 Standing in the Spotlight
SOUTH JERSEY MAGAZINE: How did you and Rob [Thomas] get connected for this tour?
ADAM DURITZ: We've known each other for 20 years and we used to be pretty good friends. I haven't seen much of him in the last 10 years but this was a good opportunity to connect and it's been nice hanging out together again.
SJM: Counting Crows are one of those bands that are always on the road. How do you approach each tour with a fresh attitude?
AD: It's not just every tour, but every night we have a fresh attitude. We change the set list for every show. We have 90 songs in the rotation and we try not to play them in the same order or otherwise it gets boring [for us].
SJM: Do you have a favorite song to play live?
AD: I don't have an all-time favorite. Lately I've been enjoying "Palisades Park." It's eight minutes long and there are various movements so it's almost like I conduct it while playing on stage.
SJM: What does it feel like when a crowd starts singing along? Do you ever feel in awe of that?
AD: I feel like I don't actually write great sing-along [songs]. I went to see [Bruce] Springsteen at Madison Square Garden and everyone was singing along to his stuff and I found myself wishing I would have written more like that. But when I'm singing live I sort of change the way I sing it so it kind of screws with the audience trying to sing along.
SJM: How has the audience changed over the years of touring? Is it mostly people your age or do you see younger faces in the crowd, too?
AD: The crowd seems to turn over all the time. We play a lot of colleges and that al- ways gets a new audience. When there's a general admission show, younger people are more willing to get out and stand in line for tickets so we'll see younger people up front by the stage.
SJM: What does it say to you that your music has crossed generations like that?
AD: I don't know; I've gone through several generations myself [laughs]. I don't think music is meant to appeal to certain age groups. When we have success we've never been interested in repeating it. Maybe that would have made us a bigger band [laughs], but that's a trap some bands fall into and it will get you dated.
SJM: It seems a lot of the younger crowds watch an entire concert through their smartphones posting it to social media. Does that bother you as a performer?
AD: I don't really care. I guess it's the popular thing now and that's their moment they are living in. I don't want to be one of those people who is yelling at people like "Get off my lawn." Times change and people do things differently. You bought tickets to my concert and I'm happy to have you there. When I'm on stage I'm not really thinking about them. I want to play a great show. If I can be selfish that way then they can be selfish that way, too.
SJM: You're no stranger to playing our area. What do you like about playing in Camden?
AD: My dad grew up in Philadelphia and went to Central High School, so when I'm in Philly my relatives will come to the shows. It's nice to play there. It was a great town for us early on. In the beginning we would play at World Café [Live] and record on the radio.
SJM: What are your plans after this tour? Do you decompress or are there plans to jump into songwriting?
AD: We've started doing some writing already. A few of us got together at [my] house with our ideas and things we've been saving up on our phones or computers. For the last record we got together once a month and did all the songwriting that way. So often I write by myself and this was different because we bounced ideas around. There are no hard and set ways to write songs. However the inspiration comes is fine with me.
Published (and copyrighted) in South Jersey Magazine, Volume 13, Issue 5 (August, 2016).
For more info on South Jersey Magazine, click here.
To subscribe to South Jersey Magazine, click here.
To advertise in South Jersey Magazine, click here.