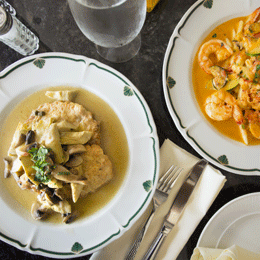 Aiming to Please
Illiano Cucina Mediterranea
200 Tuckerton Road | Medford
(856) 985-2721
Palate Review Revisit
There are some restaurants in South Jersey that have just become known as a crowd favorite, places where you can go on a first date or to catch up with family and enjoy that nostalgic, familiar feeling of being comfortable and well-fed. Illiano Cucina is one of those spots, known all over the area as a reliable place to enjoy good company and good food.
There are two large dining rooms to pick from, but we suggest grabbing a seat overlooking their stunning backyard lake and fountain, a relaxing and enchanting way to enjoy dinner with a view. The menu pays homage to traditional Italian-American dining, with big portions, several courses and plenty of options. Most entrées come served alongside or over pasta, your choice of soup or salad and a bread course, along with more than enough of the actual entrée to last well into the next day or two.
You can go the route of classic, fried appetizers, but we prefer diving into their more creative and unique options. The insalate calamari scungilli, for example, took marinated, cooked calamari and scungilli—an Italian sea snail that resembles a miniature conch when alive—and tossed it in extra virgin oil and fresh lemon juice before placing the meat on a bed of greens with chopped celery, celery leaves and roasted red peppers. The whole dish was bursting with freshness, but the celery was what really stood out as a wise added touch, as its dis-tinguishable flavor helped to break up the acidity in the marinade in each bite.
The black ravioli makes an appearance as an entrée but is also available as another interesting appetizer, serving a smaller portion of the restaurant's squid ink ravioli, stuffed with diced shrimp and ricotta cheese and served in a house-made aurora cream sauce. The ravioli were large and served al dente, and while the pasta would have benefited from more filling, what was there was rich and melted into the buttery sauce.
An entrée of chicken belladonna started with two large chicken filets, dipped in an egg batter and fried with shallots, mushrooms, artichokes and capers in a white wine and lemon sauce. The well-balanced acidity of the sauce and bite from the briny capers made the deceiving-ly heavy dish seem light and bright, while the egg batter added a nice buttery texture alongside the fresh mushrooms and artichokes.
Fresh vegetables were the surprising star of the shrimp Sinatra, which combined fresh, burst tomatoes, onions and sliced zucchini with generous chunks of lobster meat and whole shrimp in a creamy wine sauce. While the addition of decadent lobster is always appreciated, the sweetness of the tomatoes served as a counterpoint to the rich sauce and turned out to be the most satisfying part of the whole plate.
Illiano Cucina continues to be a crowd pleaser in South Jersey, a place known for its consistency and appreciated by residents for its dedication to tradition.
Published (and copyrighted) in South Jersey Magazine, Volume 13, Issue 14 (July, 2016).
For more info on South Jersey Magazine, click here.
To subscribe to South Jersey Magazine, click here.
To advertise in South Jersey Magazine, click here.