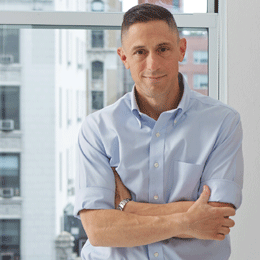 By Design
When it comes to cutting-edge, stylish décor, few names ring as loudly as Jonathan Adler, the man with a unique eye for playful yet elegant design. From vases to furniture and much more, Adler has come a long way since his first ceramic collection was launched in the high-end department store, Barneys New York. We caught up with Adler to chat about his inspiration, the easy things people can do to improve the look of their home and found out why his biggest project is yet to come.
Projects in the works…
I've recently partnered with Fisher- Price, where I'll be designing a collection of baby gear that pairs my modern aesthetic with their expertise in early childhood development. I'm also working on refreshing the Parker Palm Springs hotel that I first designed a decade ago. And, of course, designing more products and opening more stores. More, more, more.
Bigger than Bridgeton…
I don't know if I dreamed bigger, but I think I dreamed differently. I couldn't wait to leave and see the world. I always knew I'd end up in New York.
Fueling the creative process…
Creativity is an audacious undertaking, and I try not to think about it too much. I keep my eyes and my mind wide open.
Five ways to improve your style…
• Swap your pillows out seasonally for a fresher look and feel.
• Move your furniture around—there's no one right placement.
• Always buy a chandelier that is bigger than you think you need and more expensive than you think you can afford.
• Add in some gold tones. They're like jewelry for your home.
• Put all your lights on dimmers— everyone will look richer and more glamorous than they already are.
Favorite room in the house...
The living room in my NYC apartment. We have a paisley Ping Pong table on Saarinen bases, and I love playing every night (and beating my husband at a few rounds every night).
Work reflecting his personality...
I want to show that serious design doesn't have to be so serious. It's very much a reflection of my personality. I'm one part Franz Kafka, one part Ariana Grande.
Challenges of the business…
The logistics of running a business like mine are insane. Any time your business depends on moving expensive, heavy, fragile pieces around the world there are challeng-es.
I'm involved in every aspect of the business, but the truth is that I'm fortunate enough to have a president who deals with the business side while I deal with the creative (read: fun!) parts of the company.
Breaking through with first collection…
I simply didn't know any better so I was- n't afraid to fail.
A thing for white jeans…
It's been years. I wear them because the clay that I use dries white.
Learning from the past…
I wouldn't change a thing. My career has been an insanely fulfilling creative odyssey.
Rocking out in the studio…
There's always classic rock on in the studio. I've been potting for so long that I can multi-task—I take meetings in the studio, talk to my design assistants, whatever.
When it's time to relax…
I live to paddle board at my house on Shelter Island [in New York].
His ultimate design dream…
I'd love to design a car, inside and out.
Published (and copyrighted) in South Jersey Magazine, Volume 13, Issue 14 (July, 2016).
For more info on South Jersey Magazine, click here.
To subscribe to South Jersey Magazine, click here.
To advertise in South Jersey Magazine, click here.