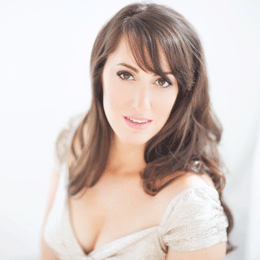 Brava!
She's performed with some of the world's most prestigious opera companies, in some of the world's most renowned opera houses. But for South Jersey native Jennifer Panara—an es-tablished and acclaimed mezzo-soprano singer—the thrill of her career will take place later this month on the stage of Teatro Degollado in Guadalajara, Mexico.
There, the down-to-earth yet fiercely focused Panara will be one of only 40 singers—20 women, 20 men—from around the world chosen to take part in Operalia, the World Opera Competition founded in 1993 by Plácido Domingo to help launch the careers of today's most promising young opera singers.
Panara, who grew up in Medford, attended the final night of last year's Operalia competition in London, not imagining at the time that she'd be selected for the 2016 event.
"It was a magical evening— it was all so spectacular," Panara, 32, recalls. "I remember thinking, 'I wonder how nervous I'd be up there?'"
She'll find out on July 19 when the six-day competition gets underway, but says that she expects excitement to be the primary emotion.
"It's an incredible honor to be selected for this," Panara says. "Even if I don't make it to the fi-nals, I'll be singing the Operalia Hymn with all the competitors on stage. I'm so thrilled to have the honor of going."
Panara's journey from childhood singing and piano lessons to reaching this most prestigious competition has been deeply rewarding, but not necessarily easy.
"Opera is a very competitive field and not one that offers job security, but that being said, I'm part of a largely supportive community," the New York City-based performer says. "I've found my tribe."
Growing up, Panara says she was "not the kind of kid that wanted to be onstage or [who] loved performing in front of my family."
"Even to this day, if someone says, 'Oh, you're a singer—can you sing something?' nothing em-barrasses me more," she says.
Panara's early childhood memories related to music involve playing on a toy keyboard (and later a real piano), being enthralled with ballets and opera on TV, and singing along with Broadway musicals: "I totally loved Shirley Jones and Julie Andrews." She began classical piano lessons at age 5, eventually competing as a performer, and started voice lessons in earnest as a teenager.
Always drawn to "the great classic Broadway musicals"—My Fair Lady, Carousel and South Pacific among them— Panara was actively involved in choir throughout her years growing up in South Jersey, and knew she wanted to pursue a career in opera by the time she graduated from Shawnee High School in 2002. "I love popular music, but I found myself really good at that kind of singing; that classical style," Panara recalls. (Classical singers train to be able to project over an orchestra without the assistance of a microphone or other electronic am-plification.)
Panara earned a bachelor of music in vocal performance from the Eastman School of Music in Rochester, New York in 2007, following that up with a master's degree in voice from the San Francisco Conservatory in 2009, where she was recognized for outstanding achievement in opera theater. More recently, she earned an artist diploma in opera from the University of Cincinnati College-Conservatory of Music.
Since landing her first professional engagement nearly a decade ago, Panara has traveled the world over, performing with opera companies and orchestras in Germany and across the United States, from New York City to San Francisco to Santa Fe, New Mexico.
Fluent in German, she's performed operas in many different languages, including Czech, and has played many "trouser roles"—parts written for mezzo-soprano women that have them portraying boys or men.
Panara, like most of today's opera singers, is a free agent. Trying out for the Operalia competition was a logical step in her career progression, she says: "I'm ready for this. I'll do my best to go in with guns blazing, so to speak. There may be only 20 women competing, but every one of us has to do what they can to stand out."
Plácido Domingo's goal in creating the Operalia competition is to attract opera singers ages 18 to 32 from around the world, then have them audition and be heard by a panel of distinguished in-ternational opera personalities in the most prestigious and competitive showcase possible. Each year, about 1,000 applicants apply for the 40 spots.
Panara sent in her Operalia audition tape in December; she got the good news that she'd made the cut in March. "From there, you decide what you're going to perform—maybe something a little longer, a little flashier—what you're going to wear, and what you need to do to truly stand out."
Getting to the final round won't be easy for any of the singers, she says: "You can't make people like you—as with any art form, opera is subjective."
"I always get a case of nerves before I go on stage and not just because I want people to like my performance," she says. "I care so much about the characters; there's such a depth of human ex-perience there. It's cathartic to play a character—it's a way to connect to humanity, to your col-leagues and to the people in the audience because we've all lost at least one person we've loved, we've all hoped for something and had it not come to fruition and we've all had moments where we can say, 'Yeah, that was amazing; it all came together.'"
Panara, who is at the upper limit of the competition age, knew that trying out for Operalia was a "now or never" thing.
"This competition has found some of today's most successful opera stars," she says. "The entire judging panel is made up of the most influential and powerful casting directors in opera; the ex-posure you get is incredible." Not to mention the fact that there are monetary prizes offered, money that would cover many of her auditions.
"If I had an extra $10,000, that would take care of so many of the financial aspects that come from working in this field; many related to travel and others related to regular expenses," she says.
While her career demands limit her visits to South Jersey these days, she's grateful to have spent her formative years here, and for the teachers who took a special interest in her talent, including one named Linda Cecil who "gave me so much confidence and reminded me that this career path wasn't going to be like that of my friends."
While her career is still on its upward trajectory, Panara is already thinking ahead and plans to be on stage well into her 60s.
"The next 10 years are going to be the most exciting time of my life, I think," she says.
Published (and copyrighted) in South Jersey Magazine, Volume 13, Issue 14 (July, 2016).
For more info on South Jersey Magazine, click here.
To subscribe to South Jersey Magazine, click here.
To advertise in South Jersey Magazine, click here.