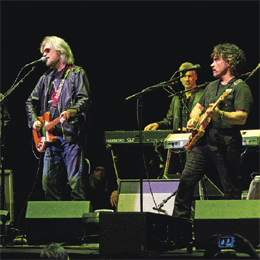 Soul Survivors
John Oates, on the phone from his home in Colorado on a rare day off, seems taken aback by the question, as if it's a thought that never even crossed his mind.
The diminutive, dark-haired half of the best-selling duo in music history is asked why he and long-time pal Daryl Hall are spending another summer on the road, especially considering they just finished a long tour in May. Wouldn't two guys in their late 60s be better off relaxing on a beach somewhere and easing into retirement than entertaining crowds from South Jersey to Hawaii?
Not a chance.
"We're musicians, and this is what musicians do," Oates explains politely. "We've been playing live since the early '70s and we have a great band. People still want to hear our music and that's why we're doing what we're doing."
Hall and Oates—a partnership they formed in their early 20s in their hometown of Philadelphia—continues to thrive, even though they haven't penned a hit song in decades and haven't recorded together at all in 10 years. Their music keeps finding new and younger audiences, and has been cited by some of today's stars as a major influence.
The two friends have their side projects, to be sure. Oates, 68, splits his time between Colorado and Nashville, where he is constantly in the studio working on solo material or writing with other musicians. Hall, 69, is passionate about his television show Live From Daryl's House, in which he jams with different guest artists.
But nothing will ever beat their time together, which has produced six No. 1 singles and a berth in the Rock and Roll Hall of Fame. Oates spoke with South Jersey Magazine about their career and the current tour, which arrives at Camden's BB&T Pavilion on July 10 and the PNC Bank Arts Center in Holmdel on July 12.
SOUTH JERSEY MAGAZINE: You and Daryl played the Borgata in Atlantic City last sum- mer as part of a tour that just finished up a few weeks ago. Will this summer's shows be more outdoor amphitheaters—like BB&T Pavilion in Camden—than inside venues?
JOHN OATES: Yeah, it's mostly outdoor amphitheaters with a couple of arenas thrown in here and there.
SJM: What's different when you're playing the outdoor shows? Does the crowd change at all? Do you?
JO: First of all, we have two great opening acts: We've got Trombone Shorty and Sharon Jones & The Dap-Kings. So the whole vibe of the night is really cool. I love those bands, I think they're great bands and I think people come out for a whole long evening of music. So that changes the vibe of the show, and just being outdoors in the summer is cool. In the arenas it's a different energy; it's more contained.
SJM: When you tour in this area now, do those shows have extra meaning for you?
JO: Sure, because the Philadelphia area is where our roots are. Without the music of Philadelphia, we never would have [had this much success]. That's who we are. It's always cool to play Philly or the Philly area.
SJM: Obviously you have a lot of hit songs and people want to hear those. Will you be bring- ing out any deep tracks as well, maybe something you haven't played in a while?
JO: That's always our dilemma —how to squeeze some deep tracks into a show that has so many hit records. But we do it. When we squeeze our deep tracks in it's usually a lot of '70s stuff, because people might not be as aware of the '70s stuff as the '80s stuff. So we do a bunch of Abandoned Luncheonette songs and stuff like that.We rotate those deep tracks, and some nights we'll play different songs.
SJM: As far as the hit songs, do you try to bring something new to the table with those?
JO: The hit songs have evolved over the years with the bands that have played them. Interestingly enough, the live arrangements were always different than the recorded arrangements, even back in the day when they were happening at the same time.When the big hits were on the radio, we played them live but we always did them a little bit differently. They've always had a different quality to them, so nothing has really changed when it comes to that. We're still doing live arrangements that are different than the recorded ones.
SJM: What's it like for you when you reflect on these songs that were written many years ago and you're still playing them in front of live audiences?
JO: Well to be honest with you, I don't really put them on and listen to them. I'm actually surprised when I hear them, be- cause to me when we play the big hits, they sound the way they sound right now, when we're playing them at our live shows. But I know it's not the same as when we recorded it 20 or 30 years ago. So it's interesting, but a record is a record and a live performance is a live performance. They're two different animals and I don't really see them as the same thing.
SJM: It seems like a lot of younger fans who weren't around for your heyday are now discovering you and becoming fans. Does that still excite you as the musician behind these songs?
JO: Absolutely. It's really satisfying to have a whole new generation of people liking your music and coming out to see you. It's really amazing and in a way it's validating this career of hard work that we've had over the years.
SJM: Just as you were inspired by many different musicians when you were coming up, I think you're having that influence yourselves. Is there anyone who surprised you when you found out they were a fan?
JO: Over the years it's happened constantly. I remember back in the mid-'80s, Axl Rose came to one of our shows and he hung out with us. He said his favorite album was Whole Oats, the first album we did in 1972. That was a very folky, quiet, acoustic album, and here's this guy who was the heavy metal god at the moment telling us that his favorite album was this folky thing we made on acoustic guitars. It's always surprising what people like and you never know what appeals to people. We just made the music we thought was the best music we could make and it's amazing what people pick up on.
SJM: I think the hip-hop generation has picked up on you as well.
JO: That goes without saying. We've been sampled so many times; we're probably one of the most sampled bands in the world.
SJM: What can you tell me about the book you wrote that is coming out next year?
JO: It's coming out in April 2017 and I'm really excited about that. The book is called Change of Seasons and it has a lot to do with the early days of Daryl and I getting together, stuff that people don't know really that well. It also has to do with my personal life— how I've changed as a person and how I consciously went about trying to do things differently to survive the '80s and move forward.
SJM: Speaking of you and Daryl first getting together— was there an instant connection between you two?
JO: We were friends first. We didn't start out as business or professional music partners, we just started out as hanging out together. He was doing some session work, I was play- ing in a blues band, I was playing folk clubs, he was playing with another band. Neither of us was really happy with what we were doing individually, so we kind of got together as an alternative to all of that. We said, 'You know what man, let's go out and play some songs together, just the two of us.' From there it evolved. It just kind of happened that way.
SJM: Atlantic City is now a regular stop for Hall and Oates. Did you play the Jersey Shore at all when you were first starting out together?
JO: We never played clubs. When we first got together we played coffee houses and art galleries. We were more of a singer-songwriter thing. We played the clubs individually, but we didn't do the Jersey Shore thing.
SJM: What about the Latin Casino in Cherry Hill?
JO: We didn't do that either. Daryl may have played the Latin Casino with Pal and the Prophets, but that wasn't part of what we did.
SJM: Your parents are still in the area, right?
JO: Yes, they're still alive and they're still in the area. I don't get a chance to see them enough, but whenever I'm anywhere near the area, I make sure I visit them.
SJM: Are there any other specific spots that you try to vis- it when you're back this way?
JO: There are plenty that I'd like to hit if I had time. But we're usually playing one-nighters. We come in and go out, that's how it works.
SJM: The 30th anniversary of the original Live Aid was last year. What are your memories of that day playing in Philadelphia?
JO: Younger people probably don't realize it, but that was probably the biggest music event in history at the time. It was one of the first events that was broadcast live around the world. There were 100,000 people in the stadium. We closed the show with Mick Jagger and Tina Turner and Eddie Kendricks and David Ruffin from The Temptations. It was a pretty amazing evening. Nothing like that had ever happened before, so anytime something like that happens for the first time it's pretty cool.
SJM: You've called Colorado home now for a long time. What is your life like there?
JO: I've been here for 25 years and it's a great place to live. Our son was born here and grew up here. I live in Nashville half the year as well, and that's a lot of fun too because I do a lot of music. I'm always work- ing, which I enjoy.
SJM: Is it important to you to have that solo work aside from Hall and Oates?
JO: Absolutely, it's very important. Daryl has his TV show and he's really into that, and I have my solo work, co-writing and producing and making my own records. That's really where our interests lie. We love playing together and we have a great band, but when we go our separate ways we do our own thing, and that's great too.
SJM: Do you think you two will ever record together again?
JO: We don't have any plans to, but never say never. You never know, man.
Published (and copyrighted) in South Jersey Magazine, Volume 13, Issue 4 (July, 2016).
For more info on South Jersey Magazine, click here.
To subscribe to South Jersey Magazine, click here.
To advertise in South Jersey Magazine, click here.