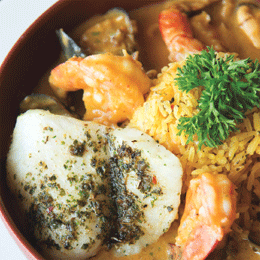 Palate Revisit: El Sitio
El Sitio
729 Haddon Ave., Collingswood
(856) 240-1217
With the warm weather (finally) upon us and the Summer Olympics just around the corner, I have found myself more drawn to the festive fun of South American life. There's something about the feel of South American culture, mixed with the sun, sand and party vibe you find in some of the more touristy areas of the continent that just makes me want to hop on a plane and get away.
If you're simply looking for an escape right here in South Jersey, El Sitio's South American cuisine can provide an evening of South American culture. Maybe it's the open vibe, bright colors and overall warmth in the restaurant—part of which pours in from the bustling and lively Haddon Avenue corner where the restaurant is located—or the friendliness of co-owner and native Ecuadorian Cecilia Jaramillo, who can be found buzzing around the restaurant each evening alongside her husband and business partner Francisco Cabrera. Or maybe it's the totally unique and relatively traditional plates; dishes that are hard to come by in the area and come together to form a creative and adventurous menu that welcomes diners while also challenging them to try something new.
White corn empanadas were mild and delicate, stuffed with ground beef and rice and fried, then served on a bed of spicy sauce. The empanadas themselves were fairly simple and unassuming, but when paired with the house-made chipotle sauce it helped create a balanced and exciting bite.
A reoccurring special appetizer—and local favorite—is the ceviche trio, served with three miniature ceviche bowls for sharing. Each plate includes Peruvian ceviche with chunks of white fish in lemon with a tangy Peruvian sauce, cooked sweet potato and corn kernels; the tropical ceviche with a combination of fish, shrimp and calamari rings tossed with a citrus marinade, mango and avocado; and a specialty shrimp ceviche, marinated in a smoky tomato sauce with crispy corn kernels. While the tropical ceviche was my favorite, thanks to the variety of seafood and the creamy avocado, each variety really stood out on its own as a strong and flavorful dish. No one ceviche was overpowered by citrus or lacking in flavor, and—despite their similarities—each man- aged to have its own unique set of flavors.
El Sitio prides itself on their steak selections, as they import their high-quality beef from Uruguay. The Churrasco steak was marinated and then grilled and topped with chimichurri sauce and a fried egg and served with fries. It was a fun take on steak, thanks largely to the egg on top, but the overcooked yolk meant that the dish lost the addition of the egg's creamy perks. But the steak was cooked to perfection and the garlicky chimichurri sauce was intoxicating, and a bit more of it would have completely changed the entire plate for the better.
Seafood tops out as another of their specialties, with handmade marinade options and incredibly fresh accompaniments boosted by tropical fruits and flavors. A traditional Ecuadorian stew, Cazuela de Mariscos, featured a filet of white fish, shrimp, scallops, mussels, clams and calamari, stewed with green plantains and onions in a rich and hearty red sauce, served with chopped peanut next to a heaping portion of rice.
The selection of desserts was as on theme as the rest of the menu, including a traditional tres leches cake. A white sheet cake is soaked in a combination of sweet creams and topped with fresh whipped cream. The cake itself packed a punch, but the whipped cream mellowed out the plate nicely and helped balance out the flavors.
El Sitio is a true gem in South Jersey dining. The food is exciting and some of the freshest you'll find, and the dishes encourage guests to experience South America in a whole new way. If you're looking for a summer spot that will really help you embrace the sunny days and warm evenings, this is one place that will make you feel like you're relaxing in a whole new hemisphere.
Published (and copyrighted) in South Jersey Magazine, Volume 13, Issue 3 (June, 2016).
For more info on South Jersey Magazine, click here.
To subscribe to South Jersey Magazine, click here.
To advertise in South Jersey Magazine, click here.