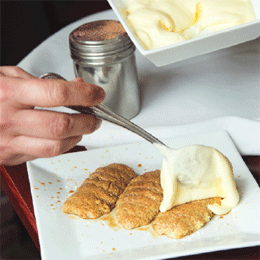 Back to Basics
ITA101
20 S. Main St., Medford
(609) 654-0101
Our rating: 4 out of 5 forks
When ITA101 opened its doors on Medford's Main Street, many were curious. The space had long been known for restaurants that seemed to be gone before the door was fully open, so when we started—and continued— hearing just how special this new Italian eatery was from neighbors, family and friends, we had to check it out.
The menu is constantly changing to fit the season, and includes locally sourced, fresh and recognizable ingredients. They feature a prix-fixed option during two weekdays every week, giving diners the opportunity to try an appetizer, salad or soup, entrée and dessert for one set price, and the entire menu also seems like a new experience every time you walk in the door. And while the ingredients are simple and straightforward, the food is anything but. From appetizer to dessert, the variety of dishes has a finesse that comes with years of experience.
That starts with the house-made mozzarella. Soft and creamy mozzarella is served simply with sliced San Daniele prosciutto, seasonal, pencil-thin asparagus and a balsamic drizzle. With such high-quality ingredients—and the expert execution of the mozzarella, whose freshness stole the show on this plate—there isn't much more you might need.
Another starter of grilled octopus was chopped into bite-size pieces, served on a bed of arugula and fennel salad that was finished with a lemon vinaigrette. The fresh octopus was perfectly paired with the citrusy vinaigrette, peppery arugula and fresh fennel, which added its own unique sweetness. Even the effects of the grill—which provided a slight bit of char flavor—added another element that stood out but still melded together.
Along with the constantly changing prix-fixed menu mentioned previously, the kitchen provides new and seasonal fish dishes every week as well as specialty pastas and more, all based around various regions of Italy and the cuisine from those regions.
The pappardelle con ragu di Cinghiale—or pappardelle with wild boar ragu—is a chef specialty and menu regular, with long ribbons of handmade pasta tossed with a meaty, slow-cooked sauce. The boar meat was tender and hearty, similar to a leaner type of beef with a slight bit of gaminess, and the pasta provided just enough chew to complement the rich sauce.
Of all dishes from the evening, how- ever, the short rib—Brasato di manzi con Verdure di Stagione—was the hardest to forget, for all the right reasons. A mas- sive serving of beef short rib was slow cooked in a Chianti sauce and served over a bed of pureed asparagus. There could have been no better accompaniment to the rich and buttery beef than the cauliflower, which provided a fresh and earthy balance to each bite.
Desserts are made in-house, including a plate of chocolate mousse, served in a large cannelle with an accompanying scoop of vanilla ice cream. It was a dense plate, heavier than any mousse I've ever had and possibly too much for the end of a heavy meal, and one small scoop was enough to feed a whole table.
The evening ended with a show, as the kitchen's tiramisu is prepared table- side. Fresh lady finger cookies arrive, and get treated to a healthy glug of fresh, hot espresso. Mascarpone cream is then spooned over top by the server, who finishes the plate with another pour of espresso and a dusting of cocoa. The fresh espresso kept the cookies from being too soggy—a side effect of most prepared tiramisu plates—but the mascarpone itself would have benefited from some time to set up, as it was a bit runny. Still, the preparation was original and a fun way to end the meal.
ITA101's space may have been known by many names in the past, but the attention to detail that was put into every bite of food at this new eatery will give them some serious staying power. The dedication to quality and service that comes out of this kitchen is worth making this a regular place to visit.
Published (and copyrighted) in South Jersey Magazine, Volume 13, Issue 3 (June, 2016).
For more info on South Jersey Magazine, click here.
To subscribe to South Jersey Magazine, click here.
To advertise in South Jersey Magazine, click here.