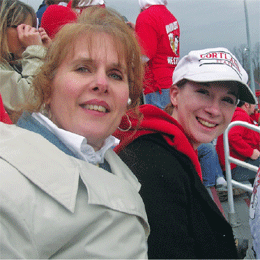 "She Dedicated Her Life."
The world seemed to stop on the morning of Dec. 14, 2012. That was a day that many in this country will never forget; the day that 20-year-old Adam Lanza walked into Sandy Hook Elementary School in Newtown, Conn., and shot and killed 26 people—20 of them being children and students ages 6 and 7—before turning the gun on himself.
While the rest of the world tried to make sense of what they were watching on their television screens, Deptford's Maura Schwartz was faced with the horrifying news that her mother, Mary Sherlach, was one of the 26 killed that day. Sherlach, the Sandy Hook school psychologist, was one of the first victims, killed when she attempted to investigate the first gunshots.
Sherlach served as the school's psychologist for 18 years and was, at the time of her death, the most senior member of the staff. A mother of two grown daughters— including Schwartz, and her younger sister Katy—and a wife of over 30 years to her husband Bill, Sherlach died protecting the children she came to love at a school she embraced as her second home.
Schwartz remembers her mother as a source of comfort to whoever she met. "She was extremely kind, and always wanted to help," says Schwartz. "She was an amazing addition to Sandy Hook, but she carried that job back home. If it was stupid fights between my sister and me, or if my aunts needed help with a problem, she was the first they'd call. If my friends came by for a sleepover, they'd come to her to talk and she'd help sort out their little problems. She always put others' needs before herself, and that continued up until the last moment of her life."
As Sherlach's family was attempting to make sense of their loss, the rest of the world was reaching out to show their love and support of the beloved psychologist. Letters of support flooded in through the mail and online, and so did monetary donations.
"People wanted to reach out and do something, and they wanted to give money," says Schwartz, who was working as a teacher herself at the time, at Salem High School. Schwartz is now the choir director at Overbrook High School. "The last thing we wanted to do was accept money for personal reasons, and we wanted to do something with all the good we were receiving as a family. We knew that there were so many people that were donating money and so many people need that money. So we wanted to put it toward a way that best represented what my mom did for a living."
Thus began the first chapter of Mary's Fund out of the Sherlachs' home state of Connecticut. Started just days after the Sandy Hook tragedy, the nonprofit allocated the donations sent from across the planet toward finding mental health support and resources for children.
"The fund was aimed at continuing my mom's work," says Schwartz. "She dedicated her life to the mental health of children and adolescents. We wanted to keep her legacy alive and do something good with this terrible thing that happened."
Mary's Fund worked with other Sandy Hook fundraisers to build playgrounds and provide grants to support children in need of psychological services and mental health services.
Schwartz and her husband Eric began their own South Jersey chapter of Mary's Fund in 2015 with support from the Community Foundation of South Jersey, working with South Jersey based organizations to spread Mary's message farther south. Since their launch, the South Jersey branch has donated $10,000 to the Mental Health Association in Southwestern New Jersey and has teamed up with the Moyer Foundation—started by former Phillies' pitcher Jamie Moyer—and Minding Your Mind, which provides behavioral programs to teenagers in need.
Schwartz also set up a scholarship at Salem High School and Overbrook High School for students going into the mental health field, continuing what Schwartz calls her mom's lifelong dedication to education.
"She taught me to be compassionate, to always think about people and to feel compassion for those who need compassion. It has definitely helped my teaching career," says Schwartz. "One of the best ways that I have been able to move forward is getting to do this, continuing something that my mom was so dedicated to. And, in retrospect, something that I am dedicated to as well. It's been a huge source of healing, instead of focusing on that grief."
Mary's Fund of South Jersey held their first golf outing at Ramblewood Country Club—now Ron Jaworski's Ramblewood Country Club—last summer, raising $10,000 for their cause. Their second event will take place on Aug. 26 at the same club, with dinner, live music, raffles and more. It's a happy day of remembrance, and something that Schwartz thinks would make her mom proud. "She'd be very proud of how my whole family has taken this thing we created at our darkest hour and made something special out of it," says Schwartz.
And while the pain from their loss still remains, the family has new life to celebrate: the Schwartzs' first child, Mackenzie Joy Schwartz, was born on May 15. She would have been Mary's first grandchild. "Joy was my mom's middle name, and she also shares my mom's initials, MJS," says Schwartz, just days after Mackenzie's birth. Schwartz says that the August golf outing will be her daughter's coming out party, as she'll be there in her Mary's Fund onesie to experience the outpouring of support from the community that keeps Mary's message alive.
"It was a horrible experience that I wouldn't wish on anyone," says Schwartz. "But what has continued to help me heal is the continued support we receive from families, friends and strangers from around the world, wanting to make something good from the worst thing we've ever experienced. It's helped us put things into perspective and not dwell on the horribleness, the pain and the grief. We have faith in humanity."


Published (and copyrighted) in South Jersey Magazine, Volume 13, Issue 3 (June, 2016).

For more info on South Jersey Magazine, click here.
To subscribe to South Jersey Magazine, click here.
To advertise in South Jersey Magazine, click here.