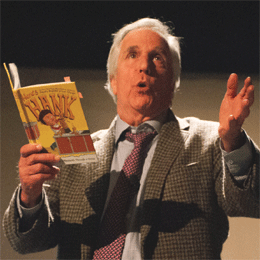 A New Chapter
Greatness did not seem in the cards for a young Henry Winkler. In fact, based on his early struggles to keep up in school, he was not expected to amount to much of anything at all. Born in Manhattan, Winkler came of age as an undiagnosed dyslexic in an educational system that had yet to fully understand how a learning difference might prevent a student from performing well in school. Despite his challenges, Winkler refused to fail.
"I bought into being told that I was stupid, and I always thought that was true," says the soft-spoken Winkler, now 70. "It's only been in the past 10 years that I figured out that they were all so wrong. This is my vital life lesson for children: Do the best you can to achieve your dreams, and don't let anyone sell you short."
An interest in acting helped him overcome his many obstacles and, ultimately, become one of pop culture's most beloved personalities: "Fonzie" of TV's Happy Days, a character whose leather jacket was admitted for display in the Smithsonian. In the years since, despite his learning difference, he has also become a bestselling author who has ignited a passion for reading in millions of children worldwide, including a visit to Cherry Hill's Katz JCC's Festival of Arts Books and Culture.
Together, Winkler and frequent collaborator Lin Oliver have co-authored 30 children's books that have sold millions of copies since their first book in 2003. Their latest work, Here's Hank: You Can't Drink a Meatball Through a Straw, follows the adventures of Hank Zipzer, a boy who struggles with homework and school lessons because of his dyslexia. Yet, regardless of Hank's challenges, he has a great deal to offer his family, friends and classmates—and readers, too.
'NO LIMITS'
Although Winkler is best known among his youngest fans for his storytelling, his older fans know him as the leather-jacketed, motorcycle-riding Arthur Fonzarelli from 11 seasons of Happy Days. The reason for his fame has evolved over the course of his career, yet his struggle with a potentially debilitating learning difference has remained constant.
Dyslexia, which is a neurological disorder that makes it difficult to recognize the basic sounds of speech in letters, made his school years fraught with disappointment. As a high school senior in 1963, he applied to some 28 colleges. He was accepted to only two. He was such a poor student that he wasn't allowed to graduate with his class at his all-boys private high school in New York City—he received his diploma in the mail after being forced to take the same geometry class eight times, finally passing with a D-minus.
"Writing these children's books is one of the greatest accomplishments of my life, outside of our children and our grandchildren, because I never thought I could write a book," says Winkler, who recently visited locations in New Jersey and across the river in Pennsylvania while on tour to promote the latest Hank book. "But as you can see, there really are no limits on what we can do."
Winkler says children frequently ask, "How did you know me so well?" Their parents, meanwhile, tend to offer teary-eyed praise such as, "'Your books were able to get my child to love reading. First they read one Hank book and then they go on to read five more of them.' These are great, great compliments for us," Winkler says.
He enjoys getting to meet children and their parents face-to-face, both at home and abroad, and the feeling has been mutual. In recognition of his time spent touring the United Kingdom to educate children with dyslexia and other unique educational needs, the Queen of England presented Winkler with an Honorary Officer of the Most Excellent Order of the British Empire.
No matter the location or the circumstance, Winkler's message to the children he meets always rings loud and clear: "You have greatness in you. Every child is wonderful and unique in his or her own way, and the world needs every single one of these gifts."
Yet, through all of his learning difficulties, he says he still had a great deal of confidence in his abilities because he discovered his gifts early on. So one has to wonder, where did that belief in himself come from? Winkler made his stage debut as the lead in Billy Budd, Sailor in an eighth-grade play, and he instantly knew he felt comfortable on the stage.
At the start of his off-stage acting career, he appeared in 29 commercials, including one for Close-Up toothpaste, and went on a tour with a children's theater group, for which he received $19 per performance. That was before landing his first film role in The Lords of Flatbush, with Sylvester Stallone, whose tough-guy demeanor helped Winker flesh out, and eventually land, the role of "Fonzie."
"Becoming an actor was something that I needed to do," he says. "If people were born to do something, I was born to try and be an actor. That was just in my body and in my mind."
'THE BEST PERSON'
The success of the Hank books is reminiscent of Winkler's first taste of fame. It was just before midnight, in the spring of 1974, when the 30-year-old Winkler stepped off an airplane in Little Rock, Ark., and saw 3,000 people— many of them teenage girls dressed in poodle skirts and bobbysocks—anxiously waiting to greet him.
Ever the gentleman, Winkler asked the stewardess if there was any other way to disembark the plane. "I didn't want to intrude on anyone else's party, and I couldn't imagine that any of these people had come to see me," he remembers.
In what seemed overnight, he went from getting "one letter from my mom to 50,000 fan letters at a time." He was also honored with a star on the Holly- wood Walk of Fame. Even as the wide- eyed actor went to parties with Bette Davis and John Wayne, and had dinner at the homes of Goldie Hawn and Sally Field, he still couldn't quite believe all of this was happening to him.
After Happy Days, Winkler went on to reinvent himself as a director and producer, but acting was never far from his mind. He produced the TV series MacGyver, as well as animated specials and afterschool specials because of his concern for quality children's programs on television. He acted in films including Night Shift, The Waterboy and Here Comes the Boom, as well as on Broadway. Some of his most recent TV work included prominent roles in sitcoms such as the highly rated Parks and Recreation and the oddball Childrens Hospital, and, currently, the drama Royal Pains.
"Each project helps you with the next one," he explains. "Nothing you do is isolated. Everything that you learn, you apply to the next project, because the fact of the matter is that all of the humanness along the way, you apply to being a writer."
He believes his career would not have climbed to such lofty heights without the support of his wife, Stacey, and their three grown children—Jed, Zoe and Max—all of whom inherited a dyslexia diagnosis from their father.
"We said, 'As long as you try as hard as you can, whatever grades you bring home are going to be just fine,'" he says. The key is to make children feel "comfortable and confident enough. If so, they have a great, great chance of meeting their potential and their destiny."
Stacey, his wife of 38 years, has been his champion from the first day they met. She attended every Friday-night taping of Happy Days, and they watched together every Tuesday night when the shows first aired. When he told her he was going to write children's books with Oliver, she didn't give it a second thought.
"I have never had anything but complete confidence in him," she says. "If that was what he needed to do, I knew he would make it work. I am extremely proud of him. He is truly the best person I have ever known. ... Henry really wanted to go on this book tour. I believe the main reason is that he would like to help someone not have to go through the pain he endured as a child. He deeply cares about people."
Published (and copyrighted) in South Jersey Magazine, Volume 13, Issue 3 (June, 2016).
For more info on South Jersey Magazine, click here.
To subscribe to South Jersey Magazine, click here.
To advertise in South Jersey Magazine, click here.