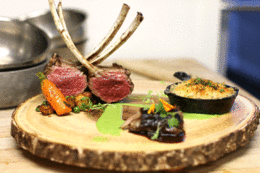 2016 Best of the Shore
With each arriving summer our love affair with the Shore only grows stronger. The long hazy days on the sand that turn into longer evenings at a wonderful restaurant in Stone Harbor or after-dinner drinks in Cape May dominate our time between Memorial Day and Labor Day. We wouldn't have it any other way. So, as a fitting tribute, this year's Best of the Shore roundup is a town-by-town guide of the best food and drink items you'll find, from old standbys like ice cream and pizza to more fine dining options and craft cocktails. Inside these pages you'll find a mix of familiar favorites and the places you should be heading to next. We've also included all the new things you'll find when you arrive, from new retail businesses and restaurants to notable renovations and other additions. There's never been a better time to head back to the beach.
AVALON
Cream Doughnuts
Kohler's Bakery
You know when a place is good? When the line starts bright and early and no one is deterred by its size. And trust us, these delicate dough pockets oozing with oh-so sweet cream and cloaked in powder are worth the wait. 2709 Dune Drive, (609) 967-3694
Bagel Sandwiches
Avalon Coffee Co.
Custom-ordered breakfast sandwiches are what make us rise and shine and head down to this buzzing morning spot. We're partial to the egg white, avocado and bacon on an everything bagel, but there's no wrong way to order here.
2892 Dune Drive, (609) 967-4499, AvalonCoffeeCompany.com
Dinner Menu
Café Loren
We love Café Loren for its consistency and creativity when it comes to producing some of the more appetizing plates at the Shore or otherwise. Ultra fresh ingredients help steer the ship, but it's clear that chef/owner Stephen Serano is a commanding captain on this journey through the coastal cuisine menu.
23rd and Dune Drive, (609) 967-8828, CafeLoren.com
Stromboli
Concord Café
The approachable menu here is full of small bites, sandwiches, pizzas and entrées that satisfy regulars and shoobies alike. But no visit is complete without ordering the Jefferson stromboli, a hefty offering stuffed with chicken breast and roasted red peppers that will fill you up quick if you're not careful.
7800 Dune Drive, (609) 368-5505, ConcordCafe.net
Sushi
The Whitebrier
The outdoor patio of this space, dubbed the Octopus Garden, is where you'll find inventive sushi rolls that show respect to the ingredients and skillful preparation courtesy of chef Tsong Lin. The cilantro yellowtail roll features pepper tuna, avocado and cilantro that is wrapped in soy paper and finished off with a crown of torched spicy yellowtail and caviar because you can never be too decadent.
260 20th St., (609) 967-5225, TheWhitebrier.com
Martini
The Windrift
The Windrift's beachfront location makes it the place to gather with friends and grab a few cocktails. We suggest you take the lead and order the Cinnamon Toast Crunch martini. The spice of Fireball whiskey is subdued by the creaminess of rumchata liqueur and finished fittingly with a sugar-cinnamon rim.
105 80th St., (609) 368-5175, WindriftHotel.com
Gnocchi
La Vecchia Fontana
Homemade pasta just tastes better, and never is that more evident than with these pillowy bites of fresh gnocchi that bathe in an indulgent gorgonzola sauce. It's a rich meal that's sure to please any discerning gourmet.
700 First Ave., (609) 967-7708, LaVecchiaFontana.net
Appetizers
The Diving Horse
A mixture of seasonal offerings makes this restaurant a mainstay for dinner, and it all starts with the alluring starter plates. A past favorite of ours is the yellowfin tuna tartare with coriander and frisée salad, but the ever-changing menu never ceases to deliver a quality appetizer.
2109 Dune Drive, (609) 368-5000, TheDivingHorseAvalon.com
Cheeses
The Mouse Trap
This cleverly named shop is a turophile's dream come true, with specialty offerings that run the gamut from silky smooth to creamy and nutty. There's also plenty of other products like nuts and crackers to help you create your ultimate cheese plate for a happy hour snack or to pair with a bottle of wine for dessert.
2301 Dune Drive, (609) 967-3551
Wings
Avalon Barbecue Co.
Well-done barbecue is no small feat and the meaty wings cooked up at this walkup are just that. If fingers covered in sauce aren't your thing, go for the Memphis dry rub. The spice mixture's flavor profile is enhanced by smoking the wings then crisping them in the fryer.
224 21st St., (609) 967-8222, AvalonBarbecueCo.com
French Toast
Kudos American Grille
This casual eatery serves up a delectable offering of banana nut bread French toast that is a perfect brunch-like meal that will make it easy to skip lunch. The fact that they make the banana nut bread themselves means there's a lot of love that goes into each serving.
2619 Dune Drive, (609) 368-7422, KudosAmericanGrille.com
Tres Leches Cake
Tortilla Flats
This dessert is made on the premises and is our preferred way to end the evening. The milk-soaked cake is incredibly tender and moist making this easy to eat after a night of heavy Mexican food.
2540 Dune Drive, (609) 967-5658, TortillaFlatsAvalon.com
Pizza
Vozzella's
Part of the Circle Pizza family, Vozzella's specializes in gourmet brick oven pizza. The best of the bunch is the Verde Pesto with Chicken and Artichokes. The nuttiness of the pesto pairs well with the chicken and the artichokes give added texture to a pie that is for true pizza lovers who appreciate something more than your run-of-the-mill greasy slice.
21st and Dune Drive, (609) 967-8383
Sandwich
Pop's Deli
Sure, Thanksgiving isn't for months, but why wait when you can chow down on the 7 Mile Turkey Special? Roasted turkey, bacon, lettuce and tomato are stuffed into a roll that is coated with cranberry mayonnaise. We're pretty sure the Pilgrims didn't see this coming.
2089 Ocean Drive, (609) 368-3354, PopsAvalon.com
CAPE MAY
Craft Beer
Cape May Brewing Co.
Cape May Brewing makes some of our favorite local brews from their Costal Evacuation double IPA and their Turtle Gut sour offering. Their newest beer, Summer Catch Belgian Wheat, comes out just in time for the season. Summer Catch is a light and citrusy beer, designed with the relaxed and laid-back Shore-goer in mind. The brewery will also be rolling out their first round of limited bottle releases in June, a barrel-aged sour that you'll want to watch for.
1288 Hornet Road, (609) 849-9933, CapeMayBrewery.com
Craft Cocktails
The Ebbitt Room at The Virginia Hotel
From the Mint Julep and Old Fashioned to the Manhattan, Pimm's Cup and Sazerac, sometimes nothing beats an old school, classic cocktail. And when looking for these standards done right, The Ebbitt Room is the place to go, thanks in part to their throwback style bar area that makes you feel like you're back in the Victorian era.
25 Jackson St., (609) 884-5700, CapeResorts.com
Pig Roast
The Rusty Nail
Escape to the South right on Beach Avenue. The Rusty Nail runs a pig roast every Monday in the summer, overseen by grill master Jimmy Burton and made with a Berkshire pig raised at their own Beach Plum Farm. A platter comes complete with pulled pork, baked beans, corn bread, coleslaw and corn.
205 Beach Ave., (609) 884-0017, CapeResorts.com
Sandwiches
Blue Pig Tavern
A quick and easy lunch doesn't have to mean a lack of creativity. Blue Pig Tavern's sandwich spread includes a blackened Mako sandwich, croque monsieur and a tomato sandwich with a side of tomato gazpacho. They all come with fresh veggies, picked from the local Beach Plum Farm at the peak of growth.
200 Congress Place, (609) 884-8422, CapeResorts.com
Tapas and Tasting
Willow Creek Winery
Just a few minutes' drive away from the heart of Cape May, Willow Creek Winery's massive tasting room and outdoor patio has more than enough space to relax and lounge the day away. Pair one of their educational tasting courses—featuring your choice of five varieties—with a small plates menu of cheeses, fresh salads, flat breads and more for the perfect finishing touch.
160-168 Stevens St., (609) 770-8782, WillowCreekWineryCapeMay.com
Lobster Roll
Quincy's Original Lobster Rolls
Start with tender chunks of Maine lobster, finished simply with a touch of mayo, lemon butter and Quincy's specialty seasoning, then finish it off on a buttered and toasted New England-style roll for the quintessentially classic lobster roll. Or mix it up with any of their takes on the sandwich, including a carb-free option and BLT variety.
709 Beach Ave., (609) 600-3571, QuincysOriginal.com
Italian
Sapore Italiano
Southern Italian food comes to Cape May by way of this charming eatery. If the selection of antipasti or impressive wine list doesn't hook you, then their house-made pastas, pizzas or ever-changing entrée selection certainly will.
416 S. Broadway, (609) 600-1422
Pancakes
Dock Mike's Pancake House
You can find massive mounds of pancakes all along the Jersey Shore, but Dock Mike's takes breakfast to another level with completely original pancake flavors, including a sweet potato pancake, buckwheat cinnamon raisin and piña colada variety, smothered in warm crushed pineapple.
110 N. Broadway, (609) 884-2855, DockMikesPancakeHouse.com
Seafood
The Lobster House
When looking for a Shore seafood institution, look no further than The Lobster House. Seated right on Schellenger Creek, the covered bar area means you can enjoy your clams, oysters, tuna and more as it comes fresher than fresh, straight from the source.
906 Shellengers Landing Road, (609) 884-8296, TheLobsterHouse.com
Ice Cream Scoops
Fine Fellows Creamery
Chocolate and vanilla ice creams are a thing of the past with this young ice cream shop. That's because the minds behind Fine Fellows blend fresh ingredients and unusual combos to create ice creams like matcha, pomegranate blueberry and raspberry truffle.
313 Beach Ave., (609) 854-4934, FineFellowsIceCream.com
Empanadas
Empanada Mama's
Take your pick of a variety of handcrafted empanadas at this up-and-coming hot spot, including sweet potato and apple, pineapple and guava, beef and caramelized onion and more. They even make breakfast varieties and dessert options, so you can grab and go any time of the day.
600 Park Blvd., (609) 972-3977, EmpMamas.com
Date Night Dining
The YB (Younger Brother)
YB serves up fresh and expertly crafted dishes in a beautiful, romantic and intimate setting. Start with swordfish tacos served in crispy wonton shells for a light and exciting appetizer or browse their entrée options, featuring a slight Asian flair and plenty of fresh seafood.
314 Beach Ave., (609) 898-2009, KaraRestaurantGroup.com
Margarita
Fins Bar & Grille
For the WaHaka Rita, the classic margarita gets taken to the next level with Ilegal Mezcal artisan tequila, housemade limonada juice and orange liqueur, finished with orange bitters for a sweet-meetssour concoction you just have to try. It's one of a handful of creative cocktails served up at Fins' brand new—and visually stunning—bar space.
142 Decatur St., (609) 884-3449, FinsCapeMay.com
Ice Cream Sandwiches
Peace Pie
This mini-chain has spots popping up across the coast, serving up unique ice cream flavors like coconut cream pie, salted caramel apple and Irish coffee sandwiched between shortbread cookies. Their main location sits on Carpenter Lane, but they will also host a pop-up shop in Della's on Washington Street and look for a Ventnor location to follow suit.
326 Carpenter Lane, (609) 435-5321, PeacePieWorld.com
Dinner Menu
The Black Duck on Sunset
Sometimes you just need an escape from sandy feet and beach toys. Black Duck's summer menu includes traditional Shore fare like surf and turf and crab cakes, but it's the nontraditional dishes like honey roasted half duck, and the Asian-inspired pu pu platter and Szechuan beef that makes this spot an escape from your summer escape.
1 Sunset Blvd., (609) 898-0100, BlackDuckOnSunset.com
LONG BEACH ISLAND
Cocktails
Daddy O
We love sitting on the rooftop bar of this boutique hotel and sipping any one of their number of craft cocktails, like the Tiki Tini which blends pineapple and coconut vodkas with pineapple juice and is served with a toasted coconut rim. It's a little taste of summer in every sip.
4401 Long Beach Blvd., Brant Beach, (609) 494-1300, DaddyOHotelLBI.com
Dinner Menu
Black Eyed Susans
This Harvey Cedars fine dining spot serves up refined plates like foie gras torchon and pan-roasted tile fish that you don't find on menus elsewhere. Attention to detail and artful cooking technique make this a place you'll want to make a reservation for right now.
7801 Long Beach Blvd., Harvey Cedars, (609) 494-4990, BlackEyedSusansLBI.com
Oysters
The Old Causeway
For a true taste of the sea, go for the East meets West sampler which offers your choice of three of each of the six varieties on the menu, from as close as Maryland to as far away as British Columbia. The house-made mignonette is an added bonus.
1201 E. Bay Ave., Manahawkin, (609) 488-1327, OldCauseway.com
Ice Cream
Skipper Dipper
A unique assortment of specialty flavors like Campfire S'mores with graham cracker ice cream, marshmallow and chocolate chunks make this longtime favorite a must-visit whenever we're in town.
9305 Long Beach Blvd., Beach Haven, (609) 492-9680, SkipperDipper.com
Appetizer
Shore Fire Grille
You've had hush puppies, but what about loud puppies? Sweet Jersey corn is battered and deep fried and accompanied with a spicy barbecue sauce. To say these are delicious is an understatement.
34 S. Main St., Barnegat, (609) 488-5586
Burgers
Beach Haven Fishery
Certified Black Angus is the foundation for a slew of rotating specialty burgers that challenge foodies in exciting ways. The cowboy burger is smothered in American and blue cheese and topped with an onion ring and homemade sundried tomato and chipotle mayo while the shrimp scampi burger … well it kind of speaks for itself, now doesn't it?
2115 Long Beach Blvd., Spray Beach, (609) 492-4388, BeachHavenFishery.com
Jelly Doughnut
Shore Good Donuts
The biggest complaint we have about jelly doughnuts is that there's never enough jelly inside. Thankfully, the folks at Shore Good get it, so they put a heaping pile of jelly on top of their powdered doughnut making sure there's no skimping on the real star of the show. You'll wish you discovered this sooner.
1211 Long Beach Blvd., Ship Bottom, (609) 492-0100, ShoreGoodDonuts.com
Pizza
Anthony's Trattoria
Boasting LBI's only wood-burning brick oven, the pizza at Anthony's is torched to perfection. That goes especially for the grilled chicken and basil pesto pizza, just one of the several gourmet pies being handcrafted in the kitchen.
1511 Long Beach Blvd., Ship Bottom, (609) 848-9778, AnthonysTrattoria.com
Fish Taco
Off the Hook
Fresh seafood is the name of the game at Off the Hook which is why we love the mahi fish taco so much. The firm yet flaky fish is lightly breaded and wrapped in a soft shell tortilla with cheddar, chipotle mayo and served with a homemade salsa.
1905 Bayview Ave., Barnegat Light, (609) 361-8900, VikingOffTheHook.com
Sandwich
The Bagel Shack
Perfect for breakfast or lunch, the Shack Attack is a gluttonous amalgamation of three eggs, bacon, pork roll, sausage, ham, cheese and hash browns on a bagel. It's like all your favorite breakfast sandwiches at once, and we see nothing wrong with that.
306 N. Bay Ave., Beach Haven, (609) 492-5552
Omelette
Uncle Will's
The dining room's pig-themed décor may have you thinking bacon for breakfast, but we ask you to consider the Leonardo Da Vinsheep. This omelette is filled with grilled chicken, avocado, sundried tomatoes and manchego cheese for a creamy, but well-balanced bite.
3 S. Bay Ave., Beach Haven, (609) 492-2514, UncleWills.com
MARGATE/VENTNOR
Pasta
Red Room Café
This quaint Italian spot looks like it could be found on a corner in South Philly, which makes sense, considering that's where owner Jack Gatta is from. Many of the pastas are handmade daily by Gatta and his staff, including the tagliatelle, which is tossed with mushrooms and pancetta in a cream sauce.
141 N. Dorset Ave., Ventnor, (609) 822-1067, RedRoomCafeAtTheShore.com
Seafood
Stella
Chef Nicholas LoBianco has owned restaurants at the Shore for over a decade, and for good reason. About half of the entrées on Stella's pared-down menu are seafood-based, including one of the top sellers, the seafood fra diavolo. It piles shrimp, littleneck clams, mussels and a fresh fish of the day over linguine in a tomato sauce with a spicy kick.
7303 Ventnor Ave., Ventnor, (609) 350-6493, StellaVentnor.com
Sushi
Megu Sushi
A mix of well-prepared traditional rolls and a slew of inventive specialty rolls make Megu one of our favorite sushi spots in all of South Jersey. We love the Mini-Me Roll, which features tuna, salmon and crab that has been deep fried and served with a spicy sauce and topped with fish roe.
5214 Atlantic Ave., Ventnor, (609) 289-8693, MeguSushi.com
Salads
Lisa's
Chef Lisa Savage—a former competitor on Food Network's Chopped—owns several restaurants in the Atlantic City area. This casual spot is known for brick oven pizzas, sandwiches and creative salads, including our favorite, the Nick salad, which has chicken, shrimp and grilled veggies over mixed greens. An added bonus? They deliver to the beach.
5210 Atlantic Ave., Ventnor, (609) 823-2117, LisasVentnor.com
Appetizer
Steve and Cookie's By the Bay
The freshest and tastiest seafood around can always be found at this Margate staple. That includes our favorite starter, the lobster mac and cheese, which stacks tender lobster meat over orecchiette pasta and bakes it in a casserole with cheddar and gruyere cheese that oozes over the side of the dish.
9700 Amherst Ave., Margate, (609) 823-1163, SteveAndCookies.com
EntrÉe
Johnny's Café
"Try the veal, it's the best in the city." That famous line from The Godfather referred to New York, but we're stealing it for Margate. Johnny's Café has five veal entrées to choose from, but we're partial to chef and owner Johnny Liccio's namesake dish: tender veal medallions with jumbo lump crab, mushrooms and tomatoes in a white wine garlic sauce.
9407 Ventnor Ave., Margate, (609) 822-1789, JohnnysCafeVentnor. com
Dessert
Tomatoe's
While we love the pasta, seafood and sushi selections at this lively restaurant on the bay, we always leave room for dessert. There are several homemade cakes and pies to choose from, including the chocolate peanut butter pie—a rich and delicious mousse in a chocolate crust.
9300\ Amherst Ave., Margate, (609) 822-7535, TomatoesMargate.com
Cocktails
Ventura's Greenhouse
Enjoying cocktails on the beach is a summertime tradition, which is why the Greenhouse deck is always a prime destination. Whether it's a margarita or mojito that is your go-to summer drink, Ventura's has you covered.
106 S. Benson Ave., Margate, (609) 822-0140, VenturasGreenhouse.com
Doughnuts
Junior's Donuts and Dogs
New owners have taken over Junior's, but they're bringing back the same menu and recipes that beachgoers have enjoyed year after year. A great way to start off a summer day is with a dozen from Junior's, including the cinnamon sticks or coconut doughnuts.
9315 Amherst Ave., Margate, (609) 823-8790
Pizza
Bocca Coal Fired Bistro
When you're in the mood for something more adventurous than a regular old pepperoni pie, Bocca has an array of specialty coal fired pizzas to choose from, including the Chicken Florentine and Italian. We're partial to the Nonna, which includes chunky plum tomatoes, garlic, extra virgin olive oil, fresh mozzarella, oregano and basil.
7805 Ventnor Ave., Margate, (609) 823-3663, BoccaNJ.com
Ice cream
Margate Dairy Bar
The Margate Dairy Bar bounced back strong from extensive Hurricane Sandy damage last summer with a classic 1950s design that was nominated for a James Beard Award. The new space includes a burger bar that customers rave about, but always make sure to save room for the delicious soft serve they've been known for since 1952.
9510 Ventnor Ave., Margate, (609) 822-9559, MargateDairyBar.com
Hoagies
Aversa's Bakery
It's a near-impossible task to walk into any of the four Aversa's locations in South Jersey and not grab a cannoli or homemade cookie. Before dessert, however, their assorted hoagies are perfect for lunch on the beach or dinner on the deck. The Santa Fe turkey and Italian Godfather are two we highly recommend.
9307 Ventnor Ave., Margate, (609) 487-6600, AversasBakery.com
OCEAN CITY
Egg Dish
Jon & Patty's Coffee Bar & Bistro
Breakfast is not hard to come by down the Shore, but at this family-owned eatery, standard dishes have a unique spin. Like the Amazing Avocado Toast, an open-faced sandwich on toasted multigrain bread topped with mashed avocado, soft baby Mozzarella cheese, ripe tomato, red onion and two perfectly fried eggs.
637 Asbury Ave., (609) 399-3377, JonAndPattys.com
Casual Dinner
701 Mosaic
For a taste of the Caribbean in Jersey don't miss this contemporary bistro where the influences of Jamaica are well represented, especially in their Jerk chicken dinner: an entire half-chicken marinated with a mixture of allspice, Scotch bonnet pepper and the chef's special blend served with rice, peas and sweet plantains to balance out the spiciness.
701 Fourth St. at Ocean Ave., (609) 398-2700, 701Mosaic.com
Mexican
Don Jose Rojo's Tacos
Two blocks off of the Boardwalk you'll find this authentic and expansive menu of classic Mexican offerings that won't disappoint. It's hard to choose between the tacos, burritos or other specialties, but the enchiladas verdes con pollo is something else—dipped in a delicious salsa verde, stuffed with chicken and topped with more salsa, sour cream, avocado and lettuce. Ay Dios mio.
601 Ocean Ave., (609) 391-0970, OCTacos.com
Appetizer
Yianni's Café
Open year-round, this Ocean City mainstay is a go-to for Greek classics. Taste them all in the Greek Pikilia appetizer, which includes spanakopita, stuffed grape leaves, feta cheese, kalamata olives, meatballs, hummus and tzatziki, marinated artichoke hearts, grape tomatoes and warm pita bread.
841 Asbury Ave., (609) 391-1113, YiannisCafeOC.com
Healthy Treat
Bashful Banana Bakery & Café
While at the Shore, the banana whip lets you indulge without the guilt. Made purely out of bananas, this frozen custard is creamy and refreshing on a hot afternoon. Sweeten it up with toppings like granola, fruit fudge sauce, peanut butter chips and whipped cream.
944 Boardwalk, (609) 398-9677
Adult Beverage
Crabby Jack's Deck Bar
Whether it's date night or girls' night, cross over the 9th Street Bridge to this bar attached to The Crab Trap for great views of the bay and a drink inspired by it: the Greate Bay Smash. This frozen cocktail blends banana, piña colada, light and dark rum and grenadine for a buzz that might sneak up on you.
2 Broadway, Somers Point, (609) 927-7377, CrabbyJacksNJ.com
Boardwalk Snack
George's Candies
Both kids and adults have a hard time resisting the treats at this Boardwalk institution. Our mouths water at the sight of the fresh fudge, salt water taffy, or homemade ice cream, but it's the coconut macaroons that get us every time. Light and fluffy inside with a slightly crisp exterior—just the way it should be.
700 Boardwalk, (609) 398-4444, GeorgesCandies.com
Caffeine Fix
Ocean City Coffee Co.
Coffee drinkers with discriminating taste will be pleasantly surprised at the care and attention put into the options here. Coffees from around the world are roasted right on the Boardwalk—with over 100 types available in bags for purchase—and rotating blends are poured fresh daily so there's always something new to try.
928 Boardwalk, 917 Asbury Ave., and 1066 Boardwalk, (609) 399-5533, OceanCityCoffee.com
Savory Bite
Ward's Pastry
For over 75 years Ward's has been serving baked goods from cookies to butter cake to satisfy any sweet tooth. But it's their Scrapple Pie that has wowed visitors and residents alike, putting Pennsylvania's most well-known "delicacy" into a flaky, crumbly pie crust for a finished product that is a delicious—albeit acquired—taste.
703 Asbury Ave., (609) 399-1260, WardsPastry.com
Croissant
Dot's Pastry Shop
Ocean City regulars know the early morning wait at this bakery is worth it. Load up a box of goodies like crème filled doughnuts and cheese danishes, but don't leave without the sticky bun croissants—a decadent, sweet, fried croissant dunked in a gooey, sticky glaze that melts in your mouth.
3148 Asbury Ave., Ocean City, (609) 399-0770
Pizza
Piccini Wood Fired Brick Oven Pizza
There's no shortage of pizza joints down the Shore, but for gourmet wood-fired pies with topping combinations off the beaten path, try Piccini. There's something to please every palate, like the bacon cheeseburger pizza, Old Bay crab or goat cheese and peppers, all on a perfectly cooked crust.
13th and West Ave., (609) 525-0767, PicciniOCNJ.com
Grilled Cheese
The Grilled Cheese and Crab Cake Co.
Featured on Guy Fieri's Diners, Drive-ins and Dives, this hidden gem is tucked away just near the Parkway toll exit as you come into OC. Build your own grilled cheese with grown-up add-ons like Buffalo tenders, fried pickles or pork belly, or try Fieri's own creation: the Triple D Melt with smoked gouda, smoked bratwurst, onion rings, fried egg, pepper jack cheese, jalapeños and sriracha.
55 W. Laurel Drive, Somers Point, (609) 601-7533, GrilledCheeseAndCrabCakeCo.com
Frozen Yogurt
Yoasis Frozen Yogurt
Two locations make this frozen treat accessible on or off the boards, and you can try something new with every visit, especially in their Beach Bowls, which are packed with healthy ingredients like acai, pitaya and fresh fruit. Those with food allergies will also find gluten- and dairy-free options.
838 Asbury Ave., (609) 525-2100, 1244 Boardwalk, (609) 938-0898, Yogurt-Oasis.com
Breakfast
Sunrise Café
Few things say "vacation" like a big plate of pancakes or an omelet and home fries, accompanied by a hot cup of coffee. This cozy and bright spot serves up huge portions at affordable prices, like French toast topped with fresh fruit and whipped cream or chip beef over toast. You can't go wrong.
1200 Asbury Ave., (609) 398-9300, SunriseCafeOC.com
Soup
Varsity Inn
Summer and soup may not go hand-in-hand, but their baked Jersey tomato soup is too tasty to pass up, even in August. The creamy soup is enhanced with chunks of tomatoes and topped with garlic croutons, covered in cheese then baked until the top becomes brown and bubbly.
605 E. 8th St., (609) 399-1500, VarsityInnOCNJ.com
SEA ISLE CITY
Sandwich
Mrs. Brizzle's Buns
This family-run restaurant uses the freshest ingredients in generous sized portions, made to order. Starting at 7 a.m., you can stop in and choose from a multitude of deli sandwiches, salads, paninis and an abundance of bagels. But we recommend the KT Sandwich—turkey, provolone, bacon and hot peppers piled atop an everything bagel and warmed in the oven to melty perfection.
4601 Landis Ave., (609) 263-2773
Baked Goods
Maryanne Pastry Shoppe
Satisfy your sweet tooth with doughnuts and pastries at Maryanne Pastry Shoppe, which opened its first location in Germantown, Pa., in 1944 by German immi- grants, Adolph and Elsie Kuttler. Their son, Herb, and his wife kept the tradition going with the opening of the Sea Isle location, which is open every summer and continues to serve only the finest quality baked goods. A local favorite, be sure to get there early before they run out.
108 44th St., (609) 263-3814
Ice Cream Sundaes
Yum Yums
This local establishment offers a multitude of flavors with some unique options like Irish Potato, which pairs cinnamon bun ice cream and coconut. Bring the whole family and order the Manwich, four scoops of ice cream stuffed between two waffles, to share— or not. You're likely to encounter a long line at any time of day, but these sweet treats are worth the wait.
31 John F Kennedy Blvd., (609) 263-2345
Cocktail
Henri's Bar
Part of the Braca Café, Henri's is a casual out- door bar where you can stop by, even if still in your swimsuit. After a day in the sun, cool off under the canopy of trees with an icy cocktail. We suggest the 302, a frozen concoction with not one but two shots of Bacardi 151. After one or two, you may just decide to sit a spell.
18 John F Kennedy Blvd., (609) 263-4271, BracaCafe.com
Crabs
Carmen's Seafood Restaurant
No trip to the Shore is complete without enjoying some fresh seafood. Carmen's has been serving up all manner of fish, right on the waterfront, since 1980. They are most famous for their crab. Whether your preference is king, snow, Dungeness, soft shell, blue claw or stone, Carmen's will bake, sauté and steam them to perfection.
343 43rd Place, (609) 263-3471, CarmenHasCrabs.com
Mussels
DeNunzio's Brick Oven Pizza and Grille
DeNunzio's offers Italian standards like pizza, pasta, sandwiches and salads, but puts a unique spin on mussels, baking them in a brick oven. They have seven varieties including classics like Caprese, Fra Diavolo, Scampi and Casino, as well as Buffalo—sriracha, chopped celery and maytag bleu cheese crumbles—and Hawaiian—chopped pineapple, bacon and smoked marinara sauce. For a sweet end- ing, choose from over 18 flavors of house- made Italian gelato.
3500 Boardwalk, (609) 263-2600, SeaIslePizza.com
Pizza
Azzura Pizzeria
This cozy spot serves up all manner of pies, from traditional red to Sicilian square. They are well known for their award-winning white and specialty pizzas, like the Chicken Sorrentino with strips of chicken breast, sautéed spinach, tomato sauce and mozzarella.
5012 Landis Ave., (609) 263-1868, AzzurraPizzeriaSIC.com
Light Bite
Uncle Oogie's Pizzeria
The menu consists of classic and specialty pizzas, sandwiches, salads and wraps, but a standout is their Boli Buns. Traditional stromboli is made, then sliced into bite-size pieces that are then baked, pulled apart and seared in a cast-iron skillet and served with sauce for dipping.
6118 Landis Ave., (609) 263-6086, UncleOogies.com
Bloody Mary
The Ocean Drive
"The OD" is considered a Jersey Shore tradition for many. You're sure to find a lively crowd of people enjoying live music, entertainment and drink specials all season long as well as off-season for New Year's Eve, the Sea Isle City Polar Bear Plunge and St. Patty's Day. They offer a wide variety of beers and specialty cocktails, including the OD Mary, which combines vodka with a "thick-as-soup" homemade mix.
3915 Landis Ave., (609) 263-1000, TheOD.com
Dinner
A Modo Mio Ristorante
This Italian BYO features classic recipes with a modern twist including braised short ribs and grilled filet of branzino and homemade pastas like Spaghetti e Gamberoni, featuring jumbo shrimp, broccoli rabe, cherry tomatoes and a spicy garlic oil.?
5900 Landis Ave., (609) 486-5455, AModoMioRistorante.org
French Toast
Dock Mike's Pancake House
This casual spot has been serving up breakfast and lunch at the Shore for over 30 years. We can't eat enough french toast pockets—thick sliced and filled with your choice of banana, blueberry or hot apple and topped with whipped butter, powered sugar and cinnamon.
4615 Landis Ave., (609) 263-3625, DockMikesPancakeHouse.com
Appetizer
Hank Sauce
Hank Sauce's Pinchos were inspired when the team took a trip to Puerto Rico and was introduced to this kabob-type dish. They skip the veggies and pile pieces of protein on a stick with a piece of artisan bread to soak up the saucy goodness. Varieties include chicken, ahi tuna and scallops.
8605 Landis Ave., (609) 602-4663, HankSauce.com
STONE HARBOR
Ribs
Quahog's Seafood Shack
If the idea of ribs from a seafood place sounds odd to you, you probably will be even more confused when we tell you that these are actually pacu fish ribs. The fish is meaty and glazed in barbecue sauce and to the naked eye you might not be able to tell the difference from a traditional rib. That all changes, though, with one bite when you enter a whole new flavor profile.
206 97th St., (609) 368-6300, QuahogsShack.com
Dinner
Jay's on Third
When Chef Jason Hippen enters the kitchen to flex his culinary creativity, good things happen. Local and seasonal ingredients are used to craft the menu of beautifully plated dishes that show thoughtful preparation and undeniable execution.
9836 Third Ave., (609) 368-1000, JaysOnThird.com
Sticky Buns
Bread and Cheese Cupboard
No early morning walk around 96th Street is complete without a stop into this shop where the smell of fresh-baked sticky buns permeates down the block. These sizable delights don't have a dry spot on them and come in plain, walnut or raisin varieties. Get them all and try not to open the box before you get back home, we dare you.
246 96th St., (609) 368-1135, BreadAndCheeseCupboard.com
Daiquiri
The Watering Hull
This surf-inspired, second-floor space has an impressive craft beer list, but on a hot summer's day, we're suckers for a good frozen drink. The Davey Jones is made with Bacardi, blackberries, basil, lime and a peach puree for a sweet, tropical taste of summer. Trying to avoid brain freeze has never been so much fun.
261 96th St., (609) 830-3106, TheWateringHull.com
Margarita
Buckets
Located on the bay, Buckets is a great place to grab a drink and sit on the deck overlooking the water and our preferred method to do so is with a Watermelon Mint margarita in hand. Award-winning Espolon agave tequila is blended with triple sec, lime juice, fresh mint and a watermelon puree that will start any night on the town off right.
9631 Third Ave., (609) 961-3015, BucketsStoneHarbor.com
Cioppino
SAX
This modernly outfit- ted restaurant's seafood stew has all the stars of the sea: clams, mussels, crab, shrimp, scallops and calamari coexisting in an intoxicating broth that elevates each piece of fish by adding depths of flavor. This is one dish that will always keep us coming back for more.
9601 Third Ave., (609) 368-0100, ReedsAtShelterHaven.com
Flatbread
Water Star Grille
We nearly lost our minds the first time we saw a pineapple and pork roll flatbread on the menu here. The acidic pineapple counterbalances the salty pork roll while the bitterness of arugula and an herb vinaigrette give the dish some vibrancy. Forget about those ham and pineapple numbers you're familiar with, this is the real deal.
9601 Third Ave., (609) 368-0100, ReedsAtShelterHaven.com
Pasta Dish
Ristorante Luciano
This lovely Italian restaurant serves up nothing but authentic dishes that invoke a sense of comfort. Our favorite is the Penne all 'Amatriciana, a plate of the tubular pasta with Roma tomato, crispy Italian bacon, caramelized onions and finished with pecorino cheese. The dish has all the warmth of a Sunday dinner.
9820 Third Ave., (609) 967-9115, RistoranteLuciano- StoneHarbor.com
Seafood Dish
Spiaggetta
Grouper is a fish we love to eat and the herb-crusted version here doesn't disappoint. Served with a fragrant saffron risotto and scallops, it's what eating fresh seafood down the Shore is supposed to taste like.
9800 Third Ave., (609) 368-9400, SpiaggettaNJ.com
Wrap
Green Cuisine
It's easy to cheat on our diets while at the Shore, so when we're looking for something a little healthier to fuel our body we order the Southwestern wrap. Made with edamame, black beans, mango, roasted peppers, corn, tomato, onion and cilantro, it's the perfect way to feed ourselves without feeding into our vices.
302 96th St., (609) 368-1616, GreenCuisineNJ.com
Pizza
Seven Mile Pies
When we can't decide between eggplant parmesan or pizza, we go for the best of both worlds with the eggplant parmesan pizza at Seven Mile Pies. It's like two meals in one which makes us wonder why we stressed over the decision in the first place.
261 96th St., (609) 368-7645, SevenMilePies.com
Sandwich
Yvette's Café
Soft and creamy brie makes the grilled chicken sandwich at Yvette's one to remember. Add spinach, tomatoes, pepperoncini, a house special dressing on either a baguette or grilled focaccia and you have yourself an instant classic.
221 97th St., (609) 368-1855, YvettesCafe.com
WILDWOOD
Lobster Tail
Marie Nicole's
Marie Nicole's "From the Sea" menu boasts seafood favorites from jumbo lump crab cakes to seared tuna nicoise, but we keep coming back for the Famous Stuffed Lobster Tail. The lobster tail is stuffed with jumbo lump crabmeat, fresh herbs and topped with toasted bread crumbs. There's a reason it's famous.
9510 Pacific Ave., (609) 522-5425, MarieNicoles.com
Pancakes
Samuel's Pancake House
When we think breakfast in Wildwood, we think Samuel's Pancake House. Made with Samuel's famous buttermilk pancake batter, the Nutty Monkey pan- cakes include slices of banana and toasted pecans put right into the batter before hitting the grill. Topped with a little confectionary sugar once plated, this pancake wakes up our taste buds.
1610 Surf Ave., (609) 522-6446, SamuelsPancakeHouse.com
Pizza
Mack's Pizza
We find comfort in knowing that Wildwood's Boardwalk always has somewhere that feels like home. For us, it's surrounded by pizza in family-owned Mack's Pizza at either of their two locations on the boards. Thin and crispy Buffalo Chicken Pizza keeps our tongues hot while their white pie keeps us full with broccoli, green peppers and mushrooms. Talk about a food coma.
3218 Boardwalk and 4200 Boardwalk, (609) 729-0244
Sundae
Duffer's
Growing up, Fluffernutter sandwiches were like having dessert at lunchtime and Duffer's takes us back to our sticky childhoods with their Fluffernutter Sundae. What more could you want with peanut butter ice cream, peanut butter caramel sauce, marshmallows, peanuts, whipped cream and a cherry on top? One spoon please, we aren't sharing.
5210 Pacific Ave., (609) 729-1817, DuffersWildwood.com
Seafood
Schellenger's
If a seafood dish called "The Feast" won't draw you in, we aren't sure what will. Over one pound of lobster gets split and cleaned and paired with shrimp, scallops, calamari, clams, mussels and fish and then is laid on top of pasta in white sauce. This is a seafood-lover's dream; don't wake us up.
3516 Atlantic Ave., (609) 522-0433, Schel- lengersRestaurant.com
Frozen Drink
Dogtooth Bar & Grill
There's something about frozen drinks in the middle of the summer that instantly cools us down. The Summer Bug at Dogtooth Bar & Grill is a frozen sensation made with Malibu coconut rum, melon banana liqueur, pineapple and orange juice. If you like fruity, this cocktail is for you.
100 E. Taylor Ave., (609) 522-8383, DogtoothBar.com
Cheesesteak
Alumni Grill
The Jekyll and Hyde Cheesesteak might just be the best sandwich we've come across in Wildwood. The sandwich consists of half beef and half chicken steak, smoked bacon, provolone cheese and their special sauce. Just thinking about it makes our mouths water.
3316 Pacific Ave., (609) 523-1111, AlumniGrill.com
Braised Short Rib
Pacific Grill Wildwood
We find comfort in dining at the Pacific Grill when award winning chef John Schatz is creating dishes that make you feel like you are on an island of paradise. One of our favorites is the Braised Short Rib made with vanilla chai, Yukon's and a carrot ginger smudge.
4801 Pacific Ave., (609) 523-2333, Pacific- GrillWildwood.com
Dinner
The Establishment at 100
Fine dining takes on a whole new form at The Establishment at 100. Executive chef Andrew Steiner uses the "farm to fork" philosophy when creating his dishes. Because he is using what is local and fresh to Wildwood, his menu is always changing to accommodate the season. We never get bored here.
100 Olde New Jersey Ave., (609) 523-8100, TheEstablishmentAt100.com
Apple Fritters
Britton's Gourmet Bakery
Waking up in Wildwood with just a cup of coffee leaves us feeling like something is missing. Nine out of 10 times it's because we haven't gotten our favorite breakfast treat: apple fritters from Britton's Gourmet Bakery. They are handed to you still warm, what more could you want?
5600 Pacific Ave., (609) 522-5600
Martini
Beach Creek
We thank Beach Creek for basically turning a beloved Girl Scout cookie into a drink with their Samoa Cookie dessert martini. Made with chocolate liqueur, vanilla vodka, butterscotch schnapps and a toasted coconut rim with caramel and chocolate sauce, we are thankful this drink hits our sweet tooth just right.
500 W. Hand Ave., (609) 522-1062, BeachCreek.net
Fish Tacos
Wild Burrito
If there is one thing in this world we love, it's tacos. Wild Burrito makes us fall in love even more with a taco twist in their mahi mahi tacos. The meaty fish is dredged in ground plantains and tortilla chips, fried and then served with red cabbage slaw, avocado and chipotle aioli. Talk about love at first bite.
6300 New Jersey Ave., (609) 523-9453
Flatbread
North End American Grill
North End's "Just Ducky" flatbread is nothing like we have ever tried before. A flat- bread is piled with duck confit, caramelized onions, goat cheese and fresh arugula and served up for our taste buds to relish over. Most people would call flatbreads a snack, we are going to call this one dinner.
206 Olde New Jersey Ave., (609) 435-5691, NorthEndAmericanGrill.com
Hamburger
Poppi's
There are few things in life more satisfying than a big juicy burger and Poppi's knows how to make a good one. We love the prosciutto burger with the choice of putting it on a Panini or LeBus burger bun. Eight ounces of Kobe beef are topped with homemade mozzarella and marinara sauce. It may be messy, but it is worth it.
4709 New Jersey Ave., (609) 600-3964, PoppisBrickOven.com
Liquor
Lazy Eye Distillery
Distilleries are far and few between which is why we love that we can get freshly made—on the premises—liquor from Lazy Eye Distillery in Wildwood. They have fresh vodka, rakii and even barrell-aged versions of both. But don't sell yourself short; be sure to try the Lazy Eye Special cocktail made with gluten-free vodka distilled from grapes. It's a game-changer.
135 E. Spicier Ave., LazyEyeDistillery.com
READERS' CHOICE
Amusement Rides
Morey's Piers, Wildwood
Waterpark
Thundering Surf, Beach Haven
Miniature Golf
Congo Falls, Ocean City
Boardwalk
Wildwood
Beaches
Ocean City
Lifeguards
Long Beach Island
Romantic Spot
Sunset Beach, Cape May
Hotel
The Grand Hotel, Cape May
Shopping District
Downtown Ocean City
Gifts
Village Greene Shoppes, Smithville
Fudge
Douglass Fudge, Wildwood
Ice Cream
Springer's, Stone Harbor
Pizza
Sam's Pizza, Wildwood
French Fries
Jilly's French Fry Factory, Ocean City
Breakfast
Mustache Bill's Diner, Barnegat Light
Coffee Shop
Ventnor Coffee, Ventnor
Appetizers
410 Bank Street, Cape May
Seafood
Bisque, Ship Bottom
Italian
Marabella's, Stone Harbor
BYOB
Sofia, Margate
Waterside Dining
Harbor View, Cape May
Casual Dining
Shuckers Bar & Grille, Margate
Bar Scene
North Wildwood
AROUND A.C.
The hottest tickets in Atlantic City this summer
June 10: The B-52's
9 p.m., Harrah's, $40-$100
June 11: Gigi D'Alessio
8 p.m., Trump Taj Mahal, $79-$99
June 11: Don Rickles Hosted by Regis Philbin
8 p.m., Borgata, $75-$95
June 10-11: Wanda Sykes
9 p.m., Borgata, $55-$59
June 17: RonWhite
9 p.m., Caesars, $55-$115
June 25: JaneLynch
9 p.m., Borgata, $49-$59
June 25: SmokeyRobinson
9 p.m., Caesars, $65-$115
July 9: Pat Benatar and Neil Giraldo with Melissa Etheridge
8 p.m., Tropicana, $75-$200
July 9: Arsenio Hall
9 p.m., Harrah's, $20-$45
July 9: Bob Saget
9 p.m., Borgata, $35-$40
July 10: Bob Dylan
7 p.m., Borgata, $79-$149
July 15: Justin Bieber
7:30 p.m., Boardwalk Hall, $50-$116
July 15: SheenaEaston
9 p.m., Golden Nugget, $25-$45
July 23: Alice in Chains
8 p.m., Trump Taj Mahal, $28-$70
July 23: Jeff Beck and Buddy Guy
8 p.m., Borgata, $65-$95
July 23: Boyz II Men
8 p.m., Tropicana, $67-$87
July 29: Tony Bennett
8 p.m., Borgata, $60-$130
July 30: PaulAnka
9 p.m., Golden Nugget,$65-$96
July 30: Yes
8 p.m., Tropicana, $55-$95
August 5: Creedence Clearwater Revisited
9 p.m., Tropicana, $50-$65
August 6: Aaron Neville
9 p.m., Golden Nugget, $25-$45
August 13: Jimmy Buffett with G. Love and Special Sauce
4 p.m., Atlantic City Beach, $60-$130.50
August 14: Lady Antebellum
8 p.m., Borgata, $75-$85
August 19-20: Kristin Chenoweth
9 p.m., Borgata, $85-$95
August 20: Rick Springfield
9 p.m., Golden Nugget, $49-$70
August 26: ZZTop and Gregg Allman
8 p.m., Borgata, $69-$89
August 27: Jim Gaffigan
7 and 10 p.m., Borgata, $45-$65
Published (and copyrighted) in South Jersey Magazine, Volume 13, Issue 3 (June, 2016).
For more info on South Jersey Magazine, click here.
To subscribe to South Jersey Magazine, click here.
To advertise in South Jersey Magazine, click here.