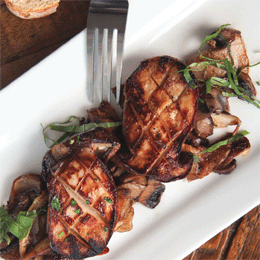 Side Dish: May 2016
QUICK BITE: Funghi Trifolati
Casa Vecchia
Sewell
A blend of mushrooms gets chopped and mixed with olive oil, fresh parsley and diced garlic and sautéed until tender. The ingredients are simple but the flavors are complex and hearty, with a natural, earthy feel that is completely organic.
DATES TO WATCH: May 16
National Barbecue Day
Whether it's slathered in sauce or smoked low and slow, there's something about digging into a plate of barbecue that pairs perfectly with this time of year. And we may not be down South, but there are plenty of tasty BBQ options right in our own backyard to celebrate the holiday.
Full Slab of Ribs
Whole Hog Café
Medford and Cherry Hill
Barbecue Chicken
Buffalo Bill's Barbecue
Sicklerville
Beef Brisket
Red Hot & Blue
Cherry Hill
THE TOP FIVE: Peanut Butter and Jelly
One of our favorite lunchbox treats gets taken to new heights all across South Jersey, thanks to premium ingredients like upgraded nut butters and fresh produce as well as some pretty unique preparations. Looking for your next sandwich fix? Try one—or five—of these options.
1. Peanut Butter & Jelly Breakfast Sandwich
The peanut butter and jelly part might be simple, but in this case, it's all about what's on the outside. That's because Village Bagels lets you pick your favorite bagel as the base, so the possibilities abound.
Village Bagels, Mullica Hill
2. Sun Butter Sandwich
This brunch bite features rich sunflower butter—not something you find everywhere—spread across warm, whole grain toast with the perfect blend of creamy bananas and crunchy cocoa nibs, then finished with pure maple syrup.
Heart Beet Kitchen,Westmont
3. Peanut Butter and Jelly Bars
These massive cookie bars blend peanut butter and jelly flavors, then slice them the size of a hefty granola bar, for a more mess-free PB&J on the road.
Cake Stand Bakery, Voorhees
4. Granny's Peanut Better
Standard peanut butter and jelly is spread on your choice of multi-grain or white bread and finished with sliced apples, a nostalgic PB&J that is simple but satisfying.
The Apron, Haddonfield
5. Peanut Butter & Jelly Doughnut
This local doughnut institution takes their classic stuffed jelly doughnut and tops it with a mound of whipped peanut butter mousse, creating a creamy, dreamy guilty pleasure.
Beiler's Bakery, Mullica Hill
FAST FOOD
To celebrate Burger Month, Iron Hill Brewery will create a new burger for every day in May.
Citizen's Bank Park has unveiled a new 2016 menu, including a new Rita's Water Ice, Chick-fil-A and a Korean Fried Pork Belly Sandwich at Harry the K's. Missing from the starting lineup, however, is the beloved Schmitter sandwich, which was taken out of the park for location purposes.
Camden-based Campbell's Soup Company filed a complaint with the Advertising Self-Regulatory Council's National Advertising Division against Vineland's Progresso soups, claiming their commercials—which show rich farmland to display their South Jersey roots—are not an accurate representation of the company. Progresso will stop running the commercials.
LaScala's Pronto in Mount Laurel will open their second location at the Promenade in Marlton sometime in the late spring, early summer. The location will be called LaScala's Fire.
Published (and copyrighted) in South Jersey Magazine, Volume 13, Issue 2 (May, 2016).
For more info on South Jersey Magazine, click here.
To subscribe to South Jersey Magazine, click here.
To advertise in South Jersey Magazine, click here.