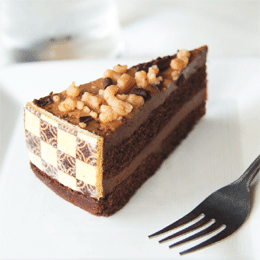 Dreaming of France
Dream Cuisine Café
1990 Route 70 E. | Cherry Hill
(856) 751-2800
Revisit Review
Dream Cuisine is an easy restaurant to escape to when looking for a romantic night out. Its small and intimate setting has no more than 40 seats in the warm and inviting dining room. The open kitchen sits off to the side, bustling from the beginning of the evening to the end as Chef Vincent Fanari darts between stove and service table, plates in hand.
Fanari—a Nice, France-born chef who has served stints in London and cooked in Michelin Star kitchens in his tenure—works to cook every entrée coming out of the kitchen with his own two hands. His attention to detail means guests should prepare for a longer night out, as each course comes out slowly. In fact, the staff suggests preparing for a two-hour prix fixe meal from start to finish.
That's not a bad thing, of course. Especially when diving into Dream Cuisine's prix fixe selections. This option includes your choice of soup or salad, small plate—or tapas—entrée and dessert.
An appetizer of Raclette with prosciutto was a great introduction to French cuisine. It starts with a wheel of Raclette cheese—similar to a mild gruyere—which gets sliced in half. The exposed half is then broiled until bubbly, brown and melted, then shaved off onto a pile of thinly sliced prosciutto. Just hearing about the process of preparation sold me but the flavors of the nutty, melted cheese combined with the rich and salty prosciutto were simply unforgettable. It was a pedestrian looking plate, but one that turned heads as it was led out of the kitchen and to our table.
The small plate starter of ratatouille is another traditional French dish, in which eggplant, tomato, yellow squash, zucchini and fresh herbs were diced and stewed until tender. The tomatoes became a sort-of sauce for the veggies, and while the flavor was fairly mild I can only imagine how vibrant the plate will be once the aforementioned vegetables are in season.
While the appetizers stood out as traditionally French, the entrées took a more direct approach to top-cut proteins. The surf and turf, though not particularly on theme, featured perfectly cooked scallops—which you can substitute for shrimp—and a cut of filet mignon. It was served in a rich cognac black pepper sauce, which complemented the steak with every bite, and a side of scalloped potatoes and green beans.
The rack of lamb was tender and slightly gamey as lamb should be, and melted in your mouth with flavor. It came with what was lauded as a Provençal sauce—think a white wine and butter sauce—that didn't come together quite as well as I would have liked and appeared more like a thin broth on the plate alongside accompanying sides. In the end, however, the lamb itself needed no sides as an enhancement.
Desserts included a hand-baked apple tarte tatin, a rustic pie crust loaded with sweet cinnamon apples and a scoop of ice cream, as well as a chocolate cake. Thick chocolate ganache met chocolate cake in a luscious slice that was the perfect end to the rich and luxurious evening.
The quintessentially French feel of Dream Cuisine makes it unlike any other restaurant in the area. From the romantic, private feel of the dining room to the slowly savored meals, a dinner at Dream Cuisine truly feels like an escape to the South of France.
Published (and copyrighted) in South Jersey Magazine, Volume 13, Issue 2 (May, 2016).
For more info on South Jersey Magazine, click here.
To subscribe to South Jersey Magazine, click here.