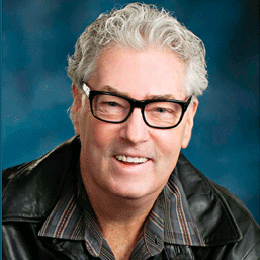 A Lasting Legacy
Often when well-known people pass away you will hear a talking head on the television claim that "The world will never be the same without" said person. My mother would inevitably look up from her ironing board and exclaim, "Yes it will." And although my mom's cynical timing might have been a little insensitive, most of the time she was correct.
But not this time. The Flyers will not be the same without founder and owner Ed Snider because Ed Snider was the Flyers. There is not another team in this town that has had the same ownership since Ed Snider brought an NHL franchise to Philadelphia 49 years ago. Heck, there's not another team in the NHL that has had the same ownership since Ed (contrary to public belief, he did not like to be called "Mr. Snider") joined the NHL back in 1966. He was the only one the Flyers ever had.
My WIP co-worker and Comcast SportsNet's Michael Barkann correctly pointed out that of all the NHL expansion teams that came into the league in 1967, the Flyers were the squad that was given the least chance of succeeding.
I was one of the guys who felt the same way. My initial reaction was one of disbelief. There was no way Philly was going to take to a hockey team—7,000 attended the home opener. No one knew anything about the sport. No one played it. I am old enough to remember a hockey team by the name of the Philadelphia Ramblers. They played in this old dilapidated, cigar-smelling joint called the Arena, right out of the film Slap Shot. My dad took me to a couple games there. The Arena held a little over 5,000, but there was never more than a few hundred there in attendance for the two battles that I witnessed.
But you know what I had forgotten when I had given the Philadelphia Flyers no chance of surviving? South Jersey. At that point in my life, I was a Southwest Philly kid who had not given South Jersey any thought whatsoever. I knew nothing about it at all other than the bus would cut through it on my way down to Wildwood with my mother. I knew so little of South Jersey and hockey in general that I didn't even know that the Ramblers had changed their name to the "Devils" and moved to the Cherry Hill Arena and were still in existence when the Flyers came to Philly.
How was I to know that the Flyers were about to make Cherry Hill, Voorhees and all of its surrounding areas their second home? In fact, most of the original Flyers ended up making South Jersey their only home. Former Flyer greats like Bernie Parent, Bob "The Hound" Kelly, Rick MacLeish, Brian Propp and many, many others, still live in South Jersey.
The South Jersey connection bloomed because the Flyers' practice facility was in Voorhees at The Coliseum. A couple Flyers move into an apartment complex near the rink and little by little more players gravitated toward the area. At the time, however, I didn't know any of this was going down.
The Flyers truly began to capture our hearts in early January 1974. They were not only winning, but they were winning with a style that we loved. "The Broad Street Bullies." Maybe we didn't know diddlysquat about hockey, but we sure knew a good fight when we saw one. They became "must-see TV" when it wasn't that easy to even find them on the tube. The forerunner to Comcast SportsNet, PRISM, wasn't even in existence yet. In this day and age, where every imaginable sport has a television contract—I swear I saw two guys having a catch the other day on ESPN 4— it's difficult to fathom that there was ever a time when every single Flyers game of the year wasn't on the tube, but that's the way it was.
I watched much of the Flyers' run to that first Stanley Cup in Sea Isle City because you could pick up Flyers-Rangers games on a New York station down there. After they kept winning, we continued to watch many of them down there out of superstition.
And who was calling these games? That would be none other than the late Gene Hart, a Cherry Hill resident himself and a former high school teacher at Lenape and Audubon High. To further cement the South Jersey connection, Gene married Sarah, a former diving horse rider on the Steel Pier in Atlantic City.
But the one determining factor that cemented the Flyers-South Jersey connection was Rexy's. Located in Haddon Township, it's an unpretentious bar where you could get an inexpensive drink and an awesome roast beef sandwich. The working class Flyers made Rexy's their home turf. As far away as Southwest Philly we started hearing about Rexy's as a bar where you could actually see and hang with the Flyers. No way!
So we made the trek to Jersey and words can't explain how exciting it was. There was no VIP velvet rope separating the players from other bar patrons. They were right there just standing at the bar. This was incredible. I kid you not when I say that the Philadelphia Flyers introduced a lot of Philly folk to South Jersey itself. It did for me.
I asked another former WIP cohort Al Morganti, a Medford resident, to name the Flyers who live or have lived in South Jersey, and Al said it would be easier to name the Flyers who don't.
So thank you Ed Snider. I couldn't help but think of what it is you created when I was sitting in bumper to bumper traffic on the Walt Whitman driving in from Mullica Hill to that infamous Game 3 against the Capitals with thousands and thousands of proud South Jersey Flyers fans all around me. They are as much the South Jersey Flyers as they are the Philadelphia Flyers.
Published (and copyrighted) in South Jersey Magazine, Volume 13, Issue 2 (May, 2016).
For more info on South Jersey Magazine, click here.
To subscribe to South Jersey Magazine, click here.
To advertise in South Jersey Magazine, click here.