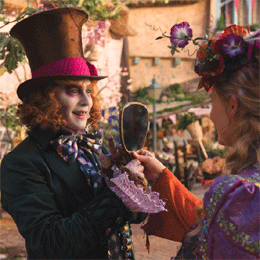 Movie Magic
Ah, the summer movie season. When studio tentpoles—potential, even probable, blockbusters—line up weekend after weekend like taxiing airplanes waiting to take off.
As the following rundown demonstrates, the comic book universe has come to dominate the movie landscape, but there's room over the next four months for all kinds of genres. Don't expect the Oscars to be on anyone's mind at this time of year, but do expect a preponderance of action and explosive special effects and long lines at the nation's multiplexes.
Here are several of the summer's highest-profile releases, competing for your attention, affection, enthusiasm, and moolah, with a potential runaway hit or two opening just about every weekend, in approximate (but always subject to change) order of release.
MAY
CAPTAIN AMERICA: CIVIL WAR
(May 6)
GENRE AND PLOTLINE: The second sequel to 2011's Captain America: The First Avenger follows 2014's Captain America: The Winter Soldier. The Marvel Comics superhero thriller focuses on a rift between former allies Captain America and Iron Man.
MAJOR PLAYERS: Chris Evans, Robert Downey Jr., Scarlett Johansson, Elizabeth Olsen, Marisa Tomei
BEHIND THE CAMERA: Brothers Anthony and Joe Russo, who directed the first sequel as well
REASON TO SEE IT: If the first two spoke to you, chances are this one will too.
REASON TO SKIP IT: A third one so soon? And neither of the first two lingered in the memory for long, did they?
HIT OR MISS: Solid if not spectacular returns are in order as the summer movie season more or less officially kicks off.
MONEY MONSTER
(May 13)
GENRE AND PLOTLINE: A suspense thriller about a television personality on a financial network who is taken hostage by an angry viewer.
MAJOR PLAYERS: George Clooney, Julia Roberts, Jack O'Connell, Dominic West, Giancarlo Esposito, Chris Bauer
BEHIND THE CAMERA: Two-time Oscar-winning actress Jodie Foster is in the director's chair, as she was for Little Man Tate, Home for the Holidays, and The Beaver.
REASON TO SEE IT: Clooney, Roberts, and a relevant hook.
REASON TO SKIP IT: Saw the ubiquitous trailer often enough to feel we'd already seen the movie.
HIT OR MISS: Two superstars in this kind of story? Seems hit-bound.
NEIGHBORS 2: SORORITY RISING
(May 20)
GENRE AND PLOTLINE: The sequel to 2014's Neighbors is another comedy, this time with a sorority rather than a fraternity causing problems for the folks next door.
MAJOR PLAYERS: Seth Rogen, Rose Byrne, Zac Efron, Chloë Grace Moretz, Selena Gomez, Dave Franco, Lisa Kudrow
BEHIND THE CAMERA: Nicholas Stoller, who directed the original, co-wrote the follow-up with Rogen and three other writers, and directed it as well.
REASON TO SEE IT: The first one made me laugh. And bending genders should be a gas.
REASON TO SKIP IT: Did you see the first one? Really?
HIT OR MISS: Could be the same kind of surprise hit that the first one was.
THE ANGRY BIRDS MOVIE
(May 20)
GENRE AND PLOTLINE: An animated adventure comedy based on the video game franchise about a bird-populated island invaded by green piggies.
MAJOR PLAYERS: The voices of Jason Sudeikis, Josh Gad, Danny McBride, Maya Rudolph, Bill Hader, Peter Dinklage, Kate McKinnon, Tony Hale, Keegan-Michael Key, Hannibal Buress
BEHIND THE CAMERA: Co-directors Clay Kaytis and Fergal Reilly have animation and art department experience, respectively, but both are making their directorial debuts.
REASON TO SEE IT: There can never be enough animated movies for the family audience.
REASON TO SKIP IT: Yes, there can, and this one—on the heels of Zootopia—proves it, thank you very much. And it emerged from an—uh-oh—video game.
HIT OR MISS: Could go either way, but a miss seems more likely.
THE NICE GUYS
(May 20)
GENRE AND PLOTLINE: A mystery-comedy set in 1970s Los Angeles, when a private eye and an enforcer team up to work on an apparent suicide case and end up unearthing a conspiracy.
MAJOR PLAYERS: Russell Crowe, Ryan Gosling, Matt Bomer, Keith David, Kim Basinger
BEHIND THE CAMERA: Co-writer and director Shane Black previously directed Kiss Kiss Bang Bang and Iron Man 3.
REASON TO SEE IT: Crowe and Gosling are a promising combo and Iron Man 3worked nicely.
REASON TO SKIP IT: Nice or not, the concept and title are not exactly grabbers.
HIT OR MISS: Returns may not be so nice if it opens quietly, which appears to be the case.
ALICE THROUGH THE LOOKING GLASS
(May 27)
GENRE AND PLOTLINE: The sequel to 2010's Alice in Wonderland, a fantasy adventure based on Lewis Carroll's Through the Looking Glass
MAJOR PLAYERS: Johnny Depp, Mia Wasikowska, Alan Rickman, Sacha Baron Cohen, Anne Hathaway, Helena Bonham Carter, Michael Sheen, Rhys Ifans, Timothy Spall, Stephen Fry
BEHIND THE CAMERA: James Bobin, who directed The Muppets and Muppets Most Wanted, takes over the directorial reins from Tim Burton, who directed Alice in Wonderland and served as a producer on this follow-up.
REASON TO SEE IT: Alice in Wonderland was OK, and at least it emerges from something other than a comic book.
REASON TO SKIP IT: Its predecessor was only so-so.
HIT OR MISS: Somewhere in between.
X-MEN: APOCALYPSE
(May 27)
GENRE AND PLOTLINE: This Marvel Comics-derived superhero thriller, the ninth installment in the XMen film series, is the follow-up to 2014's X-Men: Days of Future Past. In it, the first mutant, called Apocalypse, attempts to render humanity extinct.
MAJOR PLAYERS: James McAvoy, Michael Fassbender, Jennifer Lawrence, Oscar Isaac, Nicholas Hoult, Rose Byrne, Olivia Munn, Tye Sheridan
BEHIND THE CAMERA: Bryan Singer, the director, also helmed three previous X-Men flicks, as well as The Usual Suspects and Superman Returns.
REASON TO SEE IT: This is part of a popular, influential franchise.
REASON TO SKIP IT: Singer's recent movies (Valkyrie, Jack the Giant Slayer) have failed to excite.
HIT OR MISS: It may not go through the roof, but X-Men continues to mark the spot.
JUNE
TEENAGE MUTANT NINJA TURTLES: OUT OF THE SHADOWS
(June 3)
GENRE AND PLOTLINE: In this sci-fi sequel to 2014's Teenage Mutant Ninja Turtles—the fifth installment in the film series—the title characters return to save the city from the threats of a quartet of villains.
MAJOR PLAYERS: Megan Fox, Will Arnett, William Fichtner, Tyler Perry, Laura Linney, Tony Shalhoub
BEHIND THE CAMERA: Director Dave Green's previous feature was the sci-fi flick, Earth to Echo.
REASON TO SEE IT: If you're a fan of the franchise, you don't need me to tell you why.
REASON TO SKIP IT: Cowabunga. Translation: leave this one for the young 'uns.
HIT OR MISS: Everyone else is indifferent, but loyal, age-appropriate fans will probably make this a narrow-audience hit.
NOW YOU SEE ME 2
(June 10)
GENRE AND PLOTLINE: The caper-thriller sequel to the 2013 original finds the magicians attempting a seemingly impossible heist in the hopes of exposing a tech magnate and clearing their names.
MAJOR PLAYERS: Mark Ruffalo, Jesse Eisenberg, Woody Harrelson, Dave Franco, Daniel Radcliffe, Lizzy Caplan, Morgan Freeman, Michael Caine, Sanaa Lathan
BEHIND THE CAMERA: Director Jon M. Chu has previously directed Step Up 3D, Step Up 2: The Streets, Justin Bieber: Never Say Never, and Jem and the Holograms.
REASON TO SEE IT: Loved the first one, which cast a spell and made me look forward to a follow-up.
REASON TO SKIP IT: If you thought the first one was meh, why see the second?
HIT OR MISS: The first was a surprise hit. If the second is a hit, it won't be a surprise.
FINDING DORY
(June 17)
GENRE AND PLOTLINE: The sequel to the animated 2003 charmer, Finding Nemo, focuses on the amnesiac blue tang fish as she searches for her family six months after her Nemo adventure.
MAJOR PLAYERS: The voices of Ellen De- Generes, Albert Brooks, Idris Elba, Michael Sheen, Dominic West, Diane Keaton, Ed O'Neill, Ty Burrell, Eugene Levy
BEHIND THE CAMERA: Writer-director Andrew Stanton directed Finding Nemo, WALLE, and A Bug's Life.
REASON TO SEE IT: Its Pixar predecessor was an instant classic.
REASON TO SKIP IT: None come to mind.
HIT OR MISS: It should perform swimmingly.
CENTRAL INTELLIGENCE
(June 17)
GENRE AND PLOTLINE: An action comedy in which a mild-mannered accountant is lured into the world of international espionage after attending his high school reunion and reuniting with a former "big man on campus."
MAJOR PLAYERS: Dwayne Johnson, Kevin Hart, Aaron Paul, Amy Ryan
BEHIND THE CAMERA: Director Rawson Marshall Thurber has three comedies under his belt: Dodgeball: A True Underdog Story, TheMysteries of Pittsburgh, and We're the Millers.
REASON TO SEE IT: It's an intriguing pairing of two stars with impressive commercial track records.
REASON TO SKIP IT: The casting gimmick seems forced.
HIT OR MISS: If these two shooting stars have decent chemistry—ka-ching.
FREE STATE OF JONES
(June 24)
GENRE AND PLOTLINE: A bio-drama set during the Civil War, when a poor Mississippi farmer leads a rebel group against the Confederate army.
MAJOR PLAYERS: Matthew McConaughey, Keri Russell, Gugu Mbatha-Raw
BEHIND THE CAMERA: Writer-director Gary Ross directed Pleasantville, Seabiscuit, and The Hunger Games.
REASON TO SEE IT: It speaks to our times.
REASON TO SKIP IT: Yeah, but from a century-and-a-half ago.
HIT OR MISS: This one might actually live or die on the strength of the reviews. If it insinuates its way into our conversation or suggests Oscar possibilities, it could surprise.
INDEPENDENCE DAY: RESURGENCE
(June 24)
GENRE AND PLOTLINE: The sequel to the 1996 sci-fi disaster epic, Independence Day, finds Earth faced with another alien invasion two decades after the last one.
MAJOR PLAYERS: Liam Hems worth, Bill Pullman, Joey King, William Fichtner, Jeff Goldblum, Charlotte Gainsbourg, Vivica A. Fox, Sela Ward, Judd Hirsch, Brent Spiner
BEHIND THE CAMERA: The man who brought us Independence Day returns to the director's chair with a résumé that includes Stargate, Godzilla, The Patriot, The Day After Tomorrow, and White House Down.
REASON TO SEE IT: The first one was audience-friendly and beloved. With the same director, how far could this one fall off?
REASON TO SKIP IT: Famous last words. And that was 20 years ago, in a different world. Besides, where the heck is Will Smith?
HIT OR MISS: Perhaps it won't be the smash the original was, but chances are it will live up to its title.
JULY
THE BFG
(July 1)
GENRE AND PLOTLINE: A young girl encounters the titular Big Friendly Giant, who looks scary but turns out to be a kind soul and a giant outcast in this fantasy adventure based on a novel by Roald Dahl.
MAJOR PLAYERS: Mark Rylance, Rebecca Hall, Bill Hader, Jemaine Clement, Penelope Wilton, Ruby Barnhill
BEHIND THE CAMERA: An upstart di rector named Steven Spielberg, working from a screenplay by the late Melissa Mathison, who wrote E.T.: The Extra-Terrestrial for him
REASON TO SEE IT: Spielberg and Rylance? Lemme in.
REASON TO SKIP IT: Kid stuff, huh? Thanks anyway.
HIT OR MISS: Could go either way, but when surfing for hits, never count out the director of E.T.
THE LEGEND OF TARZAN
(July 1)
GENRE AND PLOTLINE: An action-adventure thriller about the Edgar Rice Burroughs title character, who has left the jungle for a gentrified life in London but is invited back to the jungle as a trade emissary.
MAJOR PLAYERS: Alexander Skarsgard, Margot Robbie, Samuel L. Jackson, Christoph Waltz, Djimon Hounsou, John Hurt, Jim Broadbent
BEHIND THE CAMERA: David Yates, who directed four of the eight Harry Potter films.
REASON TO SEE IT: We haven't had a Tarzan flick in a while.
REASON TO SKIP IT: But there's a reason for that: we've had more than enough over the years.
HIT OR MISS: Me Tarzan. You Miss.
THE SECRET LIFE OF PETS
(July 8)
GENRE AND PLOTLINE: An animated comedy that takes place in a Manhattan apartment building, in which the lives of the resident pets are turned upside down when a collection of abandoned pets takes revenge against the happy pets and their owners.
MAJOR PLAYERS: The voices of Lake Bell, Kevin Hart, Ellie Kemper, Jenny Slate, Louis C.K., Steve Coogan, Dana Carvey, Eric Stonestreet, Albert Brooks, Hannibal Buress, Bobby Moynihan, Laraine Newman
BEHIND THE CAMERA: In the director's chair is Chris Renaud, who previously directed Despicable Me, Despicable Me 2, and The Lorax.
REASON TO SEE IT: Read that cast list.
REASON TO SKIP IT: We just got around to Zootopia. This seems too similar too soon.
HIT OR MISS: Either a hit that falls short of Zootopia's numbers, or a miss—but not a huge one.
GHOSTBUSTERS
(July 15)
GENRE AND PLOTLINE: Who you gonna call? This reboot of the 1986 supernatural-comedy blockbuster bends the genders of the title characters and finds them coming to the rescue when ghosts invade Manhattan.
MAJOR PLAYERS: Melissa McCarthy, Kristen Wiig, Kate McKinnon, Leslie Jones, Sigourney Weaver, Bill Murray, Elizabeth Perkins, Annie Potts, Michael Kenneth Williams, Dan Aykroyd, Andy Garcia, Ernie Hudson, Cecily Strong, Chris Hemsworth
BEHIND THE CAMERA: Paul Feig, who also co-wrote the script, and directed three other Melissa McCarthy vehicles—Spy, The Heat, and Bridesmaids.
REASON TO SEE IT: A female-driven remake of a beloved movie? What's not to like?
REASON TO SKIP IT: The trailer lacks charm and allure. Maybe the movie will as well.
HIT OR MISS: Could go either way, but the cast alone should turn it into at least a modest winner.
STAR TREK BEYOND
(July 22)
GENRE AND PLOTLINE: The sequel to 2013's Star Trek Into Darkness and the 13th film in the Star Trek franchise, this science fiction adventure finds the crew of the USS Enterprise stranded on a new planet battling aliens.
MAJOR PLAYERS: Chris Pine, Zachary Quinto, Simon Pegg, John Cho, Zoe Saldana, Karl Urban, Anton Yelchin, Idris Elba
BEHIND THE CAMERA: Director Justin Lin brought us three of the action thrillers in the Fast and Furious franchise.
REASON TO SEE IT: It's the 50th anniversary of Star Trek.
REASON TO SKIP IT: Right. Hey, enough already.
HIT OR MISS: Will 13 be a lucky number? Will this one live long and prosper? Maybe.
BAD MOMS
(July 29)
GENRE AND PLOTLINE: A comedy in which three highly stressed mothers go on a quest to free themselves of their conventional maternal responsibilities.
MAJOR PLAYERS: Mila Kunis, Christina Applegate, Kristen Bell, Kathryn Hahn, Jada Pinkett Smith
BEHIND THE CAMERA: Jon Lucas and Scott Moore, who collaborated on 21 & Over, co-wrote the script and co-directed.
REASON TO SEE IT: The three leads are always appealing.
REASON TO SKIP IT: It's been living below the radar, and the makers have no track record.
HIT OR MISS: Looks like a miss for these Mrs.
JASON BOURNE
(July 29)
GENRE AND PLOTLINE: The fifth installment in the Bourne franchise and the sequel to 2007's The Bourne Ultimatum, this action spy thriller returns Matt Damon to the title role he played in the first three outings.
MAJOR PLAYERS: Matt Damon, Julia Stiles, Alicia Vikander, Tommy Lee Jones, Vincent Cassel
BEHIND THE CAMERA: Director Paul Greengrass returns after directing The Bourne Supremacy and The Bourne Ultimatum and then sitting out The Bourne Legacy, and works from a screenplay that he co-wrote with Damon.
REASON TO SEE IT: Damon is back, bless his heart. And all these action thrillers have been fine.
REASON TO SKIP IT: Make up your mind about the protagonist already. And four might be enough.
HIT OR MISS: Damon, fresh off an Oscar nomination, returning to a respected franchise should assure at least a modest hit.
Published (and copyrighted) in South Jersey Magazine, Volume 13, Issue 2 (May, 2016).
For more info on South Jersey Magazine, click here.
To subscribe to South Jersey Magazine, click here.
To advertise in South Jersey Magazine, click here.