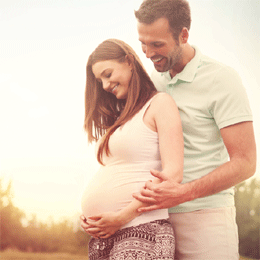 Reason for Hope
For the one in eight American couples who are struggling with infertility, exciting advances are providing new hope and possibility. Treatment options have come an incredibly long way and procedures that once might have seemed more like science fiction have become tried and true measures. Amazingly, many of these advances are happening right here in South Jersey.
Fertility preservation
Among those advances has been egg freezing. The American Society of Reproductive Medicine has said that egg freezing should no longer be considered experimental, but is a very viable option for many women who want to preserve their fertility. Women may choose to freeze their eggs for a variety of reasons including the extension of their childbearing years because they aren't ready for kids or for medical concerns, such as cancer treatment.
"Oöcyte and embryo freezing techniques have become more effective and safer, resulting in higher success rates than had previously been seen," says Dr. Jason M. Franasiak, who will be heading the new Marlton branch of the Reproductive Medicine Associates of New Jersey, opening in July. "This is as a result of a technique called vitrification, which involves cooling eggs to very low temperatures at very fast rates. This technique, as opposed to 'slow freezing,' avoids many pitfalls which result in lower survival rates of the eggs and thus gives patients who are interested in fertility preservation more eggs to utilize when the time comes."
Many of the patients who are interested in egg freezing are pursuing it because of cancer treatment, which can be toxic to the ovaries and cause premature menopause. Dr. Louis R. Manara, medical director of the Center for Reproductive Medicine and Fertility in Voorhees, says that the improved understanding of egg freezing is a benefit to cancer patients.
"One of the things we never want to do is interfere with their cancer treatment," Manara explains. "A 28-year-old menstruating woman who was just diagnosed with cancer wants to get on with her treatment as soon as possible. Our greater understanding of how to freeze eggs—and do so with a good survivability—has allowed us to keep things moving forward for our patients."
Another advance, adds Manara, is the concept of delayed embryo transfer. Previously, embryos have always been transferred fresh, in the same cycle during which the woman was stimulated with fertility medications for egg retrieval. The problem is, Manara explains, these added hormones do not create an ideal situation for transfer.
"Now that we've learned a frozen embryo is just as healthy as a fresh one—and as likely to survive—we are able to delay the transfer until the hormone environment has quieted down," Manara explains.
Genetic screening
There have been many advances in genetic screening and testing in the past five years according to Franasiak.
"Having discussions with a reproductive specialist prior to conceiving allows couples to be tested for a number of diseases which could be passed on to their children," Franasiak says. "If these are found, preimplantation genetic diagnosis technologies allow for selection of embryos which do not carry the genetic disease. In addition, embryos which do not have the correct number of chromosomes represent one of the most common causes for lack of success after infertility treatment and a very common cause of miscarriage. Preimplantation genetic screening tests, to ensure embryos have the correct number of chromosomes, ensure higher pregnancy success rates and decrease the chance of miscarriage."
Another benefit of genetic screening is the decreased possibility of having twins or triplets.
"Given the higher chance of success per chromosomally normal embryo, it allows the patient and doctor to decide to put back fewer embryos—ideally one—at the time of transfer without sacrificing success," Franasiak explains. "Effective single embryo transfer significantly reduces the risk of twins and triplet pregnancies and leads to safer pregnancies for the mother and ultimately healthier children."
A small miracle
The advances being made in the field of fertility treatment are creating opportunities for women who may have thought they were out of options. Manara says that education has grown but there are still many patients who are surprised by the possibilities when they come to see him. He urges that couples don't wait too long to discuss the options. He adds that although the technology doesn't always allow couples to pinpoint the cause of their infertility, it a large majority of cases, it offers a solution.
"Even when we don't find an explanation, the treatments are typically still very successful," Manara says. "We don't need to identify the cause of infertility to give you the option of overcoming it."
Published (and copyrighted) in South Jersey Magazine, Volume 13, Issue 2 (May, 2016).
For more info on South Jersey Magazine, click here.
To subscribe to South Jersey Magazine, click here.
To advertise in South Jersey Magazine, click here.