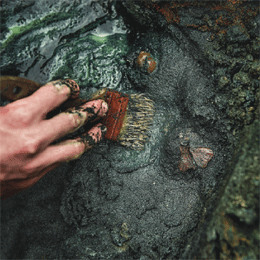 Dig This
Right off Woodbury-Glassboro Road in Mantua Township and behind a Lowe's Home Improvement, there's a dirt road that leads to a 65-acre property including a 4-acre quarry that runs about 50-feet deep and was once an ancient sea floor. It's replete with fossils and most importantly, at the bottom of the quarry is a bone bed of preserved fossils that could quite possibly be tied to the mass extinction event from the end of the Cretaceous Period, a time when dinosaurs went extinct.
This hypothesis is currently being tested today, but if proven, it could make the quarry in Mantua the only place in the world, as Dr. Kenneth Lacovara, a Linwood native, explains, where you can see individuals that were literally killed in that cataclysm.
Lacovara, a former Drexel professor and Rowan University alum, is leading that great science with his team, but this isn't his first rendezvous with making scientific history. An internationally recognized paleontologist in his own right, Lacovara has been behind some of paleontology's greatest finds, including his 2005 discovery of the giant planteating dinosaur, Dreadnoughtus schrani, in Argentina, which today, is the most complete supermassive dinosaur.
"The best preserved skeletal of a supermassive dinosaur before Dreadnoughtus was about 27 percent complete. Dreadnoughtus is about 70 percent complete and also, [it] is currently the most massive land animal for which we can reliably calculate a weight," explains Lacovara, who adds that weight would have been about 65 tons.
As if we needed more proof of Lacovara's genius, he is now the Founding Dean of Rowan University's new School of the Earth & Environment and he recently gave an acclaimed Ted Talk regarding his discovery of Dreadnoughtus and our place in the world, universe and time, which had the likes of Al Gore impressed.
So why, after making such impressive findings everywhere from Egypt and China's Gobi Desert, to Wyoming, Utah and along the Himalayas, is Lacovara back in his native South Jersey, doing research on dinosaurs? Simply because South Jersey, believe it or not, is the birthplace of paleontology.
How it started
"In 1858, the world's first real dinosaur skeleton, Hadrosaurus foulkii, was found and excavated in Haddonfield," says Lacovara. "In 1866, the world's first tyrannosaurus, Dryptosaurus (a relative of T-Rex) was found in Mantua Township. …[It's] also the first meat-eating dinosaur found in all of North America."
More fossils have also been discovered in areas including Swedesboro, Barnsboro and Mullica Hill thanks to our marl pits. "It's kind of the same as when you find dinosaurs anywhere. You need rocks of the right age, and we have that, and those rocks have to be sedimentary, and we have that. The third thing is, usually, you need to be in a desert [to] get good exposure of those rocks and good rates of erosion. ... What we've had in South Jersey is, back in the day, when we had thousands of marl pits up and down the East Coast, farmers were basically making a desert in their location."
This brings up the Mantua Township quarry, which according to Lacovara, "is the last remaining exposure out of all those marl pits up and down the East Coast." It's now known as the Rowan University Fossil Park and was previously owned by the Inversand Company, which used the site to mine and sell manganese greensand, a water filtration product and fertilizer.
Paleontologists had discovered fossils at the site as early as the 1920s and Lacovara had even conducted research there for 13 years. But in 2012, Inversand announced they would cease quarr operations. "They were going to close the site and turn off the pumps and 57 gallons of water a minute [would] flow into the quarry," explains Lacovara, who teamed up with Mantua Township to save the site. "It would turn into a 40-foot deep lake in a few weeks. It would [then] start to fill in with sediment and the whole thing would be lost."
While the company pledged to maintain the property moving forward, they could no longer continue after 2015. After countless efforts with little results, Lacovara soon entered a series of discussions with the president of Rowan University, Dr. Ali A. Houshmand. "Dr. Houshmand immediately understood both the scientific significance of the site, and its importance for education and economic development," recounts Lacovara. In January 2016, Rowan finalized its purchase of the quarry.
"Right now, humanity has so many existential crises having to do with climate change, sea level and environmental degradation that it's important for a university like Rowan to have a part in that conversation and to have a seat at the table when it comes to solutions to these issues," explains Lacovara, who is working on recruiting professors and students for the new school, anticipating the first classes next year.
"One of the great things about this site is it's not just geology students who will be involved. ... Artists can get involved, civil engineer students, communications and marketing majors, biology and ecology. … It goes way beyond geology and paleontology. I think it's a place where every student that goes to Rowan University could get involved with if they desired."
Quarry findings
Today, the Fossil Park thrives on two very important purposes: scientific and educational. As Lacovara notes, it's a site where researchers are meticulously testing that very important hypothesis. The bone bed in question "is about six inches thick and it produces a rich assemblage of fossils from the very end of the Cretaceous Period of about 65 million years ago."
For the most part, they are marine fossils including remains of crocodiles, sea turtles, bony fish, sharks, invertebrates (like clams, oysters, snails and corals) and a rare predatory marine reptile known as mosasaurs, which had a six-foot jaw and a second set of teeth pointing backwards at the top of its throat, to keep prey from swimming out.
"It's obvious by the kinds of fossils that we have there, that this layer happens right at the end of the Cretaceous Period. Our research now is to see whether or not—and we're not sure yet, we're testing this hypothesis—this layer actually ties into the mass extinction event that was caused by a meteor that hit off the coast of Mexico. ... This impact layer has been identified in over 300 spots around the world and fossils have never been found in it, so [this] could be a very special occurrence that we have here scientifically."
From an education standpoint, Lacovara sees insurmountable possibilities in terms of what the Fossil Park could offer young generations. "There's about 25 vertical feet of deposits that also contain a lot of fossils (about 25 per meter). These aren't especially important scientifically, but they're very important educationally. You can let visitors collect from those layers and everybody [who] tries a little and who is willing to get a little bit dirty, finds a 65 million-year-old fossil with their own hands that generally, we let them take home.
"We've seen it over and over, that transformational experience," says the professor. "[People] get this connection between themselves and the place that they live and Earth's ancient past. That's really an awe-inspiring experience for them, but they also get to see science as a process."
He adds, "In doing all of this, our goal isn't to produce thousands and thousands of paleontologists. Our goal really is to use fossils—what I call the 'gateway drug to the sciences'—to get kids excited about science, technology, engineering and math."
What the future holds
While the Fossil Park isn't open to the public, there are annual Community Dig Days that guests can sign up for. "We allocated 2,000 spots and [they'll] fill up online in three hours and by the next day, we'll have 1,500 people on the waiting list," says Lacovara.
What's more, on several Fridays throughout the spring and fall, school groups are invited to visit, which could result in about 400 kids a day, with a waiting list of over 200 schools. Today, ages starting at 3 to senior citizens have visited the park, with some even traveling from as far as Georgia, Australia and London.
As far as the property goes, Rowan plans to build a visitor center, a museum—featuring customizable virtual experiences—a nature trail, playground and more so as to curate a space that's both educational and recreational hopefully within the next five years. "We really want this to be of the community and for the community," Lacovara says. "We want people to be going here on a regular basis."
Local business leaders are also excited about the Fossil Park's economic development. "Right now, when we have one of our Community Dig Days, we have to alert local businesses ahead of time because they need to stock up [on food], and Lowe's gets a lot of traffic every time we have an event."
In fact, many are curious if Lacovara is bothered that Lowe's is built on the same formation as the Fossil Park. His answer? "No. We would never get there. People will be working this site for hundreds of years and it's super convenient to have a Lowe's next to your excavation site, so I love having [them] here," he laughs.
With all of hustle and bustle behind the Fossil Park, Lacovara remains humble and excited to share it with the generations to come. "As a paleontologist, if I do my research, dig up my fossils and publish my papers, I don't think I'm done at that point. You're done when you do your research and then you communicate those results to the public and you use what you're doing to get people not only excited about science, but really just excited about the planet in which we live.
"If people understand our place in the world both in space and in time, maybe they will take a little bit better care of the planet. Our species hasn't been around for very long [and] we occupy a pretty small amount of it. Those two things are humbling, and our species has done enormous damage to the planet in a very short amount of time. If people kind of pick themselves up and start looking at the world from the 10,000 foot view—which is ironically what going down into the quarry can do for you—maybe they'll be prepared to think about and solve some of the problems that we're going to face in the future."
Just this past Earth Day, while his Ted Talk went live amassing over 22,000 views in just a few hours, Lacovara watched about 400 young local students scour the quarry for fossils, answering their questions. "[Finding a fossil today is] better than a T-Rex in a museum, because they found it," he says with a smile. "That thing hadn't seen the light of day for 65 million years until that kid uncovered it and made a legitimate scientific discovery. How can you beat that?"
For more information on the Rowan University Fossil Park, visit Rowan.edu/fossils.
Published (and copyrighted) in South Jersey Magazine, Volume 13, Issue 2 (May, 2016).
For more info on South Jersey Magazine, click here.
To subscribe to South Jersey Magazine, click here.
To advertise in South Jersey Magazine, click here.