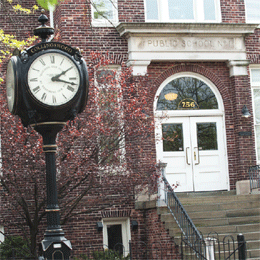 Top Towns 2016
When you ask people what they love most about living in South Jersey, you often hear answers ranging from our proximity to major cities and the Shore to the combination of preserved farmland mixed with smart development. One thing everyone can agree on though is the way our close-knit communities make up the fabric of our area. Civic pride runs deep here and for good reason.
Each year for our annual Top Towns rankings we take a close look at the factors that make South Jersey such a great place to live, work and play. To do so, we've collected data from the state police, the state department of local government services and the state department of education. We then devised a formula that combined average property value and taxes, crime incidents reported per 1,000 residents, and high school performance (which took into consideration SAT scores, the number of AP classes offered and graduation rates). Towns are ranked in two categories: more than 10,000 population (big towns) and under 10,000 population (small towns).
This year's top ranking town was none other than Moorestown. Long considered a coveted community in South Jersey, Moorestown is known for its stellar school system, both public and private; a thriving arts and culture scene with theater companies and the Perkins Center for the Arts; a reinvigorated dining scene thanks to the revival of the Moorestown Mall; being the home to big names in business like Lockheed Martin; and an overall buzz from Main Street and beyond. And with a deputy mayor still in her 20s, there's great excitement about ushering in a new era while still maintaining the town's historic charm.
Medford, Haddonfield, Evesham and Harrison Township round out our top 5, and truthfully you could make an argument that any of them are worthy of the No. 1 position. It only solidifies the notion that South Jersey is a desired locale with lots to offer.
In addition to the rankings and data, you'll find out what new and notable things are happening in our area. And you can step back in time with our collection of vintage South Jersey photos collected with the help of several folks at various historical societies. See you around, neighbor.
Top 25 Big Towns
1. MOORESTOWN
2. MEDFORD
3. HADDONFIELD
4. EVESHAM
5. HARRISON TOWNSHIP 6. VOORHEES
7. WOOLWICH
8. MOUNT LAUREL
9. CINNAMINSON
10. CHERRY HILL
11. SOUTHAMPTON
12. MANTUA
13. WASHINGTON TOWNSHIP
14. BURLINGTON TOWNSHIP
15. BORDENTOWN
16. WATERFORD
17. DELRAN
18. LUMBERTON
19. HADDON TOWNSHIP
20. WEST DEPTFORD
21. GLOUCESTER TOWNSHIP
22. MONROE
23. COLLINGSWOOD
24. FLORENCE
25. MOUNT HOLLY
Top 10 by County
Burlington County
Moorestown
Medford
Evesham
Mount Laurel
Cinnaminson
Southampton
Burlington Twp.
Bordentown Twp.
Waterford
Delran
Camden County
Haddonfield
Voorhees
Cherry Hill
Haddon Twp.
Gloucester Twp.
Collingswood
Bellmawr
Winslow Twp.
Pine Hill
Gloucester City
Gloucester County
Harrison Twp.
Woolwich
Mantua
Washington Twp.
West Deptford
Monroe
Franklin Twp.
Glassboro
Woodbury
Deptford
Top 10 Small Towns
1. Medford Lakes
2. Shamong
3. Chesterfield
4. Tabernacle
5. East Greenwich
6. North Hanover
7. Mansfield
8. Berlin
9. Swedesboro
10. Hainesport
What's Happening
A look at some notable things going on in our communities.
With so much going on in our lives, it's easy to miss what is going on all around us. Communities across South Jersey are constantly working to improve quality of life for residents and visitors alike. We took a look around the tri-county region to find out what big projects are in the works and which ones have already taken shape.
Burlington
• Burlington's waterfront promenade project stirred a lot of buzz, and the city is still working to acquire funding for the estimated $7 million design. Pearl Pointe, the housing community, should be breaking ground before the end of the year and with a slightly improved design featuring more river-facing balconies.
Cherry Hill
• In late 2015, the Cherry Hill Police Department created "safe zones" where people could meet to complete online transactions. The two spots are near the municipal building on Mercer Street—one inside the police station lobby and the other behind the building near the sports complex. Both are well-lit and monitored by cameras 24/7.
• This past February, the Cherry Hill Board of Education adopted a new policy for transgender students, allowing them to use facilities and participate in gym classes based on whether they identify as male or female. The policy requires parents or guardians to provide a letter confirming the student is "gender nonconforming."
• Construction continues on Route 70 at the former Syms lot where the University of Pennsylvania Health System is building a $50 million transformation of the 150,000 square-foot former department store into a state-of-the-art medical center. The center will include medical services ranging from cardiology to radiation to primary care to obstetrics/gynecology, even a pharmacy and an urgent care, just to name a few. The redevelopment also includes a 1,600-square-foot addition, as well as a 405-car enclosed parking garage.
Haddonfield
• Haddonfield's Bancroft will be leaving the town in which it was founded in 1883. The historic location is slated for sale in June, with the town planning to build 80 townhouses (10 of which will be affordable units), and reserving the other 11 acres for public use.
• Voters in the district approved funding for repairs to schools. Approximately $35 million in bonds will go toward security, HVAC upgrades, structural work, adding air conditioning to academic buildings and repairing the high school's track and stadium.
• More than $450,000 in improvements will be made to Pennypacker Park, including trail improvements, two new footbridges, interpretive kiosks and ADA-accessible paved trails.
Harrison Township
• Inspira Health Network released plans to build a $310 million, 172-bed hospital in the township. Located at the Route 322 interchange next to Route 55, the 350,000-square-foot facility is projected to provide nearly 1,500 jobs. Officials say the approval process could take upwards of a year, and construction may take two additional years.
Marlton
• Evesham Township Police saw a dramatic reduction in DUI arrests following the implementation of its "Safe Rides" partnership with Uber and BeMyDD. The program offers free rides home, seven days a week from 9 p.m. to 2 a.m. from any liquor establishment in the township. Currently, the program has been extended through June 1.
• Demolition is well underway at the former Kmart shopping center on Route 70. Known as The Shoppes and Residences at Renaissance Square, the site is slated for approximately 100,000 square feet of commercial space, including two restaurants, a retail store and coffee shop. Additionally, there will be over 300 apartments in five buildings, a park and a jogging path.
• Not too far from this, a redevelopment project is taking shape on Lincoln Drive just off Route 73 and Greentree Road. The View at Marlton will include an LA Fitness and more than 30,000 square feet of retail space for fast casual restaurants, shops and more. <> • The Evesham School Board voted to close Florence V. Evans School in the 2017-2018 school year. The school announced it will not be accepting any new kindergarten or first-grade students this coming fall. Officials cited declining enrollment as the cause for closing, saying the move could save $1.4 million.
Moorestown
• Moorestown Council approved a proposed ordinance to amend the town's current noise ordinance last month. It would limit use of certain tools and landscaping equipment between dusk or 9 p.m. and 8 a.m. any day of the week, among other conditions.
• The Moorestown Mall continues to be a major boon for restaurants, with the most recent addition of Yardhouse, a high-end sports bar. It was also announced that Voorhees' Catelli Duo would open a second location in the former spot occupied by Osteria.
Mount Laurel
• After 12 years without one, Mount Laurel's Police Department revived its K-9 Unit. Cpl. Christopher O'Prandy and his K-9 partner Gunner started patrols last August, and since then the MLPD has added another dog, Drako, to the force.
• Bancroft purchased 80 acres of land in the township for its Bancroft School, where it will relocate from Haddonfield.
• The space on Midlantic Boulevard across from the new Super Wawa and Centerton Square is scheduled to open around Labor Day 2016. Developers announced the tenants of the 10,500 square feet of restaurant space will include Anthony's Coal Fired Pizza, Qdoba and Jimmy John's.
Washington Township
• This past March, Washington Township's library—the Margaret E. Heggan Free Public Library—celebrated its 50th anniversary.
• The annual Super Saturday event on May 7 will feature speakers from several medical organizations providing information and raising awareness on the opiate epidemic, which Mayor Barbara Wallace says is an epidemic affecting residents in town and around the country.
• The Washington Township Board of Education approved a plan for redistricting schools, as well as full-day kindergarten.
Published (and copyrighted) in South Jersey Magazine, Volume 13, Issue 2 (May, 2016).
For more info on South Jersey Magazine, click here.
To subscribe to South Jersey Magazine, click here.
To advertise in South Jersey Magazine, click here.