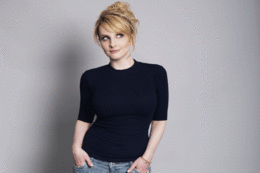 Cosmic Shift
You can take the funny lady out of the Garden State, but somewhere deep inside, the Jersey Girl remains. Despite being one of TV's most recognized faces via her starring (and ever-present, thanks to syndication) role on TV's most popular comedy, The Big Bang Theory, Melissa Rauch is one of us.
Always funny without forcing it, Rauch could have easily become a cliché. In comedy, the delicate young flower with a surprisingly hardcore attitude has been a trope for years (anyone remember Officer Hooks, the squeaky-voiced battle-axe from the Police Academy movies?) However, a lifetime of hard work, dedication and a genuine passion for acting ensures that she'd be much, much more than a one-trick pony.
A native of Marlboro, Rauch grew up a natural performer from a young age.
"From the time I could walk and talk, I always just loved putting on a show with my brother," Rauch recalls. "We weren't really outdoor cats. Sun did not agree with either of us, we both were very non-athletic. We would just play inside and just dance to musicals in the basement."
While stepping outside may not have been her favorite thing as a child, she quickly learned that she could step outside herself and performing for others provided an escape that the great outdoors just couldn't match.
"I went to this camp in the summer, it was called Brookdale Arts Camp at Brookdale College, and it was phenomenal. It's such a shame that it's not there anymore, but I went there from the time I was 5 to my early 20s. I ended up teaching there as a counselor because it was this wonderful New Jersey camp that just really nurtured kids that couldn't make it in a real camp, like an outdoorsy camp. It was theater and dance, and it was really when I figured out that I loved writing as well, because from the time I was little I said I wanted to be an actress, but they had us write our own script and then everyone would audition for the script. I think that was when I was in fourth or fifth grade, and I remember writing a five-minute sketch and it getting laughs and being, 'Oh, this is so cool. I can write material or myself.' That camp was very instrumental in that."
Rauch's formative years were fraught with dedication to the growing passion that would eventually lead to her destined career; she also had plenty of fun enjoying the Jersey Shore.
"Oh my gosh, I have so many memories of Atlantic City!" she says smiling. "My parents and I would go there quite a bit. There used to be a place called TropWorld. ... It was basically an amusement park for kids to go while their parents were off playing slot machines. It was phenomenal and I spent many a weekend with my brother there."
She continues, now on a roll. "When I met my husband in college, our first trip away together was in Atlantic City. We saw Janet Jackson in concert there. We were friends for so many years and we were going to school in New York and I had told him I was a Janet Jackson fan, and really it was one of our first dates. We took the bus to Atlantic City and saw Janet Jackson. It became a very special place to us and when we lived in New York we would take the bus out there with all the senior citizens and they would give us a free coupon for like $30 in slot machines. It was really great. I remember one time we won $100 and we were broke, I think at the time we were like 21 years old, and we were just so overjoyed. I remember we went to a wonderful Chinese restaurant at one of the hotels and we felt like we were kings of Atlantic City, the sultans. It was such a special time and I miss it. The Boardwalk in Atlantic City and that pizza is some of the best in the world."
As she got older, Rauch's desire to entertain grew stronger and stronger, expanding to the community theater circuit all over Jersey. Thankfully, her parents were on board.
"I think if I had said that I wanted to do something respectable my parents would have been surprised," she laughs. "If I had said that I wanted to go get my degree in law I think they would have been shocked. When I was applying to college, my father was like, 'Just make sure you do what you love because there's no job security in anything, and I just want you to be happy.' I came from a family that is very much about following your dreams and, 'Don't make a fall back career because that's what you're going to end up doing,' but really nothing prepared me for the rejection and how tough acting was, even after four years of acting school."
Despite the hardships that come with surviving in a tough business, Rauch did all she could to keep herself afloat. From waitressing to hustling her way onto the stand-up circuit in New York City, she continued to pursue her dream until she found the right time to take the biggest step of all: moving away from the Garden State.
"I'm really grateful for the training that I got in New York, and the fact that I did stand-up there was really great. … That was also like additional schooling as far as working in front of an audience," she explains. "I guess I was 25 when I decided that I was starting to rot a bit in New York and getting a little bitter and decided, 'All right. I'm going to give it a shot.' I remember sobbing at the airport, as I was saying good-bye to my mom and saying, 'I'm going to give myself five years,' and even as I was saying that I was really saying it more because my mom was so sad that I was leaving the East Coast, and it was really just to give a timeframe of how long we were going to be apart from each other. I still do it even when I visit. I say, 'OK, I'm going to see you in two months,' so we know there's going to be a time when the distance will be over. I moved out to L.A. and luckily I found some work out here, but it was tough. It was a really tough decision to leave my East Coast roots."
After scoring a variety of smaller roles in films and TV shows including The Office and True Blood, Rauch found herself with a golden ticket—the role of Howard Wolowitz's girlfriend (and eventual wife) Bernadette on the highly rated powerhouse known as The Big Bang Theory. As other cast additions like Mayim Bialik learned over the years, joining this tight-knit ensemble was an exciting, yet intimidating, proposition.
"I was a fan of the show before I joined the cast, and I remember getting the audition for it and being so excited that I was going to have the opportunity to read for it," Rauch says. "I originally thought it was just going to be one episode, two tops. Then when I joined the cast on a more regular basis there was definitely that fear of 'What if I'm the cause of this show that I love being destroyed?' I think there's always that concern when you're adding something to an already wonderful show. It wasn't broken, it didn't need any fixing. It was doing just fine. In fact, it was doing extraordinarily fine.
"The fact that they did take that chance on adding my character in was a risk, but the way that the architects behind the show—our producers and our writers—added my character to the show was so beautiful and gradual, so I don't think they shoved it down the audience's throat. It was really just a natural progression, and what I think was really great about it, what the writers did such a wonderful job with is they used it as a tool to peel back layers of the already existing characters. I think the addition of Bernadette was a device, and one that I think was really interesting because on sitcoms you don't often get the chance to watch characters grow and evolve, and because the show has had this gift of time, we've seen Howard go from this womanizing ladies' man to really the most domesticated of all of the characters, which is really a beautiful thing to watch just as an audience member myself."
This year, her career took another huge leap with the long-anticipated release of The Bronze, a film that Rauch not only starred in, but co-wrote with her husband. The film, which also stars Saturday Night Live's Cecily Strong and was produced by the red-hot siblings Mark and Jay Duplass, is the story of a former gymnastics bronze medalist with a colorful vocabulary who gained great notoriety in her Ohio hometown but held onto her 15 minutes of fame for more than a decade. Her character is as jaded as you would expect a has-been to be, but gains the chance to keep her name in the flickering spotlight when she's asked to train a potential Olympic star.
There's a hilarious video promoting the film in which she stars side-by-side with Tonya Harding, bringing the joke somewhat full-circle. The comedy took many fans by surprise, but for Rauch, it was a long time coming and it was her opportunity to create a starring role for herself rather than wait for Hollywood to come around to the idea.
"My husband and I wrote it at the very beginning of 2013, and I think we got the idea for it in 2012. We shot it the following summer of 2014," she says. "It's really been a dream come true to make this movie. Just the experience of shooting it was really magical to get to see something like that come to fruition, and opening Sundance was incredible."
Now an established presence on all screens great and small, the petite star from Marlboro has already left a mighty big footprint on the entertainment industry, but there's more to come. This July she'll voice the character of Francine in Ice Age: Collision Course. And with no end to The Big Bang Theory in sight, where else would the multitalented Rauch like to take her talents?
"I really love playing raw characters with layers that need to be peeled back," she muses. "In the stories that we like to tell, we like to ground the characters and their story arcs and then crank the comedy up. I'm just really drawn to flawed women who show you themselves in ways that we are not typically used to seeing. I like women that have some meat to them. I look at the career of someone like Bette Davis. … I think every actor likes to challenge themselves in different ways and I hope that I continue to get opportunities to do that."
Published (and copyrighted) in South Jersey Magazine, Volume 13, Issue 2 (May, 2016).
For more info on South Jersey Magazine, click here.
To subscribe to South Jersey Magazine, click here.
To advertise in South Jersey Magazine, click here.