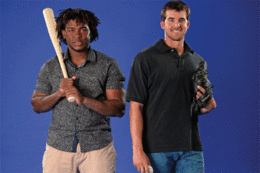 On Deck
On the night of Oct. 29, 2008, a fanbase starved for a winner finally got to celebrate a championship after 25 years without one when the Philadelphia Phillies captured the second World Series title in franchise history.
That same night, more than a thousand miles away, a gangly high school sophomore from Baton Rouge, L.A., watched on television and wonder what it would be like to pitch in a town that cared so much about its sports teams.
"I remember seeing all the white towels in the stands and seeing how packed it was," says Aaron Nola, now 22 and a star-in-waiting for the Phillies. "Walking through the hallways down to the field [at Citizens Bank Park], they have a big picture from that game of everybody on the field celebrating. From what I've heard, there's no other place like this when you're winning. It's a pretty special place."
Nola hasn't experienced that firsthand, of course, because the Phillies have not been winning much lately. After three straight losing seasons, the glory years of 2007-2011 are slowly fading, and the core of the 2008 championship team has mostly been traded away, with Jimmy Rollins, Cole Hamels and Chase Utley all getting dealt within the last 15 months.
Ryan Howard and Carlos Ruiz, the last remaining players from 2008, will likely follow them out the door at the end of this season, if not sooner.
But a promising young nucleus is providing hope of brighter days ahead, and it all starts with Nola and 23-yearold third baseman Maikel Franco. Heading into the 2016 campaign, they are the new faces of the organization, the ones who are tasked with returning the Phillies to contention in the near future.
It may seem like a lot of pressure to take over the roles once reserved for Rollins, Utley and Hamels, especially for two guys who have never played a full season in the major leagues. But if it is, neither is showing it.
"Not really," Franco replies when asked if the expectations are burdensome. "I know what I can do and I just want to put a lot of work in. I want to stay positive and keep doing what I'm doing. I like to play baseball and that's what I want to show everybody, that I can play good baseball.
"I got to [be around] Cole Hamels and Chase Utley and Jimmy Rollins. It was amazing to play with those guys because they know about baseball and they can show you a lot to get better. But [trades] are part of the game and sometimes you can't control the situation. Now we have new guys and I have to … do everything I can to be a good teammate to those guys."
"It's no pressure," Nola agrees. "Cole and all them were in our shoes at one point in their careers. They started out young. … Their goal was to become a playoff team, and they did that.
"[Now] we have our opportunities and we have to make the best of them. We're not gonna think about all that; we're gonna think about what we do best."
Nola and Franco might be at similar points in their careers—and possibly on the cusp of stardom, as the Phillies and their fan base are hoping—but their paths to professional baseball couldn't have been more different.
Franco comes from the baseball-crazed nation of the Dominican Republic, which has produced legends like Pedro Martinez and Albert Pujols. The Phillies signed him as an amateur free agent in 2010, and he quickly became one of their top prospects.
"Baseball is the first priority in the Dominican," Franco says. "A lot of young kids [there] want to play baseball."
Possessed with a violent swing and soft hands at third base, Franco enjoyed success at every level in the minor leagues and finally moved up to the Phillies for good last May. He became a fixture in the middle of the lineup and hit 14 home runs while driving in 50 runs in just 80 games before suffering a fractured left wrist that ended his season in August.
Franco recovered to play winter ball and says his wrist is now 100 percent healthy.
"I was in the Dominican for four months and I was just playing and working hard," he says. "It's fantastic when I go back to my country. I have a lot of family and friends and a lot of people who follow me. It's amazing; it's a good feeling for me to be around my family."
Nola also spent the offseason around relatives back home in Louisiana. A first-round pick of the Phillies out of LSU in 2014—No. 7 overall—the right-hander made his MLB debut last July and went 6-2 with a 3.59 ERA in 13 starts for the Phils.
After taking the entire month of October off from baseball to rest his arm, he worked out every day with his older brother Austin, an infielder in the Miami Marlins organization. When they weren't training for the season, they were pursuing their other favorite pastimes.
"I love the outdoors," Nola says. "When I'm not playing baseball I like being out on a lake or a river or whatever and fishing. I like going hunting, too. All of those things are my go-to hobbies. Just relaxing and being outdoors is what I like to do to take my mind off baseball and pretty much everything."
Last summer, the country boy started adjusting to city life, and he was back in Philly in January to hit the banquet circuit and attend several meet-and-greets with fans. Nola is still finding his way in his new home and plans on getting out more this year—possibly even a trip to the Shore on a rare day off.
"I don't think I've ever been to Jersey," he says. "Last year I lived down on SouthStreet. I always walked to this Italian place, Palladino's. That's my go-to spot.
"Living in a city is different; I've never lived in a city before. But the people are really nice and I like it. Coming up in July, I was just commuting from my house to the field every day. Hopefully I get a little more time this season to explore.
"I lived on my own for the first time when I played in Clearwater in High-A. From there, I had roommates, and right when I got to Philly I lived on my own a little while. I feel like it made me mature and helped me grow up a little bit. You really have no choice; you have to do things on your own. Being around the older guys and the veterans, you have to grow up. You're not around younger guys all the time. These guys have a lot of experience and you talk to them a lot, so you get to expand your mind and pick their brains. I feel like that's helped me out. The biggest thing for me is learning as much as I can."
Franco also is still figuring out his surroundings. He plans on living by himself this season, but his parents and brothers will be frequent guests.
"It's a beautiful city and there's a lot of good people there," he says. "I've been around a little bit but not too much. I'll try to do more this year. …"I want to spend a lot of time with the guys and be a friend outside of the game too."
One Phillie who Franco gravitated to last season was outfielder Jeff Francoeur, who left the team in free agency in the offseason but still needs to follow through on a promise he made to the young third basemen.
"Last year [Francoeur] told me if I hit 15 home runs he would buy me a suit. Since I had two months off and hit 14, he told me he's still going to buy me one because I did something special. When we get the opportunity to talk, I'll tell him," says Franco.
There should be plenty of time for Nola and Franco to become familiar with the area. If the Phillies have their way, both players will be franchise cornerstones for the next decade or so.
"I'm looking for big things from Nola this year," Phillies manager Pete Mackanin says. "He has given us every reason to believe in his ability to achieve much success.
"[And] if he can stay healthy, Maikel should prove to be a solid run producer in the middle of our lineup, as well as play an all-star caliber third base."
Franco, who had never missed much time with an injury before last season, agrees with that assessment.
"My goal this year is to be healthy," he says. "I want to play every single day. If I can do that, something good is going to happen."
Franco doesn't talk much about off-field hobbies, as his singular focus appears to be baseball. That was evident in his time with the Phillies last season, as he quickly bonded with veterans like Howard and Andrés Blanco.
"As a person and a player I learned a lot," he says. "I got to be close with guys who have been through the big leagues. Sometimes I don't talk too much, but I just got close to those guys and asked questions about hitting and defense.
"Now I feel more confident and more comfortable because I've been around the big leagues. I just want to stay positive and stay focused and do my job the best I can to help my teammates. I want to do everything I can do to get better every single day."
Nola has the same drive to be great. Some have questioned whether he has ace "stuff," and he might be more suited to be a No. 2 or No. 3 starter. But even at a young age, he clearly has the mental makeup to thrive in the majors for years to come, and his stint with the Phillies last summer only reinforced that.
"I know what the guys at the big-league level are capable of; nothing's a secret nowadays with all the videos and stuff like that," he says. "I got a feel for some hitters I threw against last year, and they probably feel the same way about me. The only thing I can do is keep doing what I do best and keep learning."
That might be the mantra for the entire organization at the moment. The youth movement that Nola and Franco are leading also includes shortstop J.P. Crawford, one of the top prospects in baseball who could reach the majors this season. Catchers Jorge Alfaro and Andrew Knapp and outfielders Roman Quinn and Nick Williams are all gifted youngsters as well, not to mention pitchers Jake Thompson and Zach Eflin.
"We have a lot of talented pitchers and we brought in a lot of arms this offseason," Nola says. "The young guys in camp, I think we all push each other and have a good competition. I feel like going into the season we'll all be ready."
Before long, meaningful baseball might be back at Citizens Bank Park, the kind that Nola first witnessed on TV almost nine years ago.
"Sometimes it takes some progress," Franco says. "We have to wait a couple years, but we just want to play good baseball and have everybody do the little things."
Adds Nola: "We want to make our mark and put this team in the position it used to be. We're gonna do everything we can to win games. All we can do is move forward now."
Published (and copyrighted) in South Jersey Magazine, Volume 13, Issue 1 (April, 2016).
For more info on South Jersey Magazine, click here.
To subscribe to South Jersey Magazine, click here.
To advertise in South Jersey Magazine, click here.