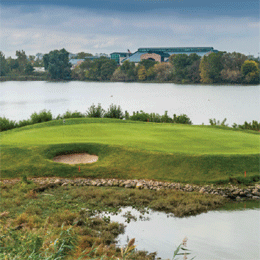 The Hole Story
Thanks to a somewhat mild winter the area courses are in great shape and local golfers were even able to squeeze in an extra few rounds to polish up their game. As the warm weather approaches and tee times fill up, we provide you with a glimpse of what's new and notable at the top courses in the region. We also spoke with several course professionals to find out the holes that they think are the most unique, fun to play or just downright challenging. We'll see you back in the clubhouse.
PRIVATE
Burlington Country Club
WHAT'S NEW: The club has purchased some new 3-D motion analysis equipment to use in its indoor instruction studio.
PRO'S TAKE: "The hole that everyone talks about is hole 12," says head professional Mike Mack. "It's a par-3 that requires a precise iron shot over water and goes anywhere from 130 to 205 [yards]. The hole has a very narrow green, so distance control is critical. Surrounded by trees on one side, the wind is unpredictable and it's probably the most challenging shot on the golf course."
Laurel Creek Country Club
WHAT'S NEW: Peter Rosenblatt has joined Laurel Creek as the new executive chef, having worked previously at the Fountain Room in the Four Seasons. The facility has also expanded the indoor/outdoor dining, created a brand new ladies locker room and lounge, built a state-of-the-art open-air kitchen and renovated the Men's Grille.
PRO'S TAKE: "In my opinion, the most difficult hole on the golf course is hole No. 17. This scenic downhill par-3 leaves little room for error. Measuring 221 yards from the Champion tees, 199 from the Palmer tees and 194 from the Medal tees you most likely are hitting a fairway wood or hybrid for your tee shot. The entire right side of the hole is bordered by wetlands and a lateral hazard, while the left side is a severe cliff with high vegetation. The green is protected by a left and right bunker that make hitting the green a daunting task indeed. Take a par and be happy as the danger of double bogey or worse is one errant shot away," says John DiMarco, head professional.
Little Mill Country Club
WHAT'S NEW: A complete locker room renovation is underway and includes new showers and facilities, new lockers and a lounge area. In addition, the banquet room is receiving a facelift and there will be new tables and chairs in the bar area. Improvements to the patio area and seating are planned as well.
PRO'S TAKE: "The most unique hole at Little Mill is the 145 yard par-3 eighth hole on the Blue Nine," says head professional George Frake. "The tee box sits upon an unusually high peak and overlooks the tops of the trees with views for miles. Although a short hole it is the most remembered hole at Little Mill."
Medford Lakes Country Club
WHAT'S NEW: The club recently renovated its banquet facility and dining room.
PRO'S TAKE: "My favorite hole to play is No. 10," the club's James Bergen says. "The approach shot over water just epitomizes the beauty and simplicity of golf."
Medford Village Country Club
WHAT'S NEW: MVCC has introduced a new Young Executive Golf Membership for those ages 19 to 29, with full golf and social privileges for $1,900. The golf course and operations had many capital improvements to improve playability and turf quality while decreasing water usage including sub-surface greens and fairway drainage, bunker renovations, increased sunlight and airflow to greens. There's also been recent work done to renovate the women's locker room and the pool, in addition to a new fleet of golf carts with onboard bag canopies and an updated member bar.
PRO'S TAKE: "The fifth is a great hole which illustrates the premium on shot placement and execution that architect William F. Gordon intended for when he designed the course in the early 1960s," says head professional Leo DeGisi. "With five sets of tees the hole can play from 404, 444, 456, 490 and 533 yards, the par-5 is a double dogleg which requires a tee shot over a beautiful lake, precise second shot over a cross bunker, and a difficult green complex with an undulating putting surface. Long hitters may get home in two, but two putting this green is no easy task."
Merchantville Country Club
PRO'S TAKE:"The second hole at Merchantville Country Club is one of the more challenging holes in the area. At 580 yards, with out of bounds to the left, trees on the right and a strategically placed fairway bunker, distance and accuracy are a must from the tee box. Then, on the second shot, golfers face a classic risk/reward decision to either lay-up short or attempt to carry the water hazard 180 yards from the green. Finally, on the approach, golfers need to be very aware of the difficult, two-tier green. End up on the wrong level and all of your great play to reach the green can be wasted. Par this hole, and you stand to pick up ground on the field," says Ethan Pauxtis, director of golf.
Moorestown Field Club
WHAT'S NEW: There are plans to replace the old self-standing golf pro shop with a 2,000 square-feet addition to the existing clubhouse. The addition will include a new office and restrooms along with the golf shop. The exterior of the existing clubhouse will be updated, reroofed and have its wooden deck replaced with a more elaborate paver patio installation. If all goes as planned, construction will begin in June and be completed by early winter. After the golf operation moves into the new building, the old shop will be demolished to make way for a new practice green in its place.
PRO'S TAKE:"As for our signature hole, I guess it would be the eighth/17th. It is a par-3 nestled in a wooded corner of the property with a recently rebuilt highly elevated green surrounded by deep bunkers. I have nicknamed it the 'helipad hole.' It plays from 110 yards to almost 160 yards so a quality lofted shot is required to hold the steeply sloping green and then try to two-putt for par. Adding to the danger, the green is surrounded by out of bounds on both sides and over the green within 10 to 15 yards," says Butch Schmehl, head professional.
Old York Country Club
WHAT'S NEW: The club is planning four to five holes of greenside bunker restorations and is in the process of updating/enlarging several tee boxes. The main clubhouse has been renovated in the bar area as well as the Old York room and restrooms.
The Riverton Country Club
WHAT'S NEW: The course is celebrating its 100th anniversary this year.
PRO'S TAKE: "By far, one of the most challenging holes is the 11th hole. This picturesque downhill par-3 measures 142 yards, however, is all carry over water. A well-played shot on this hole is one that leaves you on the putting green with a chance to two-putt for par. Miss this green on any side and it is almost a guaranteed bogey," says head professional Kevin Duffy.
Tavistock Country Club
WHAT'S NEW: This season the course is adding a 3-hole league for ladies. Each session will begin with a clinic followed by a three-hole scramble and glass of wine with their friends. Tavistock has also welcomed new head pastry chef Rebecca Bailey.
PRO'S TAKE: "Our 14th hole is the toughest hole in my mind," says head professional Hugh Matthis. "It is a 450- yard uphill par-4 that demands an accurate drive to a fairway that slopes right to left with a hazard running down the entire left side. With a less than perfect drive you are left with a mid-to-long iron from the rough to an elevated and severely undulated green that is flanked by a small pond and greenside bunker on the left. Par is always a job well done."
Trump National Golf Club
WHAT'S NEW: Irrigation upgrades continue at the course, where two more holes will be worked on this spring, bringing the total to 14 out of 18 holes completed. The project has cost more than $1 million thus far.
PRO'S TAKE: "My favorite hole on the golf course is No. 3," says head professional David Cartwright. "The par-4 stretches back to 489 yards from the back tee, and has a picturesque view of the Philadelphia skyline from the tee box. The tee shot is downhill and the landing area is favorable, but a challenge to hit. A fairway bunker comes into play on the right side of the hole, which stretches about 30 yards. A good tee shot leaves you anywhere from 200 to 180 yards on your second shot. The approach shot is made more difficult by a greenside bunker on the front left side of the green. The key to hitting the wide, but narrow green is bringing your approach shot in from the right side, keeping the greenside bunker out of play. Par is your friend on this hole, and anytime you walk away with a 4, a moral victory has been achieved."
PUBLIC
Deerwood Country Club
WHAT'S NEW: Deerwood is open to the public for play this year and will have some Monday openings (check website).
PRO'S TAKE: "The No. 3 hole is my favorite because there is trouble right and left all the way to the green. This short 380-yard gem, with a dogleg right is also the toughest hole on the course," says Greg Farrow, head professional.
Golden Pheasant Golf Club
WHAT'S NEW: Recently the course has installed a netted driving range, upgraded the golf cart fleet and planted more than 350 trees.
PRO'S TAKE: "Most South Jersey courses are relatively flat, where our golf holes are anything but," says Brian Feldschneider, golf professional. "No. 17 is a driveable par-4 but the fairway slopes severely from left to right with out of bounds on the right. It's a perfect way to either ruin your round or keep the pressure on your opponent."
Indian Spring Country Club
WHAT'S NEW: This past year the facility has installed new cart paths, installed new hitting mats at the driving range, and has also received a new fleet of golf carts equipped with rain covers, USB chargers and coolers. They've also installed greens and bunker drainage to improve course conditions. In addition, they've unveiled a new program offering junior golf classes and on-course instruction for juniors from ages 3 to18.
PRO'S TAKE: "My favorite hole on Indian Spring is our finishing hole, the par-5, 575 yard 18th hole," says PGA director of golf Bob Hennefer. "This is a beautiful hole to close out your round with our spectacular clubhouse in the back drop. This is a true three-shot hole for every golfer and only the longest hitters can reach the green in two shots downwind. Trouble stretches across the fairway for your second shot, with fairway bunkers awaiting the other side. Your greenside approach has a false front surrounded by bunkers with one of our deepest most undulating greens on the course. There could be some added pressure if you miss the green, as there could be a sizeable audience having lunch on our outdoor patio watching."
Pennsauken Country Club
PRO'S TAKE: "Hole No. 7 far and away plays as our toughest hole," says Quentin Griffith, head professional. "Long regarded as one of the toughest par-3s in South Jersey, it plays 248 yards from the back tee down to 197 yards from the forward tee. The tee shot plays slightly downhill to a green that is quite narrow in the front as well as having a bunker on each side of the green."
Pitman Golf Course
WHAT'S NEW: There's a brand new fleet of E-Z-Go golf carts.
PRO'S TAKE: "One of my favorites has to be hole No. 11. It's our toughest hole on the course and certainly one of the most difficult in the area. It's a dogleg to the left and you have to position your tee shot which will leave you a long approach shot into a small green. If you can score a par on this hole it feels like a birdie," says Orist Wells, Class A, PGA professional and general manager.
Ramblewood Country Club
WHAT'S NEW: Ron Jaworski Golf purchased Ramblewood Country Club in January. Since the change in ownership, major renovations are currently underway, including the opening of SEVEN Tap & Tavern this spring. They are also renovating the banquet facilities. Golf course renovations are also underway, which will include major irrigation and drainage upgrades, as well as new equipment.
PRO'S TAKE: "Our signature hole is No. 8 on the red course. The yardage of this par-4 is 409 yards from the white tees, but always plays longer than the scorecard. This hole is all about positioning your tee shot so that you will have a chance to go for the green in regulation. With a stream that runs in front of the men's tee box, up the right hand side of the rough, and then across the middle of the fairway just in front of the 150 yardage marker, tee shot accuracy is a must on this hole. You will also find trees that line the left side of the fairway, so bailing out to the left is never a good option. After a well-placed tee shot, you are then looking at a very difficult second shot uphill to a green that is not visible from the fairway. The approach to this green always plays one to two clubs longer than the actual yardage. If your approach shot misses left, you may find yourself in a stream that runs up the left side of the rough. The right side is marked with out of bounds stakes, which gives you minimal margin of error. There is also a strategically placed bunker just to the right of the green. This hole is a true test for golfers of all skill levels," says head professional Bill McCoy.
Rancocas Golf Club
WHAT'S NEW: Aside from extensive drainage work around the greens, the course is adding green loops around four greens to improve irrigation on the putting services.
PRO'S TAKE: "The most challenging hole at Rancocas Golf Club is No. 14. It is a downhill dogleg left par-4 that requires a perfect tee shot that will set up a downhill approach over a pond to a two-tiered green. Hitting a quality shot off the tee will make your approach to the green somewhat easier, although your work is not done since the approach to the green must be precise. The two-tiered green slopes severely from back to front and has a forced carry over a pond with bunkers left, right and behind the green. Par on this hole is a great score," says head professional Wally Tittelmayer.
RiverWinds Golf Club
WHAT'S NEW: RiverWinds has a new director of golf, Keven Horton, who comes from Blue Heron Pines.
PRO'S TAKE: "To me the most unique hole is 17—our signature hole," says Horton. "It's a downhill tee shot to an island green on the Delaware River. If the wind is blowing the 125-to-130-yard shot could make it much tougher. Another hole I like is No. 4. It's just a great par-4 with the fairway cuts in through the right which sets up a difficult first tee shot, then hitting into a tucked away green."
Scotland Run Golf Club
WHAT'S NEW: At least a couple hundred trees were removed this winter to aid in the speed of play. Tee Line Synthetic Turf Grass was installed and the bar was upgraded along with new concrete sidewalks and curbing and the repaving of the parking lot. And to complement the Thursday night ladies clinics, the course now offers a Ladies League.
PRO'S TAKE: "My favorite hole to play at Scotland Run Golf Club is 18. This hole is a par-5 that provides the golfer different options on how to play the hole and requires you to hit quality shots. The hole provides risk/reward for some of the longer hitters. If one wishes to try and hit their second shot over the lake it can put them on the green or just in front of the green. If you can't carry the lake on the second shot, the hole still requires three quality shots to hit the green which is protected by three bunkers in front. No. 18 is definitely a memorable finishing hole," says Brian Perino, head golf professional.
Valleybrook Country Club
WHAT'S NEW: Valleybrook is planning renovations and general improvements to the course this year and will have a new fleet of golf carts.
PRO'S TAKE: "One of my favorite holes at Valleybrook is No. 9," says director of golf Phil Dilorio. "The 517-yard, par-5 dogleg left is one of the most revered on the course. The tree-lined fairway provides ample landing area but requires a strategically placed tee shot to have a chance at the green. There is a descending hill with a water hazard at the bottom that can be dangerous if you're too aggressive. An ascending fairway lies across the water to an elevated green guarded by bunkers on the left and more water protecting the right side of the fairway and green. The second shot is crucial. A nice approach can quickly become painful facing many subtle breaks in the large green. A birdie here is great but card yourself a par or bogey and be thankful."
White Oaks Country Club
PRO'S TAKE: "My favorite hole is also the most challenging—No. 7. You can come out unscathed for the most part on our first six holes but the 600-yard seventh hole requires a little bit of everything," says head professional Chris Hutchinson. "The tee shot needs to be accurate and long enough to carry a hazard, the second shot also requires a carry with proper club selection to a spot to set up a clear third shot. From there your approach is to a very undulated and sloped green that depending on the pin location causes many three—sometimes four—putts. The bar at the turn is filled with stories of being 'Even through six.'"
Woodcrest Country Club
PRO'S TAKE: "My favorite hole here at Woodcrest is No. 12, a 434-yard par-4. There is a premium on hitting a solid tee shot then you are left with a second shot over water to elevated green that is bunkered on both sides. It may be one of the very best par-4s in the area," says Bill Torlucci, director of golf.
Published (and copyrighted) in South Jersey Magazine, Volume 13, Issue 1 (April, 2016).
For more info on South Jersey Magazine, click here.
To subscribe to South Jersey Magazine, click here.
To advertise in South Jersey Magazine, click here.