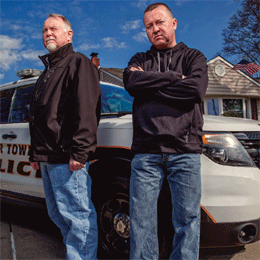 Into Thin Air
There's a 30-day period from early March to early April that is particularly difficult for Carol Persia-Ross. It starts on March 5, the day of her younger sister, Jennifer's birthday. Jennifer—or Jenny, to her older sister—would have turned 38 this year, and Persia-Ross probably would have logged into Facebook to send her sister a cheery message, maybe a happy photo from years past.
Instead, every year Persia-Ross does what she has done for the last 22 birthdays: don her favorite purple attire, release some purple balloons into the sky and light a few matching candles, then log online and post a somber reminder to her near-1,600 followers, while bracing for April 4, the day her 16-year-old baby sister was found brutally murdered in her Magnolia home.
"To this day I still don't know exactly the way my sister was killed because the only ones who know are Jennifer and the killers themselves," Persia-Ross says. "There isn't one person out there that had ill feelings about Jenny. Well, except the people who took her life."
"People start to forget"
Persia-Ross is one of dozens of family members from the South Jersey area who are struggling to find answers to their loved ones' unsolved disappearances and murders, commonly known to many as "cold cases." It's a local fraternity of sorts, one that no one wants to join and all want to leave.
"Honestly, you really have to go through it to understand it," says Matt Novak Sr. of Mullica Hill, whose son Matt Novak Jr. was murdered in public on the streets of Philadelphia in 2008. No arrests have been made. "It's the type of club you don't want to belong to."
In cases like Jennifer Persia's and Matt Novak's, resources are slim, time is limited and the passing years only make answers more difficult to come by.
"It's natural, as time goes on people start to forget," says Novak. "The Philadelphia Police Department has done a wonderful job but they're undermanned and underbudgeted. If you watch the news they have three, four, five murders a day. Every time I see one I feel horrible. But I just get the vision of another name being added on top of my son's file."
Jennifer Persia was found stabbed to death in her mother's home on April 4, 1994. An energetic teen, Jenny loved running track and throwing discus as a sophomore at Sterling High School. She loved the color purple, her friends at church camp and helping her stepfather Mick with his racecars. So when her body was found on the floor by the home's stairs, with more than 20 stab marks, defensive wounds, bruises and strangulation marks, there were no answers.
"I replay in my head the way I was told it went and I will never understand why, or how, someone could do such a brutal thing to a person, let alone Jenny," says Persia-Ross.
The Camden County Prosecutor's Office had one person of interest, Scott Ross (no relation), who they announced in 2013, shortly after he died of a drug overdose at the age of 36. They also revealed a new, unnamed suspect based on new DNA research, but no arrests have ever been made.
"My mother died with a broken heart because of this and I promised my mother I would never give up," says Persia-Ross, whose mother, Georgia MacNeir, passed away in 2009. "I just want them [the Camden County Prosecutor's Office] to know that Jennifer deserves justice and we pray that they haven't given up. I honestly feel they have and that is awful."
Gloucester Township Detective Chuck Dougherty has plenty of experience with crime. Which makes his search for Matt Novak's killer even more difficult to process.
Dougherty was Novak's godfather and cousin. "He was born on my 13th birthday—we didn't plan that, by the way," he says with a laugh. The two grew up and grew apart—with Dougherty's shift work as a green police officer keeping him from family functions early in life—but they still had that bond.
According to Dougherty, Novak was in Philadelphia at the Puerto Rican Day parade on Sept. 28, 2008, with a friend from culinary school and an acquaintance. On the drive home from the parade, the friend pulled his car over to get some fresh air after a small verbal argument broke out between Novak and the other passenger.
When the three men went to get back in the car the vehicle wouldn't start. All of this was captured on city surveillance cameras. "About 45 minutes into the car troubles you see a blue [Chevy] Impala go by with New Jersey tags. The car goes by one time and the boys didn't realize it, but you see the car circle again past the boys. In the one camera shot you see the camera snap into view as the car goes by, and you can see Matt wave at the car," says Dougherty.
Whether Novak recognized the driver or the New Jersey plates no one knows, but reports claim that he got into the Impala to get jumper cables, leaving his friends at the site. The car drove off, and as Novak went to get out of the Impala at 13th Street and Fairmount Avenue he was shot by a passenger in the back seat through the hip. Witnesses saw Novak attempt to run and called 911 as the car drove slowly away.
Novak drifted in and out of consciousness, relaying what little information he had to Philadelphia Detective Brian Peters, before the severe blood loss took his life.
Matt Novak Sr. remembers his only son (he also has a stepdaughter) and namesake as an adventurous, eager young man with a passion for cooking. A student at The Art Institute of Philadelphia, the younger Novak had dreams of getting into catering, but only hesitated because a chef's life meant being away for holidays, nights and weekends: family time.
"He was 24 years old and our relationship was changing from a dad and a son to friends. He was becoming a man—we were going out and having beers together. We loved going to the Eagles games. I had just bought season tickets so he and I could go every Sunday," Novak says. "Since his death I push myself to go a couple times a year and I'll take a family member. But I don't look at it the same way. We used to tailgate, he'd go out and buy food and cook it up in the parking lot. It's not the same."
After Novak's death, what limited evidence was available came to light. First came the city surveillance videos, discovered on the day of Matt's funeral. That led to their single biggest lead, and the one piece of evidence that haunts the family to this day.
"I need to find that 2006-2008 dark blue Chevy Impala with the N.J. license plates," says Novak. "That's my constant message. The day I stop talking about it is the day people forget about that damn car and those three creeps in the car."
The family started the hunt for that car alongside the police after six months without answers, putting out a $5,000 reward which eventually turned into $42,000 by 2013. They created MySpace pages, a Facebook group, held annual events on the anniversary of Matt's death. They were on America's Most Wanted and have two billboards still standing in South Jersey with information for passersby. Still, nothing.
"It doesn't go away," says Dougherty. "We're a close family, and it kills us watching Uncle Matt in pain. We want closure."
"It shouldn't have happened"
One of the most infamous cold cases in South Jersey's recent history is that of Danielle Imbo and Richard Petrone, an on-again, off-again pair that vanished in 2005. The two—and Petrone's 2001 silver Dodge Dakota—disappeared after leaving a popular bar on Philadelphia's South Street following a night out with friends and family.
According to multiple witness reports, Petrone, who was living in South Philadelphia with his daughter, went to take Imbo back to her Mount Laurel home around 11:30 p.m. on Feb. 19, 2005. The two were last seen walking out the door of the bar, and never seen again.
The case's lack of evidence led to FBI involvement, with Special Agent Vito Roselli getting involved to help the Philadelphia PD's South Detectives, Mount Laurel PD and the Burlington County Prosecutors, who were searching for any clue whatsoever. Roselli—an imposing figure who typically works on a violent crimes squad—joined on about three weeks later.
"You had a lot of good people working on this from the beginning," says Roselli, who credits the detectives and police from both states for keeping this case so fresh in everyone's minds. He also credits the families of Petrone and Imbo for keeping their memory alive.
"We've talked to a lot of folks that knew them really well, and people that didn't know them so well, and we've heard so many good things about them," says Roselli. "[Imbo] was a hard worker, good mom, and a lot of fun. Very tight with her mother and very tight with her brother. And [Petrone] was a happy-go-lucky guy who worked hard and raised his daughter. He liked heavy metal concerts and would go to concerts with his dad, and was very close with his mother. It's sad in any situation, but especially in this one because from everything I've gathered, they're two decent Americans. Two regular people that weren't hurting anybody. It shouldn't have happened."
Despite all the help from police, family and detectives, Roselli admits that time—particularly related to technology—has never been on their side. "Just 11 years ago you didn't have cameras on every street corner, smart phones and digital cameras," he says. "If this had happened a few years later it may be a different story. There could be someone out there now that saw our victims getting grabbed. Now someone will catch it on camera, but not back then."
Roselli and those still searching for answers are looking for that one person —one pair of eyes—that saw something. He says it's not too late to just make a call.
"Somebody out there knows something," he says. "I'm sure that street wasn't empty, and that somebody saw something and didn't realize what was there or didn't want to get involved. Someone might see this, read this, and will pick up the phone.
"You have your cases and case load, and you put your heart and soul into everything. But everybody has that one case that sticks in the back of their heads. For me, that's this one. This will stay with me even after I leave this job. Hopefully in a good way, where it's solved, so I'm not saying, 'I should have done this, I should have done that.' I could be retired and I'll still come back for this free of charge."
Despite the passing time, Roselli remains optimistic. "We haven't arrested anybody," he says, before fighting back a questioning smile. "Yet. We haven't arrested anybody yet."
"It's what we do"
Despite the odds, local authorities are making a concerted effort to solve their cold cases. In March 2014, the Camden County Police Department launched a cold case unit tasked with solving Camden City's slew of unsolved murders. The four-man crew made up of two veteran city detectives and two retired investigators with the county prosecutor's office solved its first case—an arrest in relation to a December 2012 murder of a homeless woman—that July. By November they had solved another homicide and to date, they have closed five cold cases.
Gloucester County Prosecutor Sean Dalton began his cold case initiative in 2002 when he came into office.
"We assigned all of the open homicides—which, you know, could have been three years old or 10 to 30 years old—to our major crimes unit staff," explains Dalton. "We challenged them to continue to investigate older homicides alongside their current case load."
The group meets once a month, each with their cases in hand. They review any work they've done in that month to look for leads or fresh perspectives. "They're going to have the case discussed with everyone and no one likes to come unprepared," admits Dalton. "I felt that the old cases deserve as much time as the new case. I couldn't think of any better goal to reach as a prosecutor."
Since beginning the cold case initiative, the Gloucester County Prosecutor's Office has prosecuted three cold cases to completion, with one pending, a massive spike in arrests for a county that is not overtly inundated with murder cases.
The first came in 2003, just a year after Dalton took office, and involved the 1979 murder of Rose Twells, the 87-year-old widow of former Woodbury mayor Frederick Bayer. Twells was found beaten to death in her home—tied to her banister, her skull crushed—just before Christmas. Twenty-three years later, the cold case team arrested Twell's stepson Jeffrey Bayer—who was almost 40 at the time—along with Clifford Jeffrey and Mark English after receiving information from an informant with a guilty conscious. They were charged in 2005 and sentenced. The informant was granted immunity.
Lieutenant Langdon Sills worked the case of Clarksboro 22-yearold Jennifer Whipkey from 2002 to 2013, when suspect Brian Mertz of Woodbury was charged with first-degree murder and sentenced to 50 years. According to Sills, Mertz found an intoxicated Whipkey leaving Adelphia's nightclub in Deptford and took her back to the Westwood Motor Lodge in Thorofare. When Whipkey attempted to run from the room, Mertz stabbed her over 40 times in the parking lot.
The case ran cold for several years. "It was frustrating to us as investigators because of the motel where she was found. We were afraid a trucker killed her and left," says Sills. "It was really frustrating. In the beginning you're running really hot and heavy, but as time dwindles down you're running these leads into the ground. But it's what we do; we had a family who was grieving."
Sills' break came in 2008, when Mertz was arrested on a drug charge. It was at that time that his DNA was put into the national database and came up as a match to DNA found at the scene of Whipkey's murder. Mertz was arrested to fanfare from the entire county. "Jen [Whipkey's] mom Liz McCool and I developed a close relationship throughout the course of this investigation," he says. "When [Mertz] got locked up, I called up every one of the detectives that worked on the case and we all showed up to the jail, and processed him. Then we went right to Liz's house to tell her."
Gloucester County Detective Stacie Lick has been with the prosecutor's office for 13 years, and has followed the county's most recent cold case arrest for almost a decade. She and Sills responded to the home of Juan Cuevas, a 36-year-old father and business owner, in 2006. Cuevas was beaten to death in his Washington Township home while his three children sat tied up in the other room. Lick worked the case from inception to arrest, which came in November 2015. The prosecutor's office is currently preparing for trial.
Lick was able to deliver the news of the arrests to Cuevas' children herself. "I've stayed in touch with them since they were kids," she said. "It's so very rewarding, being able to notify the family."
Sergeant Robert Hemphill is a Gloucester County Prosecutor's Office detective currently assigned to Internal Affairs and a teacher at the Gloucester County Police Academy, and uses his work with the murder-for-hire case of Franklinville's Charles Mosley as an example for young, aspiring detectives. Mosley, a 64-year-old car dealer, was beaten and strangled to death in his office in 1997, but it wasn't until March 2005 that two arrests were made. Detectives traveled the country to eliminate a sprawling list of suspects through eight years of policing before charging Zarick Rose and Larry Graves.
According to Hemphill, Graves and Rose were in prison together, and Rose—who was looking at jail time if Mosley testified against him—convinced Graves to commit the crime once he was released. A fingerprint discovered late in the investigation and extensive interviews led to a full confession and eventual conviction.
"I use this case to teach, and I'll tell you why," he says. "This conclusion was a total team effort, from the retired investigators that did a fantastic job at the scene to today. Any cold case is very challenging. You weren't there for the inception of the case, and you have to go back and reinvent the entire investigation with the help of a dedicated team of investigators."
Dalton proudly says that the homicide division has solved every murder in the county since 2008, but there's one 2007 cold case that haunts residents and detectives: the murder of Rowan University student Donnie Farrell, who was beaten by strangers on his way to a campus party and died as a result. The university has offered a $100,000 reward for any information, but so far there have been no arrests.
"It is frustrating," says Sills, who is currently assigned to the case. "We had some leads in the very beginning and we had a composite sketch put out. After a while it starts to slow down.
"I'm always optimistic … but it's hard when there's nothing new. I have some leads, some things I'm looking at. But at this stage of the game, you have to be innovative in your methods of approaching these cold cases. That's why we have these homicide meetings. You bring to the table what you have and people bring their ideas."
"Never going to give up"
For Carol Persia-Ross, she fears that the Camden County Prosecutor's Office has moved on. "I think the case was mishandled from the beginning. Some officers who have been through it as well think the same as me," she says, before stating that she would rather not elaborate any further.
When reached for comment, Captain Patricia Taulane shared the following response, urging people to come forward directly to her with information:
"This remains an open investigation. We want to obtain justice for Jennifer and her family. However, the lack of witnesses has continued to plague investigators. If anyone knows anything about the individuals responsible for her death, come forward now and help bring closure to this tragedy."
Persia-Ross says that 30-day stretch from early March to April 4 would be easier if she knew that Jenny could finally be put to rest. As for her biggest fear? "That we die without answers."
Novak says that the anger is gone, but the sadness will never leave. "I'm a stable human being, but that kind of shock that you go through when you lose a child changes you."
He'll never stop searching for the blue Chevy Impala. And while he thinks his son might have been the victim of a gang initiation or unwarranted attack, he—like so many desperate families in our area—hopes that someone, somewhere develops the conscience to give them closure. "I'm never going to give up. Frankly, it's harder at this point because we've turned over every stone," he says. "I'm glad you called me, don't get me wrong, but it's the wrong call from the wrong person. I'm hoping I'll get a call from someone with answers."
HOW TO HELP
CITIZENS CRIME COMMISSION ANONYMOUSTIP LINE:
(215) 546-8477
AND (877) 345-8477
NEW JERSEY STATE POLICE MISSING PERSONS:
(800) 709-7090
CAPT. PATRICIA TAULANE, CAMDEN COUNTY PROSECUTORS OFFICE:
(856) 614-8078
BURLINGTON COUNTY SECRET WITNESS HOTLINE:
(609) 267-7667
CAMDEN COUNTY PROSECUTORS OFFICE:
(856) 225-8400,
TIP EMAIL: CCPOTIPS@CCPROSECUTOR.ORG
GLOUCESTER COUNTY PROSECUTORS OFFICE MAJOR CRIMES TIPLINE:
(856) 307-7180
Published (and copyrighted) in South Jersey Magazine, Volume 13, Issue 1 (April, 2016).
For more info on South Jersey Magazine, click here.
To subscribe to South Jersey Magazine, click here.