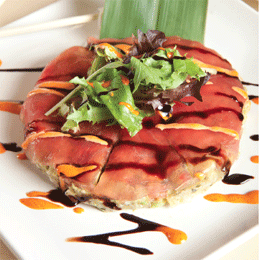 Side Dish: April 2016
QUICK BITE
Tuna Pizza
Megu
Cherry Hill and Moorestown
Sushi takes a flight to Italy with Megu's take on a pizza. Tortillas get stacked with creamy avocado and lump crab meat, then topped with thinly sliced sushi-grade tuna and drizzled with spicy mayo and a teriyaki soy sauce. The heat of the wasabi meets the mellow flavor of the tuna and avocado, and creates a harmonious blend.
DATES TO WATCH
National Pretzel Day—April 26
Living in South Jersey makes it easy to overlook how lucky we are to have access to such tasty soft pretzels. But if you need a reminder, celebrate this national holiday with our favorite pretzel picks.
Free Pretzel
Philly Pretzel Factory
multiple locations
Everything Pretzel
Mart Soft Pretzels
Riverton
Pretzel Braid
South Jersey Soft Pretzel & Water Ice
Stratford
THE TOP FIVE: Cheesesteak Eggrolls
Since we're paying homage to our local roots, we turn our attention to one of our favorite appetizers: the cheesesteak eggroll. South Jersey restaurants are breaking with traditional wiz wit and adding their own crispy flair to these starters, and we can't seem to get enough.
1) Iron Hill Brewery
These golden beauties get a boost of flavor thanks to fried onions and gooey American cheese, but it's the matchstick potatoes and addition of horseradish sauce on the side of the plate that really stand out.
Voorhees and Maple Shade
2) Sabrina's Café
Available only on the dinner menu, Sabrina's eggrolls are stuffed with cherry peppers and mild provolone cheese and served with a raspberry ketchup, adding an extra touch of sweetness.
Collingswood
3) Catelli Duo
This variety takes tradition and adds a punch of fine dining flavor with top-quality steak and a house-made cheese whiz, a creamy sauce unlike anything you'll find at your go-to cheesesteak shop.
Voorhees
4) Arugula
Shaved ribeye gets rolled up with caramelized onions and finished off with gorgonzola cheese whiz, then fried and served with sriracha ketchup for a blend of tangy and spicy.
Sewell
5) SweetWater Bar & Grill
Green peppers add a bit of fresh flavor to steak and grilled onions. You won't find cheese inside the wrapper, however, as a spicy cheese sauce comes on the side so you can dip to your heart's content.
Cinnaminson
FAST FOOD
Marlton's newest sushi restaurant comes by way of OSushi, which opened at the start of March.
Dulce Artisanal Pastry has opened in Collings wood, after a six-month delay while owner Josue Santiago Negron ironed out troubles with construction. The bakery will sell handcrafted desserts and breads.
Local chef Neil Elsohn—current head chef at Max's Seafood Café in Gloucester City—has re-opened the iconic eatery Chubby's Steakhouse on Monmouth Street in Gloucester City.
A new b.good—the locally sourced fast casual eatery—has opened in Mount Laurel. This is the second b.good in South Jersey, with another spot in Marlton.
EXTRA PLATE
The Kettle & Grille
Opened in 2014, Kettle & Grille takes the place of the much-loved Casanova Grill, whose kitchen was manned by the late chef Joe Palombo. When Casanova closed, young restaurateur Peter Savva stepped in, opening a Greek diner-style eatery serving up breakfast, lunch and dinner.
A diner is an interesting twist from the Italian institution that stood in its place for so long, but judging by the crowds of diners it is just what the area needed. A sprawling menu includes several pages of breakfast options alone, as well as sandwiches, burgers, entrées and salads.
Like many diners in the area, the omelets are more than enticing. A variety of veggie options combine with Greek egg blends, like the Mediterranean omelette which adds your choice of beef or chicken gyro alongside tomatoes, onions, crumbled feta and a side of tzatziki sauce. Then there's your pick of breakfast quesadillas, all served with egg and a blend of vegetables, meat and cheeses.
While breakfast is a popular diner choice, don't neglect the burger list, which features almost 20 options and comes with your option of beef, veggie or turkey patty. The South of the Border burger comes topped with Cheddar, thick-sliced bacon and sliced avocado, on top of a squishy brioche roll and served with salsa and sour cream. It's one of many unique varieties of burger, all complete with a massive 8 ounce patty that helps balance out the toppings.
Entrées include a full Greek section, featuring souvlaki, gyros and spanikopita, or Greek spinach pie. Thin filo gets layered with mild feta cheese and sautéed spinach, then baked and served along with a soup or salad. It's a light entrée that's packed with flavor.
Kettle & Grille had some big shoes to fill, but it seems like this relatively new spot is aiming to please. It serves up diner food in a modern and comfortable setting, a spot that really seems fit for every member of the family.
Published (and copyrighted) in South Jersey Magazine, Volume 13, Issue 1 (April, 2016).
For more info on South Jersey Magazine, click here.
To subscribe to South Jersey Magazine, click here.
To advertise in South Jersey Magazine, click here.