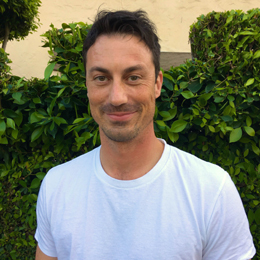 It's Always Funny…
Born in Pennsauken and raised in Mullica Hill, comedy writer Rob Rosell found himself tapping into his local roots when he joined on to write for FX's It's Always Sunny in Philadelphia. The cult comedy has amassed quite a following since it debuted a decade ago and its loyal legion of fans continues to grow.
Rosell wrote and eventually produced content for the show for the first 10 of 11 seasons, and joined on to write for Fox's hit show New Girl, starring Zooey Deschanel, in 2013. And his next project, Chad: An American Boy—a pilot starring and co-produced by Saturday Night Live alum Nasim Pedrad in which she stars as a 14-year-old boy—hopes to be another electric comedy for the modern ages.
We spoke with Rosell about his time writing for some of television's biggest sitcoms, life in the area and what he has planned for the future.
The success of It's Always sunny in Philadelphia…
I would attribute it all to me and my influence [laughs]. Other than me, I would attribute it to some really talented people. [It's Always Sunny creators] Rob [McElhenney], Charlie[Day] and Glenn [Howerton] have a real passion and excitement for the show. The enthusiasm for the fans is still there and that audience really motivates it.
Write place, right time…
I wanted to be a writer out here (in Hollywood) and was working for Louis C.K. as a writer's assistant. They were hiring and I met with Rob, Glenn and Charlie and pitched a few ideas and they liked what I had in mind.
Using local influences in a script…
I wish that I could say that there was. I know what streets to put down on the script if it has to take place outside, and the Jersey Shore was easy for me to draw on my own memories, but we try not to make it that specific. [But] whenever you talk to people from the area it has a more special place in their hearts because it takes place in a place that [they] know. And when I watch the show I get that too.
Stepping away from It's Always sunny…
It's really weird, but it's fun also. I get to see the show from a very fresh perspective. I'm watching episodes that I had nothing to do with and don't know what's going to happen. It's almost a little easier because I don't have expectations, I'm just experiencing it as a fan. It's been really fun to be honest.
A different challenge…
I was with New Girl from season three. One of the things about Always Sunny is that they don't do as long of a season as a network show; all cable shows are like that. If you're only doing 13 shows you have a lot of time to work and develop pilots or scripts. I wanted to switch things up and look into doing something that I hadn't done before. New Girl, with its romantic storylines and the really strong female voice it has, gave me the opportunity for it to be totally different for me.
A formula for success…
It's hard to get into the game of trying to predict what everyone is going to like. You just have to appreciate the show for what it is and keep growing what that show is. We really don't take the competition into consideration that much; it's a hard place to create things from. The people who respond to those characters, you want to keep them happy by creating stories in the vein that they love. But it's not from a place of really trying to survey and find what is working and what isn't; it's about trying.
What's on TV…
I really love [The People Versus O.J. Simpson] on FX and Shark Tank. But I watch a lot of Paw Patrol and Nick Jr. with my 3-year-old: I don't get to watch a lot of adult shows right now.
On his new pilot…
It's basically about the most awkward 14-year-old boy you could ever imagine who is just trying to fit in and be popular and not be embarrassed by his family. It's like the Wonder Years—which is an amazing show—but with a lot more humiliation. Nasim Pedrad and I were entering into a partnership, and I knew her from New Girl. She had a talent deal with Fox and wanted to write a pilot. I was open for it because I think she's great and was really excited about the potential to work with her.
No concept is too crazy…
Initially I wasn't sure; I thought it couldn't possibly work. I mean … what is the reality of that? Then we thought, with a little bit of the hair work and clothing changes, just from her Saturday Night Live career we learned she really could look like a boy. The more we talked about it the funnier it got to us. With an adult playing the character you can access what is so funny. When I look back at myself when I was 14, I was a complete disaster, but when you're that age it's hard to access that perspective at the time. As an adult you can also push the envelope a little further, because you don't have a kid playing the part.
Making the show a reality…
They just signed on for our pilot and that's the first step. I'm really excited about Chad, casting it, figuring out the right looks and putting together the script that we're so proud of.
Published (and copyrighted) in South Jersey Magazine, Volume 13, Issue 1 (April, 2016).
For more info on South Jersey Magazine, click here.
To subscribe to South Jersey Magazine, click here.
To advertise in South Jersey Magazine, click here.