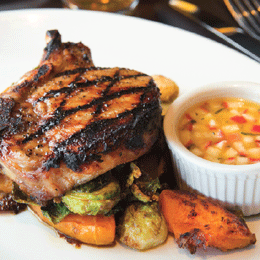 Elevating the Basics: Yard House
Rating: 3 out of 5 forks
400 Route 38
Moorestown
(856) 722-5620
The Moorestown Mall has come a long way from even just five years ago. Once an empty—and let's be honest, rather depressing—reminder of pre-Recession South Jersey, the property has undergone a resurgence that even the most pessimistic of residents have to appreciate.
First came the fine dining spots, with Marc Vetri stepping in to fill the first void with his now-closed Osteria (look for Catelli Duo, of Voorhees, to take its place soon enough), followed by the steakhouse chain Firebirds and Jose Garces' Distrito. Then, the movie theater was demolished and rebuilt, with more prestige, better seats and better technology. Next, ultra high-end retailers and a brand new salon absorbed another branch of the mall, where shuttered toy shops and failing businesses once called home.
Then came the food court. The '90s-era teal subway tiles and deafening water fountain were demolished, replaced with more seating, cell phone chargers and calmer colors. Almost every fast food spot was also shuttered as the space rebuilds itself as an upscale, family-centered spot where one new restaurant looks to provide an anchor.
Enter Yard House, the new craft beer bar and restaurant that opened to the public at the end of 2015, replacing a former burger joint near the movie theater. The restaurant boasts a sprawling bar with 110 taps and an equally impressive craft beer list, as well as plenty of seating and a menu that's almost as big as the space itself.
The food selection boasts appetizers, small snacking plates, salads, sandwiches, entrées, burgers, barbecue and more, clearly designed to feed a family looking for dinner or friends hoping to grab bar bites on a night out. It's easy to overlook some of the options, but the plates—many of which have a hint of Asian flair—entice you to want to return.
Duck wings were one of the many appetizers that caught my attention, largely because of the appeal of such a rare ingredient. The wings—slightly larger than the typical chicken variety you're used to—came fried and crispy, tossed in a maple soy glaze and served on a bed of pickled red onions, cilantro and mint with diced Serrano peppers and sesame seeds. The meat itself was a bit dry and gamey, definitely not prepared in a way that would leave first-time duck tasters wanting more, but the glaze was tangy and made so much better when combined with the fresh herb and red onions.
Lobster, crab and artichoke dip seemed like an appetizer that would be perfect for a large crowd, but the dip itself was lacking in lobster, crab and artichoke. Sure, it's hard to find fault in a bowl of bubbly cheese and a side of colorful chips, but some extra lobster and crab meat would have totally transformed the dish, but from this plate, it was rather forgettable.
A serving of the poke stack appetizer, however, has stayed in my mind since my visit. Raw ahi tuna was marinated in Asian flavors, then chopped and served on sheets of crispy wonton with diced avocado and a drizzling of wasabi soy sauce. The fried wonton was crispy and added a bit of fat to the fresh tuna, while the avocado cut the sting from the wasabi just right. Each bite was harmonious and—above all—tasty.
While the Asian flavors still remained strong throughout the menu, Yard House takes diners across the globe with its entrées and sandwiches. Take the chicken schnitzel sandwich: A chicken cutlet cut thin, pounded out even thinner then breaded and deep fried and served on a roll with broccoli rabe, provolone cheese and a house- made mayo. It was finished with a sweet and tangy curry sauce, and while it wasn't the definition of a traditional schnitzel sandwich, it was packed with flavor and the pillowy roll made it all the better.
A traditional entrée, the apple cider brined pork chop, had similar German roots. A thick cut pork chop was tender and positively juicy, thanks to the brining process, and swam in an apple-honey sauce that helped bring out the sweet notes from the brine. The pork chop was the highlight of the plate, however, as accompanying Brussels sprouts were severely undercooked and under seasoned, and sat uneaten on the plate. Diced, roasted butternut squash helped revive the bitter taste that the Brussels sprouts left behind.
Before arriving at Yard House I was given one mission: try the burger. That sentiment was echoed not just by our server, but by the hostess and busboy who helped us throughout the evening. Taking advice from the experts, I went with the pastrami Benedict burger, which stacked fried onions, a fried egg, pastrami, Swiss cheese and slow-roasted tomatoes atop a beef patty, smothering the whole stack in béarnaise sauce and sticking it on a brioche bun before serving it hot alongside French fries. With all the components, it's hard not to love, but the burger itself was cooked so well that it managed alone in the middle of the indulgently messy concoction.
Sitting close to the kitchen, I noticed one plate continuously coming out throughout the night. I was surprised to learn that it wasn't the house appetizer or specialty entrée, but a dessert, which isn't typically a must-have for most diners. The mini trio sampler came with a miniature crème brûlée, peach and apple cobbler and chocolate soufflé cake, served in cast iron dishes and designed for sharing. While they weren't entirely memorable on their own, they were the perfect size as to not overindulge in any flavors, and provided a nice burst of fruity, chocolatey and creamy vanilla.
The menu might have been a bit overpowering and lacked a bit of finesse in preparation, but this is a restaurant that could really help push the Moorestown Mall revival to the next level. With options for absolutely anyone, and a menu that makes you want to return, this is just what the growing mall needs to bring in yet another crowd to its burgeoning space.
Published (and copyrighted) in South Jersey Magazine, Volume 12, Issue 12 (March, 2016).
For more info on South Jersey Magazine, click here.
To subscribe to South Jersey Magazine, click here.
To advertise in South Jersey Magazine, click here.