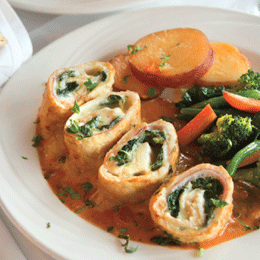 Italian Delight: Il Fiore
*Revisit
693 Haddon Ave.
Collingswood
(856) 833-0808
Drive down Haddon Avenue in Collingswood and you'll have your pick from close to 20 restaurants in the span of only five blocks. But if you were to take that trip on a Friday or Saturday night one restaurant always seems to stand out; Il Fiore, a quiet and unassuming Italian eatery tucked in the center of it all.
Every weekend—be it the middle of the winter or in the dead heat of summer—produces the same result outside of Il Fiore: a crowd of at least 20 diners, clutching wine and BYOB bags and huddled outside of the restaurant, sometimes creating a group so large that passers-by have no choice but to step into the street to avoid them.
With more than a half dozen Italian options within a stone's throw producing some of the best entrées we at South Jersey Magazine have had on this coast, I had to ask: What am I missing?
The restaurant has not changed much since our first visit years ago. The small space is still packed with tables providing views to Collingswood's bustling main drag, while old school Italian murals remain on the otherwise bare walls. And the prices have not changed much either. It's clear that the affordability of Il Fiore is a huge selling point to the large groups that surrounded us, creating a comfortable setting for groups of friends and large families.
The familiarity of ingredients and entrées could also be considered a draw, offering traditional Italian and Italian-American appetizers, entrées, salads and pastas that are recognizable and easy to understand.
An appetizer of calamari followed that trend, but instead of being breaded and fried, was served whole, grilled in a garlic-lemon marinade and stuffed with diced tomatoes, capers and olives before being topped with more filling and a drizzle of olive oil. The grill provided a bit of smokiness without overcooking the delicate yet meaty seafood, and the filling was the perfect briny and sweet accompaniment.
Pasta plates included a handful of homemade varieties, but the linguine grano interno was the most unusual and creative option. Whole wheat linguine was tossed in marinara sauce and served with jumbo shrimp and sliced sausage. The whole wheat pasta did manage to provide a unique, rich flavor, but the marinara seemed a bit bland. The sausage did not add much extra flavor like I hoped, though the shrimp were plump and juicy, another shellfish on Il Fiore's menu that was cooked exactly as it should be.
Entrées spanned a selection of veal and chicken dishes, along with a few fish plates and specials. Vitello con rucola featured paper thin veal medallions with arugula, tomatoes and preserved artichokes, all tossed in a Pinot Grigio wine sauce. The thin meat was tender and acted more as a vessel for the other components than the star of the dish, which created a nice, light cohesiveness. And while the vinegar bite of the artichoke was a bit strong, the peppery arugula acted almost like its own herb and added a nice, citrusy bite.
Involtini di pollo rolled a chicken breast with slices of smoked ham, spinach and Fontina cheese, then coated it in a house-made pink sauce sautéed with mushrooms and sundried tomatoes. The chicken rolls on their own were packed with flavor thanks to the salty ham and nutty Fontina, but the sundried tomatoes generally overpowered the dish and distracted from the rich and earthy mushrooms.
The evening ended with a plate of house-made tiramisu, stacked and layered to resemble a dessert lasagna of sorts. The break from tradition created a pleasant balance between the espresso lady fingers and creamy filling.
When it comes to an evening out at Il Fiore, it seems like the crowds have spoken. After our most recent return back to the dining room, we certainly hear what they have to say.
Published (and copyrighted) in South Jersey Magazine, Volume 12, Issue 12 (March, 2016).
For more info on South Jersey Magazine, click here.
To subscribe to South Jersey Magazine, click here.
To advertise in South Jersey Magazine, click here.