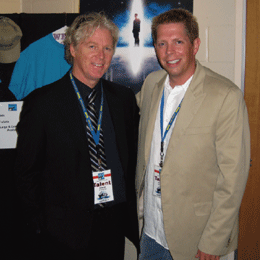 Plot Twist
Call it the ad heard 'round the world. Or at least the ad that got Eric D. Wilkinson worldwide recognition and a screenplay optioned by a studio.
Whatever you call it, there's no doubt that running a full-page ad in The Hollywood Reporter addressed to Bruce Willis and other folks involved in the Die Hard movie franchise was a brilliant move by South Jersey resident Wilkinson, who's worked in the movie industry for more than 15 years.
The David-and-Goliath vibe underlying the ad—unknown indie filmmaker gives his best pitch to mega-Hollywood star—undoubtedly appealed to the masses, and the story quickly went viral. And while Bruce Willis never did directly respond to Wilkinson, the ad itself—and its ensuing publicity—ended up providing Wilkinson with an exciting new opportunity to have a screenplay he's co-written about the Jersey Devil turned into a film.
"It's been a bit of a wild ride these past few months," Wilkinson says. "I wasn't really sure where the ad would lead, but it was definitely worth the risk to run it."
It was November 2015 when Wilkinson, who grew up in Berlin as one of four children of a longtime mayor, decided to take out the full-page ad. "I did it for fun, and since it's The Hollywood Reporter, I thought it might cause some chatter in the industry," Wilkinson recalls. But his deeper reason for placing the ad, aside from the outside possibility that Willis and the Die Hard team might go with his storyline for the next installment of the franchise, had to do with the simple fact that, first and foremost, Wilkinson is a huge movie fan. And while he considers the original Die Hard his "favorite movie of all time," each successive installment in the franchise has left Wilkinson increasingly disappointed.
"They turned John McClane into a macho superhero; a sort of Rambo-type character that bore little resemblance to who he was in the original film," Wilkinson says. When he heard that a sixth installment was being planned, he felt inspired to "write the kind of Die Hard movie I want to see, and I thought, 'What the heck?' I'll put it in an ad and share it with the rest of the world."
Wilkinson's jauntily worded Hollywood Reporter ad—which states up front that he's a producer and writer of independent films, and includes a narrative about his love for the Die Hard movies—concludes with his premise for the next film installment, written with longtime collaborator/screenwriter Richard Schenkman.
Interestingly, Wilkinson placed The Hollywood Reporter ad knowing only that plans were underway for Willis' character to bookend a storyline that's a prequel of sorts, setting much of the action in 1979. The film would show how McClane became the rough and tumble cop audiences now know, while still leaving room for Willis to play McClane in the present.
But, as Wilkinson also noted in his Hollywood Reporter ad, the original 1988 Die Hard film is already a so-called "origin story." So, he proposed a plot that has a more equal balance between past and present, also beginning in 1979. Wilkinson's storyline, however, has ramifications for the present-day John McClane, who finds himself behind bars after being wrongfully convicted of murdering a suspect he was chasing nearly 40 years ago. While in prison, McClane gets caught up in a prison riot masterminded by an unrelated terrorist organization—or is it? But, as expected, he ultimately saves the day.
Within a matter of days, the story of the would-be Die Hard screenwriter and his full-page ad had gone global.
"I feel like it almost became a piece of performance art," Wilkinson says of the ad. "People read it, hopefully saw that I'm a creative person, and I was able to get my version out there in the world. I think it also gave people a sense of hope that a regular guy could get the attention of some Hollywood bigwigs, and maybe win them over."
One Hollywood exec who took notice was Conor Charles, senior vice president with Los Angeles-based Eclectic Pictures. Wilkinson was invited to send over any completed scripts he had written and one was quickly optioned by the studio. The planned movie originally titled Miscreation, but now called The Devil, is about none other than that favorite Garden State scary son, the Jersey Devil.
"There have been a ton of movies about the Jersey Devil, and they all suck," Wilkinson says. "What makes mine different? I've researched the creature and I've created an action-horror story that has a Jersey Devil that's bigger, badder and scarier than anything you could imagine."
Having graduated from Stockton University (located on the fringes of the New Jersey Pine Barrens), the story's plot line about the group of college fraternity brothers who wander out into the pines for a "hell night" experience that becomes all too real touches on Wilkinson's own South Jersey roots.
"I'm a South Jersey guy all the way," the married father of two young sons says. "I never wanted to move to L.A.; I feel grounded here."
While he and Schenkman polish the script, Wilkinson also works as director of acquisitions and sales with MVD Entertainment, an independent movie and music distributor in Pottstown, Pa. His post-college career has included everything from working as a TV producer and editor, which ultimately led to positions at Metro Goldwyn Mayer, Sony Pictures, and Starz/Anchor Bay Entertainment.
Wilkinson produced his first film in 2005 and now has 12 movies to his credit. One of his best-known films is 2007's science-fiction drama The Man from Earth, which was conceived by the famed sci-fi writer Jerome Bixby (Star Trek, The Twilight Zone) in the early 1960s and completed on his deathbed in 1998. The film has become a cult hit, and currently ranks among IMDb's Top 50 Science Fiction Films of All Time.
For actor William Katt, who has a supporting role in the film, it was a project well-worth doing; the first of several he's done with Wilkinson.
"The biggest selling point for me was the story. … It was very intriguing and I got hooked in the first 10 pages of the script," says Katt, best-known for his starring role in the '80s hit TV show, The Greatest American Hero. "It's a smart, character-driven story." Katt calls Wilkinson's decision to run the full-page Die Hard ad "ballsy and genius" and says he's been continually impressed with Wilkinson's "do-what-you-say, say-what-you-do" ethos.
"In this business, being that true to your word is like going to the bank with a bag full of diamonds," Katt says, adding that having worked with Wilkinson on three projects has been "absolutely great."
"I'm not a leading man; I like characters that are a bit left of center, and Eric recognizes that in me," he says.
Wilkinson, meanwhile, is keeping busy with The Devil and other projects, including a movie titled Midnight Show, to be filmed in the tri-state area. He and Schenkman also have plans for a follow-up to The Man from Earth.
"I'm grateful to have the opportunity to work in the entertainment industry," Wilkinson says. "And the fact I've been able to accomplish the things I have, and live here in South Jersey is truly a blessing."
Published (and copyrighted) in South Jersey Magazine, Volume 12, Issue 12 (March, 2016).
For more info on South Jersey Magazine, click here.
To subscribe to South Jersey Magazine, click here.
To advertise in South Jersey Magazine, click here.