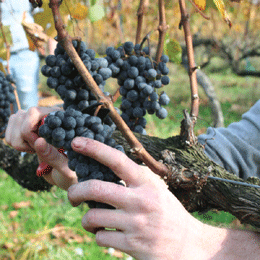 A New Vintage
While northern California will always lay claim to being wine country, the Garden State is making a push to compete directly with the likes of Napa and Sonoma. With more than 45 licensed wineries producing 1.5 million gallons of wine annually, New Jersey is the seventh largest wine producing state in the country.
In the 1980s, many area farms were struggling, but, due to a Prohibition-era law that only allowed for one winery per million people, were not eligible to produce wine. The Farm Winery Act of 1981 permitted local farms to start a winery as long as Jersey grapes were used. "There were a lot of farms that were failing and it was thought that maybe this would restore these farms to profitability and it really has," explains Gary Pavlis, agricultural agent with Rutgers Cooperative Extension of Atlantic County.
Thanks to an increase in grape acreage, the Outer Coastal Plain American Viticultural Area (AVA) received official designation in 2007. An AVA is an official U.S. wine grape-growing region designated by the Alcohol and Tobacco Tax and Trade Bureau. In order for a region to be approved as an AVA, it must be able to prove it is a unique physiographic region that is beneficial to grape growing. Some of the criteria used include distinct climate, soil type, elevation and other physical features as well as a history of wine grape growing.
AVA designation also means the government has certified that at least 85 percent of the grapes in a wine were produced from locally grown grapes, versus an appellation designation, which often represents a broader area and does not have to meet federal AVA requirements.
The Outer Coastal Plain AVA is a 2.25-million-acre region that extends throughout nine counties in New Jersey, and accounts for the majority of the state's grape production. All of this generates nearly $40 million in state revenue, according to Visit South Jersey, and its impact is still growing.
The changes in regulation along with the designation of three distinct AVAs in the state have made a tremendous impact. "Really, the wine industry is the only agriculture industry in the state that's doubled in size," Pavlis says.
"As the wineries started to promulgate with the vineyards that support them as well, there was very little infrastructure to support either one," explains John Cifelli, executive director of the Garden State Wine Growers Association. "Viticulture in New Jersey is not an easy game to play and every grape wine state in the U.S. has typically a mineralogist and viticulturist from one of the local colleges to support the development of the industries. New Jersey for a long time didn't have that; to this day, we don't have a state mineralogist or viticulturist," he says. Enter the New Jersey Center for Wine Research and Education, which offers some institutional support and brings specialists to the table to help with various challenges.
Pavlis, who consults with nearly every winery in the state, agrees and says he gets requests for an initial consultation once or twice a week. "There's a constant need to determine what is the best grape for a site," says Pavlis. "In the beginning, we didn't really know what grapes were the best. Little by little, the different wineries in the different regions of New Jersey are realizing what [grape] is the best for quality. It's not the same in South Jersey as it is in North Jersey because the weather is much different. So, we're really starting to hone it down. There are a lot of varieties being grown, Spanish, Italian, French, etc."
Thirty years ago, most New Jersey wines were made with concord grapes and fruits, to which area farms had easy access. "A lot of vineyards used to plant fruit," says Sharyn Kervyn, wine director at the Capital Grille in Cherry Hill, which features several locally produced wines on its menu. "There was [a lot] of fruit already planted, so that's why you see a lot of fruit wines, which are sweeter. That was their bread and butter and many used that income to produce quality wines on the side. ... Over the years, growers have become much more dedicated to planting quality vines and doing dryer style wines."
"We're top five in the country in terms of apples, peaches, blueberries and cranberries so I think that will also have a place in the wine portfolio of New Jersey. Fruit wine can be very elegant and delicious," adds Cifelli. "That said, at the end of the day, grape wines carry the best price tag. … If you take the step from just selling [the fruit] to a local winery to making the wine, then you're also gaining the benefit of the added value that the bottle goes through when it turns from juice into wine. It becomes much more valuable when you can do that and do it well."
"We originally started out just looking for another crop to grow," says Penni Heritage, who is co-owner of Heritage Vineyards along with her husband, Bill. "We're a fifth-generation fruit farm with peaches and apples. When my husband and I took over, we were looking for another crop we could grow that wouldn't interfere with the 88 acres of peaches we had at that time, as far as picking at the same time."
The Heritages purchased their vines after attending a seminar in Hershey, Pa., in 1999 and by 2001 started to see production on those vines. "The industry really did seem to evolve after that as people started to realize you actually can grow grapes in New Jersey," Heritage says. And today, they produce more grape wines than the fruit variety. "Our passion right now is for the grape wines, the higher-end dry wines. The sweeter wines serve a clientele that doesn't yet have the palate for dryer wines. The hope is that we're going to be converting them. They want to start out with something sweeter … and then maybe move on to more sophisticated dry wine."
Pavlis also cites an increase in the number of cabernets, pinot noirs, chardonnays and other dry varieties that he says are considered the highest quality. Three years ago, he held a competition with comparably priced French and local red and white wines. "In that tasting, every New Jersey wine beat every French wine," he says. "If you don't know wine, you think anything French is going to be great, but at the [$20] price range, where most people are shopping, our quality equals or surpasses them."
Kervyn notes that all of the wineries producing quality wines also produce fruit wines, but believes these varieties "will be phased out slowly as the New Jersey audience gets used to dryer style wines." But Pavlis says don't count out fruit wines just yet. "The misnomer is that because we've produced fruit wines, somehow we aren't able to produce quality, dryer wines and that's just not so. We do both," he says. "I know of some wine trade magazines that kind of look down on us because we produce sweet, fruit wines. The reality is that they are very good and people like them."
Area winemakers attest to that fact. In the 1930s, Frank Tomasello, founder of Tomasello Winery, was known for his raspberries, strawberries, peaches and sweet potatoes. But he had a special knack for growing grapes and a passion for wine, and was first in line for a license when Prohibition was repealed.
Today, Tomasello Winery produces approximately 30 still wines and eight sparkling wines, almost all made from estate-grown fruit or fruit from local farmers. "We currently have 70 acres under vine, with more than 30 different varieties of grapes including Native American, French hybrids and classic vinifera," says co-owner Charlie Tomasello. "We have continuously experimented with new varietals to see which varietals are best suited to our location and which produce the highest quality wines."
Regardless of what type of wines area growers invest in going forward, experts predict an uphill trajectory for the industry. "New Jersey wines have gotten much, much better over the years," says Kervyn. "The bottom line is that we drink a lot of wine here, but not a whole lot of it is Jersey wine. A few years ago, it was only one percent. It's doubled now, but is still only at two percent, so we have a long way to go," says Pavlis. "I really don't see a ceiling right now."
Cifelli points out that over half of the license holders in the state have gained them in the last 10 years, which is indication the industry is growing quickly. "I think you'll see wine culture continue to expand and grow, you'll see more vineyards on the side of the road, more local wines on restaurant lists, more on store shelves," he says. "As the awareness and appreciation for locally produced wine grows, the market will respond and the product will become more visible as a result."
Published (and copyrighted) in South Jersey Magazine, Volume 12, Issue 12 (March, 2016).
For more info on South Jersey Magazine, click here.
To subscribe to South Jersey Magazine, click here.
To advertise in South Jersey Magazine, click here.