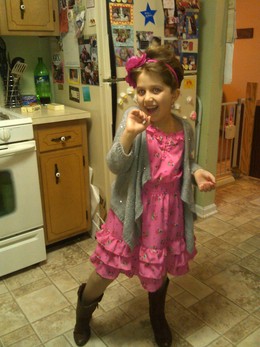 Healing Words
When it comes to 9-yearold Marlton resident Ella Wilson, nothing can stop her from achieving her dreams—not even a genetic disorder that causes tumors to form on nerve tissue and develop anywhere in her nervous system.
Ella was officially diagnosed with having Neurofibromatosis (NF) in May 2011, shortly after her 5-year-old wellness checkup raised some red flags regarding her eye sight. Her doctor saw lisch nodules in Ella's eyes and mentioned that it could be NF and that Ella would need to be taken to Children's Hospital of Philadelphia (CHOP) for a follow-up.
"I remember feeling like I was frozen … that the world and everything was moving and I was stopped dead in my tracks," says Terri Wilson, Ella's mother. "I was devastated. Only sick kids go to CHOP, right?"
Terri started searching the internet for as much information she could find about NF and was overwhelmed with what she thought was going to happen to her child.
"I had no idea what to expect but made the appointment right away," she says. "Things moved so quickly from that point on. We had a crash course in NF 101 and rapidly learned the ways NF had already affected Ella. Our whole world changed in the instant she was diagnosed. It has affected every aspect of our life."
NF has caused tumors to grow all over Ella's body. She has lost vision completely in her left eye and the vision in her right eye is severely damaged. The small neurofibromas in Ella's brain cause her to have learning differences such as ADHD symptoms and memory and impulse control issues. She is also clumsier and more socially awkward than most children because of her NF.
Despite the effects on Ella's body, she has never wavered from her dream to be an author.
"When my sister was on the way, I was very excited but then when she got here I changed my mind," says Ella. "I was almost 5 at the time and it wasn't exactly what I expected."
Ella says she wanted things to go back to the way it was before her sister, Claire, came into the picture. She went to the diner with mother and came up with the idea to sell Claire. While that may have been ideal in Ella's mind, her book, I Sold My Sister, was probably a better idea.
"I asked Mommy to write down my ideas so I could make a book and the story just came to me," says Ella. "It took four years to make it into a real book."
"Ella has always wanted to be an author and she is good at it. It wasn't just a whim," says Terri. "It wasn't something that she changed her mind about. So after chemo was done and she was stable, we decided just to go for it."
After talking to a novelist who suggested Ella self-publish her book, that's what they decided to do. I Sold My Sister was published and is available on Amazon under Ella's pen name "Ella Mozzarella."
"[My mom and dad] have actually called me Ella Bella Portabella Mozzarella since I was a baby," says Ella about her pen name. "It fits me."
Ella says she has always wanted to be an author and loved the idea of being able to sign her books for people and to be able to see them on shelves (which she does at local libraries).
"I have been making books for as long as I can remember; at first I just drew pictures and stapled them together," says Ella. "Then when I learned how to write, I began writing stories about all kinds of things. I write plays too and get my friends at school to act them out while I direct.
"I just love being creative and sharing what I have to say. I also wanted to inspire others facing challenges … to let them know they can do whatever they put their mind to."
A portion of the proceeds from I Sold My Sister are donated by Ella's request. The Children's Tumor Foundation (CTF) gets $2 from every book and $1 from each book goes toward both NF research and Camp Sunshine (a facility that offers free getaways to families affected by life-threatening childhood diseases). From her book tour this past summer, Ella was able to raise $684 dollars for CTF and $342 for Camp Sunshine.
But Ella's big heart gives way past that of the proceeds from her book. She has done many events over the years to fundraise for NF and other charities and causes.
"Overall she has had a hand in raising over $45,000 for NF research over the past five years," says Terri. "In addition, these were not fundraiser events but rather charity/volunteer projects that she created and hosted."
Ella has hosted three hat and headband events that they call "Lovin' Your Noggin," three Christmas parties for groups facing challenging times like the Hurricane Sandy victims, military youth of New Jersey and the Ronald McDonald House.
"She is a kid that doesn't worry about herself and is so compassionate ... a very old soul," says Terri. "She is the best blend of innocence mixed with deeper understanding and maturity but yet still so childlike. Ella does not let NF define her or hinder her in any way. It is astounding how she does not get down about NF and just keeps fighting for awareness and fundraising to find a cure."
As for the possibility of more books in the future from Ella Mozzarella, she says she has several ready to go.
"We just need to edit and publish them. My mom is not sure when we are going to do that," says Ella. "One of the books is a sequel to I Sold My Sister and another is a book to help kids that have Neurofibromatosis. I am sure I will keep writing books for a long time."
Published (and copyrighted) in South Jersey Magazine, Volume 12, Issue 12 (March, 2016).
For more info on South Jersey Magazine, click here.
To subscribe to South Jersey Magazine, click here.
To advertise in South Jersey Magazine, click here.