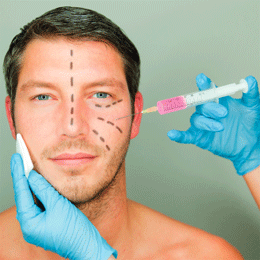 Boyish Looks
In recent years it has not only become more popular for men to have plastic surgery and undergo dermatological treatments, it has become more accepted. According to the American Society for Aesthetic Plastic Surgery's most recent statistics, procedures were up 43 percent for men over a five-year period. It's believed those numbers will only continue to rise as the stigma of men having "work done" continues to fade away.
"The stigma has been lifted," says board certified cosmetic & reconstructive plastic surgeon Dr. Scot Bradley Glasberg, the immediate past president of the American Society of Plastic Surgeons (ASPS) as well as the president of Plastic Surgery Practice Solutions (a subsidiary of ASPS). As a former president of the ASPS, a national organization, Glasberg has his finger on the pulse of the trend and he says there's no doubt that more men are having cosmetic procedures done nationwide. Big city areas like Manhattan—where he practices—tended to lead the way with this trend but it has certainly trickled down to the suburbs as well.
Dr. Steven L. Davis, of Davis Cosmetic Plastic Surgery in Cherry Hill, says he has seen a lot more men in his office and credits male celebrities as playing a role in banishing the stigma.
"We've done some procedures on male celebrities and they've been willingly open about it," Davis says. "I think that's helped the average everyday man to see that there's no shame in these types of procedures."
The types of procedures that Davis is referring to run the gamut from Botox to more invasive options like chin augmentation or liposuction. In fact, according to the ASPS, these two procedures are among the top five "most commonly requested plastic surgery procedures for men." In no particular order, the five most popular procedures for males include blepharoplasty (eyelid rejuvenation), neck lifts, rhinoplasty (nose surgery), chin augmentation and liposuction. A close sixth to the group is gynecomastia (male breast reduction) and Davis says that has definitely gotten increased attention in his office as well.
"As summer gets closer, men are realizing that they don't have to be so self-conscious about their chest area," Davis says. "Men who used to never take their shirt off at the pool or beach are doing something about it. Breast reduction is easier and more minimally invasive than ever. We treat many of these conditions on a monthly basis and because we've had some of our male patients be open about it, we've seen even more men come in, realizing how common it is and that there is a solution."
Starting out simple
While there has undoubtedly been an increase in men going under the knife, most of them started off their journey to improved aesthetics with a less-invasive procedure such as Botox (or what Davis jokingly calls "Brotox"). Glasberg says that most of his male patients do start off with an in-office line or wrinkle filler, or an injection of Botox, before deciding they want a bigger change.
"I would say most patients, not just men, make that natural progression—starting off with something like Botox or a filler and then seeing how they feel about the look," Glasberg says. "That's a great place to start off as it's minimally invasive. You could take time off work at lunch and see instantaneous results. If you ever really didn't like it, the effects of Botox are not permanent and tend to wear off after a few months."
In addition to Botox, Davis says he's simply had a lot of men interested in trying skincare products at home. Sometimes just upgrading to a better product can make a noticeable difference.
"Even just the application of a better product can be amazing," Davis says. "Instead of washing your face with regular soap, as many men do, we suggest some things they can try at home and their skin will look better. This kind of change is a no-brainer."
But even bigger procedures have become much more minimally invasive. The days where plastic surgery required weeks of recovery are over.
"The vast majority of the procedures we do nowadays have a downtime that is less than a week," Davis says. "If you don't want your eyelids to look so puffy and make you look aged, we can do that on a Friday and most people will be back to work on Monday. As surgery has become less and less invasive, it's made it more of a viable option. Men can look more youthful and retain that 'edge' without having to take a lot of time off work."
And Davis says it's that "edge" that is one of the key reasons why men are increasingly popular in cosmetic options.
"Today's men are interested in keeping up with the latest trends—they're buying certain clothes, certain cars and certain smart devices," Davis says. "The trend toward more cosmetic surgery is just going in line with that. Men want to look as young as they feel."
While he works with patients of varying ages, Davis adds that his best "anti-aging tip," is to start the process earlier.
"The best tip I can offer is to start paying attention to how you look—and how you want to look—when you're younger," Davis says. "If you're just getting started at age 70, it's a little more difficult to turn back the clock. The goal is to preserve that youthful appearance that everyone wants to keep."
Published (and copyrighted) in South Jersey Magazine, Volume 12, Issue 12 (March, 2016).
For more info on South Jersey Magazine, click here.
To subscribe to South Jersey Magazine, click here.
To advertise in South Jersey Magazine, click here.