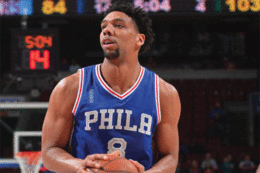 Standing Tall
If you are a fan of the Philadelphia 76ers, there is good news about the team that has taken losing to an all-time low over the past three seasons. Prized rookie center Jahlil Okafor, the 20-year-old who spearheaded Duke University to a national championship during his only year there, is still growing.
Though he probably won't add any more inches to his 6-foot-11 frame, and most likely will lose some of the 270 pounds he now carries as he works his young body into the kind of shape the rigorous NBA schedule demands, he will continue to grow mentally. He plans to go back to Duke and get his degree. He talks of a career after basketball. He wants to follow in the footsteps of his mom and dad, both college graduates. He also hopes to erase several bad moments that scarred his still toddler career in the NBA with a few off-court incidents.
Growing up is what Jahlil Okafor has had to do at an alarming rate since he was 9 years old.
Okafor's mom, Dacresha Lanett Benton, then broken up with his father, Chucky, was living in Moffett, Okla. She had been suffering from bronchitis for a couple of weeks and was dealing with a persistent cough. As Jahlil and his sister watched television one afternoon, he noticed his mom's coughing turned violent and into a struggle to catch her breath. Okafor wasn't worried so much as he thought his mom was just "playing around." When she collapsed, he and his sister quickly grasped the seriousness of the situation and ran to a neighbor's house to call 9-1-1, as their own phone wasn't working.
Dacresha died in the hospital that afternoon due to a collapsed lung, leaving a small boy to a future of uncertainty.
"It affected everything. It was just very quick and unexpected. I was just a 9-year-old kid, living every day and playing basketball on the streets and at school. I was home one day watching TV with her and my older sister. That's when she passed. Being there and thinking if I would have called 9-1-1 faster … me and my sister blamed ourselves for a while."
Okafor is a man-child at 20 years old. He has the rare blend of being fiercely competitive and possessing a heart that may rival the size of his enormous hands. The competitive part might lend to why he was involved in three incidents in the early part of his professional basketball career that earned him a two-game suspension from the team.
There was a fracas outside a nightclub in downtown Philly when someone allegedly pulled a gun on Okafor. That was followed by a speeding infraction on the Ben Franklin Bridge in which Okafor was ticketed for going 108 M.P.H. and an altercation outside a Boston nightclub in the early hours of Thanksgiving Day in which Okafor exchanged words and punches with what he calls hecklers.
That alcohol most likely played a part in two of the incidents may be looked at by some as a kid being a kid, but it certainly was enough of a red flag for Sixers general manager Sam Hinkie to lay down the suspension when an incriminating video came out before the team played a game in New York in early December.
All the while, Okafor stood up to media questions about what had happened, sincerely embarrassed and contrite for what had transpired. He talked of how much he knew he had let down his teammates, coaches and fans. But, more importantly, he knew that his mom was looking down on him.
"Above all, and I mean this, he is a good person. He wants to please people," says Sixers coach Brett Brown. "He wants to be coached. With those words right there, I'm confident he'll be a stud.
"He is so much more advanced offensively than most of the big men I've seen come out of college during my years in the NBA. And he's only going to get better. He is just so young, but so skilled offensively. He is the kind of kid who could score 20 points in this league in his sleep. He is going to be a huge presence in this league for a long, long time."
The funny part of it all is that if Okafor had his way, he may not even be playing for the Sixers right now. During his terrific first season at Duke in which he averaged 17.3 points and 8.5 rebounds in leading the Blue Devils to a 68-63 title win over Wisconsin, Okafor talked continuously to teammates about staying on the Durham campus for at least another year.
"The biggest thing that I remember about going into Duke was that everybody that was going there was special and everybody there was unique and talented at something," Okafor says after a recent Sixers' practice. "Somebody said that being talented there, no matter in what field, just makes you part of the crowd. So if you're special at something, you're just like everybody else. I just loved that aspect about it, and when I stepped on the campus I was pretty much treated like everybody else and it was the best year of my life.
"All the time I think about still being at Duke. I'm still best friends with all the guys on the team. We talk every day and FaceTime and do chats. Watching them on TV, [there's] always a bitter part of me because I wish I was still there. You see them celebrating and being at Cameron Indoor, 110 percent of me just wishes that I could be there, too.
"I did think of staying. I was pretty serious about it. In January or February [of his freshman season] I talked to some of my teammates about it and they told me to focus on the season and I tried to do that. I was just extremely happy there. I always say that if it was just me and I didn't have to worry about anybody else, I would have stayed. I have family that you want to be able to provide for. If it was just me and I didn't have to worry about anybody else, I'd still be at Duke."
Worrying has been as much of Okafor's short life as baby-hooks, dropsteps, spin moves and offensive rebounding. After his mom passed, he left tiny Moffett to move in with his dad in Chicago. Though he had visited his dad regularly growing up, Okafor had to leave behind his grandmother, sister and beloved pets in Oklahoma to live with his father. The two grew up together. Chucky, a former all-city basketball player in Chicago, had had disciplinary problems growing up with a stolen car incident, dealings with drugs and multiple altercations. But when his son came to live with him, he had turned his problems around. His sole focus in life became raising Jahlil.
"Right after I went to Chicago, that's where I really fell in love with the game of basketball," says Okafor. "That's what I did to get my mind away from things. Of course, with my father being a former basketball player I guess we did kind of get a stronger bond through basketball. He was always there for me and I just relied on him for everything.
"When I first got there I just always wanted to go back to Moffett. I just wanted to be around my friends and everybody I grew up with. Then just being in Chicago opened up a lot of doors for me. A lot of good things were happening then."
As an eighth-grader he was offered a scholarship to play basketball at DePaul University. He had a terrific high school career at powerhouse Whitney Young before signing to play for Duke—along with childhood friend Tyus Jones—disappointing numerous coaches around the country with his decision.
"The college process is tough. I didn't know how great Duke was going to be for me," Okafor says. "You just build all these relationships with all these different universities, talking with your potential new teammates and your potential new coaches. The hardest thing for me was having to tell all those universities that I wouldn't be attending their school. That was really hard. I didn't have any bad occurrences. I've heard stories about problems, but I was lucky that I didn't have any.
"Tyus and I called [Coach Mike Krzyzewki] on a three-way call. We texted him first that we had to talk to him about something. He said he was nervous because he didn't know what it was about. When we told him we wanted to go there, it was a very long pause, like 30 seconds. He finally responded and he was happy and we knew we made the right choice."
He and Jones, now a rookie with the Minnesota Timberwolves, formed a bond when the two were young and playing AAU ball against each other. When both were heavily recruited in high school, they made a deal that they would go to college together. Jones was named the Most Outstanding Player in the title game against Wisconsin when he collected 23 points.
"Jah is the most sincere person I've ever known," Jones says. "Besides being a tremendous basketball talent, he's even better as a person. It's so different being away from him. He is someone that I love talking to. I still do just about every day. He's dealing with the losing that the Sixers are going through the best he can. He's making the most of his situation and trying to get better. That is what Jah is all about."
Take away the off-court problems and Okafor's first season with the Sixers has pretty much met the lofty expectations that were laid upon him when he was taken with the third overall pick in June's draft behind Karl Anthony-Towns and DeAngelo Russell. The scoring has come rather easily and he has improved tremendously on his free throw shooting, which hovered around the 50 percent mark at Duke last year but now is about 20 percentage points higher. His defense and rebounding still need improvement, but there is little doubt he is going to be one of the cornerstones of this organizational rebuild that has taken the Sixers to depths not seen by any other professional sports team for a three-year period.
"I'd plug him into my team and be happy for the next 10 years," says an NBA executive. "He may not reach some expectations, but he's going to be a good pro for a long time."
Since being labeled the best basketball player at his age when he was 11, Okafor has been a winner on the basketball court, being named the high school player of the year as a senior in leading Whitney Young to a state championship and then garnering Atlantic Coast Conference player of the year during his one season at Duke before turning professional. Losing at the rate he has this season with the Sixers is foreign territory for Okafor. It's certainly not something he wants to get used to, but like so many obstacles he's been dealt in his young life, he'll find a way to not only adjust, but conquer.
"I'm trying to get adjusted as fast as I can," he says. "I wouldn't call it overwhelming. There is a lot. But if you say it's overwhelming that means you can't handle it. I'm able to handle it and that makes it fine."
It's all part of the growing process for Okafor. A process in which he has had way too much practice.
Published (and copyrighted) in South Jersey Magazine, Volume 12, Issue 12 (March, 2016).
For more info on South Jersey Magazine, click here.
To subscribe to South Jersey Magazine, click here.
To advertise in South Jersey Magazine, click here.